Please welcome Kristin from Bake Like A Champ as she shares 10 Habits of Professional Pastry Chefs straight from culinary school. You might be surprised by #5! Be sure to show her blog some love for me. -Tessa
Imagine your friends and family bowing down to you at every gathering because your chocolate chunk cookies with sea salt are like nothing they've ever had. Breaking news! You don't actually need to be a professional to impress others with your baking.
You have access to thousands of well-tested recipes here on Handle The Heat, and today I'm sharing the best tricks I learned while studying alongside veteran pastry chefs at the Culinary Institute of America.  Combining the tips below with Tessa's recipes will leave your friends thinking you went to pastry school overnight.
1. MEASURE INGREDIENTS BEFORE YOU BEGIN
Professionals call this mise en place, which in French means "putting in place." Get all of your ingredients measured and organized before you start tackling the directions. There's a reason why this is one of the first things that culinary schools teach. It's a major time-saver.
2. LINE EVERYTHING WITH PARCHMENT PAPER
One of the great chefs and restaurateurs of our time, Thomas Keller, published a cookbook, Bouchon Bakery, which is a collection of recipes and stories from the successful bakery and in it he wrote, "We use lots and lots of parchment paper. We line any sheet pan we use with parchment or a Silpat. It's about both working clean and not allowing what we are baking or have baked to come in direct contact with the metal." Buy pre-cut sheets or a roll for just a few bucks. Not only will using parchment paper improve the quality of your baked goods, you can also get away without washing your cookie sheets.
3. DON'T WASTE ANYTHING
If you watch professional pastry chefs, they scrape every last bit of batter into a pan. And it's not just because their spatula game is on point. If you're making a cake and you don't use the suggested volume of batter, you'll likely achieve a different result than the recipe suggests. You also don't need to throw away scraps, such as pie crust. Just brush the scraps with a little egg wash, dust with cinnamon sugar, and bake for 10 minutes. Same goes with vanilla beans. If you've scraped the inside of a bean, you're still left with some value. Place your bean(s) in a jar of sugar, and in a few weeks you'll have vanilla sugar, which is great for baking or your morning coffee. Vanilla sugar also makes for a great hostess gift.
4. MAKE AN INVESTMENT IN A KEY EQUIPMENT
You are more likely to bake if you can make it easier on yourself. Two pieces of equipment will change your life. A stand mixer and a digital scale. The stand mixer enables you to crank out baked goods faster and easier than ever before. The machine does all the work for you, not to mention the texture of all of your baked goods improves. A digital scale is probably the least expensive piece of equipment that can improve your baking tenfold. It's faster, easier, and cleaner than using measuring cups and spoons, plus it provides 100% accuracy. You can incorrectly measure flour by 150% if you're using a measuring cup. For $12, you can conquer just about any recipe out there.
5. ORDER DESSERT EVERY TIME YOU DINE OUT
This is one of my secrets to brainstorming new desserts to make at home. It's a great way to pick up the latest trends. If you really like something you tasted at a restaurant, just ask your server for an explanation of the ingredients. Most of the time, I can convince them to actually give me the recipe.
6. BUY VANILLA BEAN PASTE
This is one of the best things you can keep in your pantry. Vanilla bean paste is in between vanilla extract and vanilla beans. If you've ever bought vanilla beans, you know they're not cheap. You also know that they provide better flavor and aroma than the extract and give your baked goods a more professional look with the signature black specks. The paste is a perfect blend of the two because it's much less expensive than the beans themselves. Vanilla bean paste is essentially a small jar of the scraped-out vanilla pod. The jar indicates measurement conversions, but it's usually 1:1 to vanilla extract.
7. TURN MISTAKES AROUND
If cookies are too crunchy, break them into pieces and fold into ice cream. If a cake is too undercooked or it doesn't come out of the pan perfectly, crumble it into chunks and layer it in a trifle with sweetened whipped cream.
8. KEEP A RULER IN YOUR KITCHEN
Most pastry dough recipes ask that you roll it out to a certain thickness. Make it easy on yourself and keep a ruler handy. The difference between ¼ and ½ inch is more important than you think!
9. DON'T USE OLD BAKING POWDER OR YEAST
They lose their efficacy over time. They're inexpensive, so just follow the expiration dates. Learn how to test for freshness here.
10. BAKE A CAKE DAYS OR WEEKS BEFORE YOU SERVE IT
Cakes are much easier to work with when frozen. Lifting layers, stacking them, leveling them with a serrated knife, frosting… so many reasons to go frozen! Virtually all bakeries do the same thing because it's a real time-saver. The pros use a flash-freezing approach, and you can do the same thing at home. After I bake a cake and let it cool, I put a single layer in the freezer on a parchment paper-lined tray or plate. Just make sure it isn't touching anything except the paper. Then freeze until it's solid, which usually takes about 30 minutes to an hour. Once it's frozen, you can use it right away (just frost the cake and let it thaw before you're going to eat it), or wrap it tightly in a few layers of plastic wrap until you need it again.  If you're interested in learning how to make other types of baked goods in advance – think scones, cookies, biscuits, pie crust – I'm sharing my 3-Step Guide to Baking in Advance with Handle The Heat readers.  You can download my free guide here.
About Kristin...
Kristin Beischel is the author of Bake Like A Champ, where she helps people discover a game-changing approach to baking from scratch that actually fits into their busy lives. Download her 3-Step Guide to Freezer Baking, free for Handle The Heat readers, so you can start impressing your friends and family today.
© Handle the Heat - handletheheat.com
Join the Handle the Heat Community


---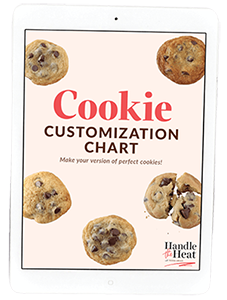 Do you want a more delicious life?
Instead of digging through cookbooks and magazines and searching the internet for amazing recipes, subscribe to Handle the Heat to receive new recipe posts delivered straight to your email inbox. You'll get all the latest recipes, videos, kitchen tips and tricks AND my *free* Cookie Customization Guide (because I am the Cookie Queen)!