I hope everyone had a happy Easter or Passover! I love seeing all of your recipe photos from those of you who made HtH recipes. It's like I got to share in the celebrations with each and every one of you, which is kind of magical.
Today I'm announcing the recipe for the April Baking Challenge!
March's Bakery Style Chocolate Chip Cookie challenge was absolutely the best challenge we've had to date. I was floored by how many of you joined in and by how beautiful your cookies were!! So many of you said this is your new favorite cookie recipe, which just filled me with joy.
So this month I decided to finally embark on a baking challenge that's been requested for many months… DOUGHNUTS!!
That's right, we're making Old Fashioned Sour Cream Doughnuts. This has been one of my most popular recipes for years. It's a fried doughnut recipe but made without yeast.
I think this one will be a bit more of a true 'challenge' since there's dough and frying involved. But I KNOW you can do this!
Old-Fashioned Sour Cream Doughnuts Recipe Tips
This recipe is a little more challenging than some of the other recipes we've done. Please read these recipe tips before you bake your doughnuts!
1. Measure correctly!
Using a scale is a very smart idea for this recipe. This recipe has been one of my most popular recipes since it was published in 2014, so I've had a lot of feedback on it.
Any issues I hear about the dough being too dry or sticky are likely due to inaccurate measuring!
If you doughnuts aren't as fluffy and light as you'd like, it's due to accidentally compacting too much flour into your measuring cup. You can learn more about how to measure flour the RIGHT way here, or watch the video below!
2. Use REAL cake flour.
This is a must for the recipe. Purchased cake flour will yield light and delicate doughnuts just like the ones from the bakery. DIY cake flour substitutions don't really cut it. Cake flour keeps for a very long time so it's worth having on hand. AP flour will not create doughnuts with that same light, soft, and wonderful texture.
You can learn more about cake flour here, including side-by-side comparison photos.
3. Yes, you must FRY this recipe.
It was specifically designed to be fried, so just trust me on that. I promise it's worth the mess.
I haven't tried using an air fryer (I don't own one!) so if you give that a shot let us know in the comments below.
4. Reduce the nutmeg… if you prefer.
Some readers have complained that 1/2 teaspoon nutmeg was too much. Nutmeg is a crucial flavor component to any doughnut, but if you don't like the taste reduce it to 1/4 teaspoon (especially if using fresh ground) or omit it altogether.
My Favorite Doughnut Tools:
The links below are affiliate links.

If you want more glaze options for your doughnuts, check out this free guide:

Here's how to participate in this challenge:
Step 1: Make a batch of Old Fashioned Sour Cream Doughnuts.
Step 2: Take a photo of your doughnuts and share it before April 30th 11:59pm PT. You have TWO ways to share your photo to be eligible for the prize:
Instagram
Upload your photo to your PUBLIC Instagram account and tag me @handletheheat AND use the hashtag #handletheheat
Facebook community
Share your photo inside my private Handle the Heat Facebook community. If you're not already inside, click here to request access.. You must answer the questions to join. Please note that we approve everyone manually to ensure the community remains a fun and friendly place, so it may take several days for your request to be approved.
You can submit to one or the other, or to BOTH for two entries.
Prize
Every person who submits a photo following those directions will be entered into a random giveaway to win one $75 Amazon gift card! No purchase necessary.
This is open to anyone in the world who can shop with Amazon, I will purchase a digital gift card from your country's Amazon website and email it to you.
The winner will be selected randomly; so don't worry about taking a perfect picture. Your photos may be put on display to share with my entire audience – that's hundreds of thousands of people! I will message the winner via the platform they posted the photo on (Facebook or Instagram). Winner must reply with Amazon.com account email address to receive gift card. If there's no response within 48 hours a new winner will be chosen.
So what do you think? Are you up for the challenge?
PS: The winner of the March challenge will be announced this week. Good luck! xo
About Tessa...
I share trusted baking recipes your friends will LOVE alongside insights into the science of sweets. I'm a professionally trained chef, cookbook author, and cookie queen. I love to write about all things sweet, carb-y, and homemade. I live in Phoenix, Arizona (hence the blog name!)
© Handle the Heat - handletheheat.com
Join the Handle the Heat Community


---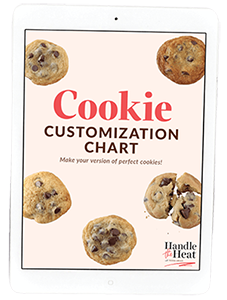 Do you want a more delicious life?
Instead of digging through cookbooks and magazines and searching the internet for amazing recipes, subscribe to Handle the Heat to receive new recipe posts delivered straight to your email inbox. You'll get all the latest recipes, videos, kitchen tips and tricks AND my *free* Cookie Customization Guide (because I am the Cookie Queen)!