Oh boy, the August baking challenge was a tough one to decide on!! I put up a poll in the Facebook community and on my Instagram story asking you guys what you wanted to bake for August.
It was a SUPER tight race between yeast-risen baked doughnuts and mini cheesecakes.
Interestingly, the doughnuts won on Facebook and the cheesecakes won on Instagram. I made the final executive decision to go with…. NO BAKE MINI CHEESECAKES!
For a couple reasons. For one, August is super hot for most of us and I know turning on the oven isn't always fun during this time of year. Hence, a no-bake recipe! Really, this should be called the August No-Bake Challenge 😉
Second, September's baking challenge is going to be all about yeast baking with a super easy and simple recipe and tons of tips. Since I know baking with yeast can be super intimidating, I wanted to wait until we nail that challenge before doing a bunch more yeast baking.
No Bake Mini Cheesecake Challenge
Since we're still enjoying beautiful fresh summer fruit through August, I've selected my No Bake Mini Blackberry Cheesecakes as the official challenge recipe. Especially since blackberries should be super fresh right now!
Flavor Customization
If you'd prefer to use a different berry then feel free to do so! It's super easy to switch in the recipe. OR, you could also follow my recipe for No Bake Mini Strawberry Lemonade Cheesecakes. Have fun with fresh summery flavor ideas!
But wait! I don't have a mini cheesecake pan!
I freakin' love my mini cheesecake pan. However, you definitely don't need to buy anything special to join in on this challenge. You have two alternative options:
Muffin Tin
Use a standard size 12-cavity muffin tin instead. Just be sure to line it with paper or foil liners and spray the liners with nonstick cooking spray, otherwise the graham cracker crust might crumble and the cheesecake might stick when you go to remove them. I *don't* like to use a mini muffin tin here because I think the cavities are just too small and shallow.
Mason Jars
You can also use mason jars or any other small glass container to make individual or shareable cheesecakes! This would be a beautiful presentation for a dinner party or BBQ. I think these mini mason jars are super adorable.
Whatever you do, feel free to get creative!
No Bake Mini Cheesecake Recipe Tips
Read this over if you have any questions!
The Crust
The recipe uses a simple graham cracker crust made with finely ground crackers and a generous amount of butter to ensure the crust holds its shape since there's no baking here. To make quick and easy work of assembling the crust, I like to take a heaping tablespoon of the graham cracker mixture and place it into each cavity. Then I take a shot glass or small tamper and to firmly press the crust down into the pan so it's nice and compact and neat. That's important so the cheesecakes have a sturdy base. If there are a lot of stray crumbs up the sides of the cavities I'll try to brush them away so they don't end up on the actual cheesecake.
The Cheesecake
Make sure your bricks of full-fat cream cheese are completely at room temperature so you get a smooth texture. Don't use cream cheese for spreading on bagels. Since there are no eggs in this recipe and we aren't baking it, there's no risk of overmixing the batter. That means you can beat it to oblivion to make sure it's completely smooth and creamy with no lumps.
You can also fill each cavity with cheesecake filling all the way to the top, again because there's no risk of it overflowing while baking. Make sure you chill the cheesecakes for AT LEAST 4 hours, or until firm enough to hold their shape. This may take more time depending on your fridge and the weather, so I usually just chill overnight to ensure they're firmed.
Since this is a no-bake recipe, the cheesecakes will be a little less solid. That's okay. As long as they look something like these pictures you should be good to go! If you're serving them for a potluck or BBQ, try to keep them refrigerated until soon before serving. If that's not possible, then freeze them for a few hours before placing out on the table if you know they'll have to sit there a while.
Making Ahead & Storing
The plain cheesecakes, without the topping or garnishes, can be stored in the fridge in an airtight container up to 2 days ahead of time.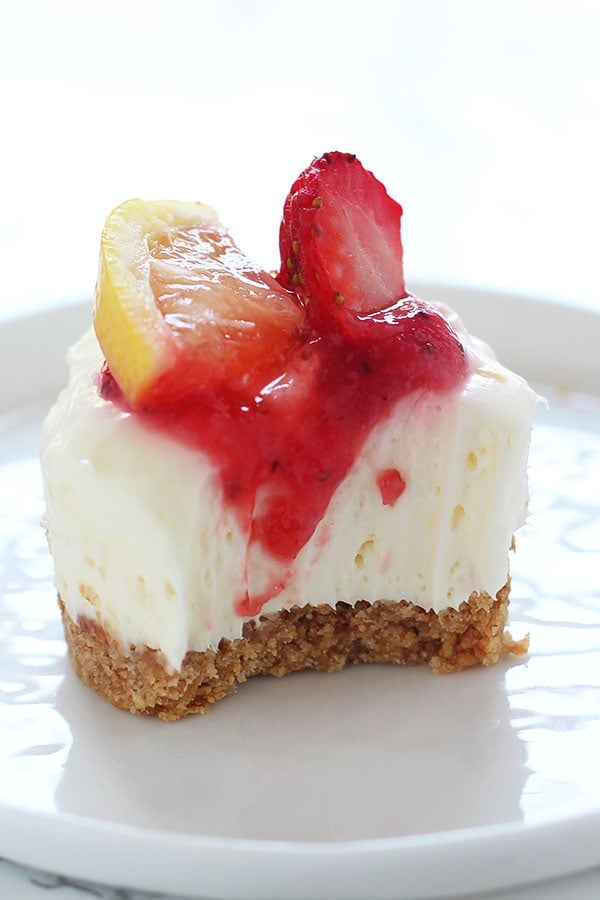 Here's how to participate:
Step 1: Make a batch of my Mini No Bake Cheesecakes.
Step 2: Take a photo of your cheesecakes and share them before August 31st 11:59pm PT. You have TWO ways to share your photo to be eligible for the prize:
Instagram:
Upload your photo to your PUBLIC Instagram account and tag me @handletheheat AND use the hashtag #handletheheat
Facebook community:
Share your photo inside my private Handle the Heat Facebook community. If you're not already inside, click here to request access.
You can submit to one or the other, or to BOTH for two entries.
Prize
Every person who submits a photo following those directions will be entered into a random giveaway to win one $75 Amazon gift card! No purchase necessary.
This is open to anyone in the world who can use Amazon, I will purchase a digital gift card from your country's Amazon website.
The winner will be selected randomly; so don't worry about taking a perfect picture. Your photos may be put on display to share with my entire audience – that's hundreds of thousands of people!
By the way, last month's Best Every Chewy Brownie challenge was our best challenge yet! SO many of you baked up your brownies (I saw lots of double batches being made – yum!) and shared photos on Instagram or my private Facebook community.
This is just a small sampling of all the delicious fun:

I'll be randomly selecting and messaging July's winner this week, so keep an eye out!
Are you in for August's baking challenge? By the way, if you want more cheesecake baking tips in general, I compiled my best ones in this free download:
About Tessa...
I share trusted baking recipes your friends will LOVE alongside insights into the science of sweets. I'm a professionally trained chef, cookbook author, and cookie queen. I love to write about all things sweet, carb-y, and homemade. I live in Phoenix, Arizona (hence the blog name!)
© Handle the Heat - handletheheat.com
Join the Handle the Heat Community


---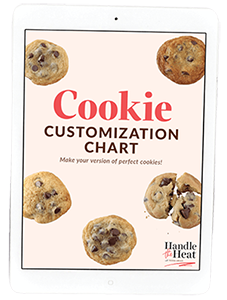 Do you want a more delicious life?
Instead of digging through cookbooks and magazines and searching the internet for amazing recipes, subscribe to Handle the Heat to receive new recipe posts delivered straight to your email inbox. You'll get all the latest recipes, videos, kitchen tips and tricks AND my *free* Cookie Customization Guide (because I am the Cookie Queen)!