Burgers. In America. In the spring and summer-time. This all just sounds right. And it is, especially with this recipe. I don't have a barbecue (ugh, I know) so I've been scouring the internet and my recipe books and magazines for a delicious burger recipe that doesn't require grilling. This recipe is definitely delicious. I had never cooked with buffalo meat before but after testing this recipe I think I'm going to incorporate it into my kitchen much more. Its leaner than beef, just as tasty, and not too gamey (which I was afraid of). Plus much of the buffalo meat at the market comes from animals who have access to wide, open areas and food that is natural to their diets which makes the meat better for the earth, your body, and your taste buds. Yum, yum, yum.
Recipe Rundown
Taste: Bison meat is good. So are onions caramelized in wine. So is cheese.
Texture: The burgers are lean yet juicy and tender which pairs perfectly with the slightly crisp buns.
Ease: The onions do take some time but they can be made ahead. No step is too difficult. I made these for lunch and it took about 40 minutes from start to finish.
Appearance: Fast food restaurants have given burgers a very unappealing image so pile on each ingredient somewhat carefully and you will have a scrumptious looking burger.
Cons: My only gripe is the amount of time the onions take to caramelize but it since they are low-maintenance you can accomplish other things in the kitchen during this time.
Pros: My boyfriend, who loves burgers, said this was the best burger he's ever eaten (hence the title!).
Would I make this again? Already have 🙂

Bison Burgers with Cabernet Onions and Wisconsin Cheddar
From Bon Appetit February 2009
Serves 4
2 tablespoons olive oil, divided
3 cups sliced onions (about 2)
3/4 cup Cabernet Sauvignon or other dry red wine
1 pound ground bison (buffalo)
2 tablespoons chopped shallots
1/4 teaspoon coarse kosher salt
1/4 teaspoon dried thyme
4 organic hamburger buns
6 ounces sliced Wisconsin white cheddar cheese
Dijon mustard
1 small head of escarole, leaves separated
Heat 1 tablespoon oil in heavy medium skillet over medium-high heat. Add onions, sprinkle with salt, and sauté until tender and golden brown, stirring often, about 10 minutes. Reduce heat to medium and continue to sauté until very tender and well browned, about 15 minutes longer. Add wine and cook, stirring occasionally, until liquid is absorbed, about 5 minutes. DO AHEAD Can be made 3 days ahead. Cool, cover, and chill.
Preheat broiler. Gently mix meat and next 3 ingredients in large bowl. Shape into four 1/2-inch-thick patties. Heat remaining 1 tablespoon oil in heavy large skillet over high heat. Sprinkle burgers with salt and pepper; add to skillet. Cook until well browned, about 2 minutes per side for medium-rare.
Open buns and arrange, cut side up, on rimmed baking sheet. Place cheese slices on bun tops. Broil until cheese melts and bottom halves are lightly toasted, about 1 minute (Keep an eye on them!). Spread bottom halves with mustard. Top each with a few escarole leaves, then burger. Spoon onions atop burgers, dividing equally. Cover with bun tops; press lightly.
About Tessa...
I share trusted baking recipes your friends will LOVE alongside insights into the science of sweets. I'm a professionally trained chef, cookbook author, and cookie queen. I love to write about all things sweet, carb-y, and homemade. I live in Phoenix, Arizona (hence the blog name!)
© Handle the Heat - handletheheat.com
Join the Handle the Heat Community


---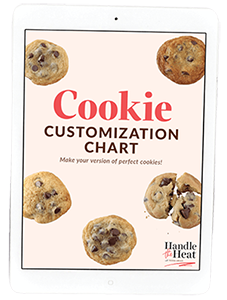 Do you want a more delicious life?
Instead of digging through cookbooks and magazines and searching the internet for amazing recipes, subscribe to Handle the Heat to receive new recipe posts delivered straight to your email inbox. You'll get all the latest recipes, videos, kitchen tips and tricks AND my *free* Cookie Customization Guide (because I am the Cookie Queen)!