58
DIY Spray Paint Door Knob Makeover is the quickest and easiest way to revamp your old ugly door knobs for cheap!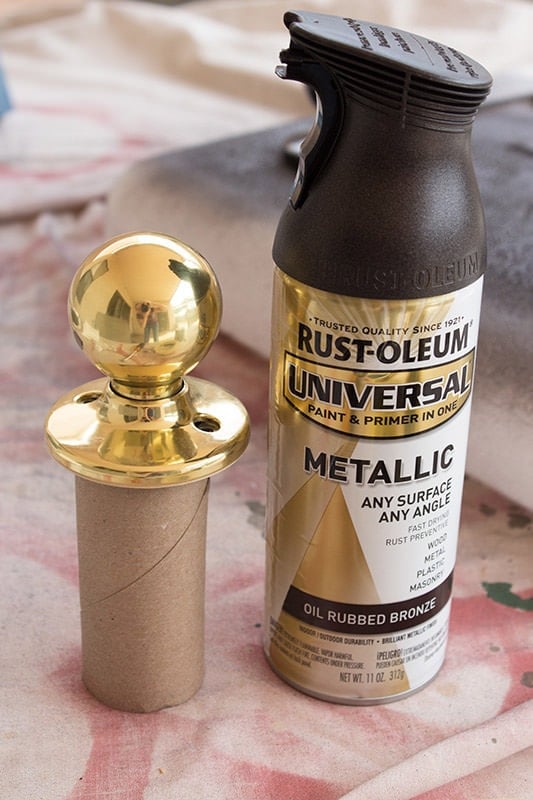 Today's Sunday Funday post isn't a food recipe, it's a recipe for a DIY home makeover that makes a surprisingly noticeable difference in your home. A few weeks ago I was surfing Pinterest and came across a before-and-after picture someone had taken to show how spray paint can makeover your door knobs. I was amazed, but also skeptical. How many "Pinterest fails" have emerged across the internet that show how far-fetched some of these DIY projects can be?! But this particular project is pretty easy to test and if it completely fails one screwed up doorknob isn't a big deal. So on a random trip to the hardware store I felt inspired and decided to pick up a can of Rust-Oleum Oil-Rubbed Bronze Metallic Spray Paint to test out this DIY project on a linen closet door knob that doesn't really matter much. All we did was remove the door knob with a screwdriver, wipe it down with a Clorox wipe, and take it outside to spray paint. I was astounded by how great it looks. That spray paint is pretty miraculous, I seriously don't know how they get those little opalescent glittery specks in there and make it look so multidimensional.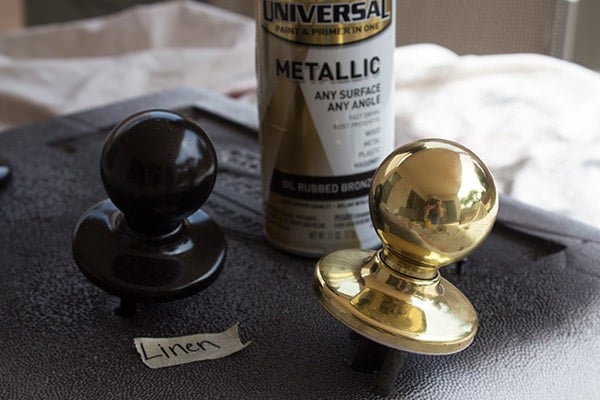 We immediately got to work on the rest of the door knobs in our house, even our big front door one, and set up a little station outside on a drop cloth covered patio table. We used empty toilet paper rolls and Styrofoam to prop up the door knobs so it would be easier to spray and dry. I also labeled each knob with scotch tape and wrapped it around the spindle so we wouldn't confuse the knobs since some of them had small differences. We also sprayed the screws and covered any keyholes with small circular pieces of tape to maintain the lock's functioning.

It ended up taking two coats, after the first coat dried we saw some areas around the bottom of the knobs that we had missed. All in all it was a super simple afternoon project that cost about $10, less than the cost of ONE door knob! It immediately upgraded the more 1990s elements of our house into the 21st century.

See how pretty?! Obviously it doesn't look quite as glittery inside the house and out of the sunlight. The color and sheen are perfect inside. Many of our door knobs were beat up, scratched, and some even had chunks of gold finish rubbed off. The spray paint does an excellent job of masking all of that.
Have you done any DIY projects lately?