Some of the most visited posts on this blog are those which feature recipes for soup. It's not surprising. Soup is one of the most comforting foods I can think up, it warms your entire body and soul. It makes any cold dreary day suddenly seem full of heart and life. My boyfriend's all-time favorite soup is the broccoli cheddar at Panera Bread. So when I saw a recipe for broccoli cheddar soup in the October issue of Food Network magazine (they come out with magazines earlier and earlier) I knew I had to make it. And let me say, it's quite delicious and all-around comforting.

Recipe Rundown
Taste: Rich, slightly sweet yet savory, fresh.
Texture: Thick and cheesy. The croutons absorb some of the soup and become extra wonderful.
Ease: Very easy, can be made in about 30 minutes.
Appearance: The garnishes make it look gourmet.
Pros: Have broccoli-cheddar soup at home instead of at an over-priced cafe. Makes a wonderful lunch!
Cons: None.
Would I make this again? Still have leftovers in the fridge.

Broccoli Cheddar Soup
Adapted from Food Network Magazine October 2011
Serves 4
2 tablespoons extra-virgin olive oil
1 medium onion, finely chopped
2 stalks celery, finely chopped
2 cups low-sodium chicken broth
2 cups half-and-half
1 pound russet potatoes, peeled and chopped
1 pound sweet potatoes, peeled and chopped
1 bay leaf
Kosher salt and freshly ground pepper
2 cups chopped broccoli florets
1/3 pound sharp cheddar cheese, shredded (about 1 1/3 cups)
Croutons, for topping
Heat the olive oil in a large pot over medium-high heat. Add the onion and celery and cook, stirring, until softened, about 5 minutes. Add the chicken broth, half-and-half, both potatoes, bay leaf, 2 cups water, 1 teaspoon salt and 1/4 teaspoon pepper and bring to a boil. 
Reduce the heat to medium low and simmer until the potatoes are tender, about 10 minutes. Meanwhile, put the broccoli in a microwave-safe bowl; add 3 tablespoons water and season with salt. Cover with plastic wrap and microwave until crisp-tender, about 4 minutes; drain. 
When the potatoes are tender, remove the bay leaf from the soup and add broccoli. Transfer the soup to a blender. Puree until as smooth as desired, leaving the filler cap slightly open to let steam escape (or puree the soup in the pot with an immersion blender). Return the soup to the pot and thin with water, if necessary. Return to a simmer over medium-low heat; season with salt and pepper. 
Add the cheese, reserving one tablespoon for garnish and stir until melted. Ladle the soup into bowls and top with croutons and reserved cheese.
About Tessa...
I share trusted baking recipes your friends will LOVE alongside insights into the science of sweets. I'm a professionally trained chef, cookbook author, and cookie queen. I love to write about all things sweet, carb-y, and homemade. I live in Phoenix, Arizona (hence the blog name!)
© Handle the Heat - handletheheat.com
Join the Handle the Heat Community


---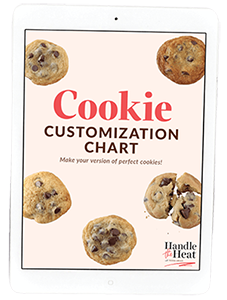 Do you want a more delicious life?
Instead of digging through cookbooks and magazines and searching the internet for amazing recipes, subscribe to Handle the Heat to receive new recipe posts delivered straight to your email inbox. You'll get all the latest recipes, videos, kitchen tips and tricks AND my *free* Cookie Customization Guide (because I am the Cookie Queen)!