Exciting News!!! The Ultimate HTH Bundle is HERE!
Guys. I have a HUGE announcement.⁠
Since last year, I've been working with an amazing group of people on a top secret project. You might have seen me hinting about it on Instagram or in our Facebook community.
It's actually something I've been wanting to do for a long time but never knew exactly how to go about it or what it would look like.
I had NO CLUE if I could actually turn this idea into a reality. But the daily support and enthusiasm of the Handle the Heat community, of people like YOU, inspired me to face my fear of the unknown and pursue this new vision.
That journey has already been a wild mix of emotions.
So what exactly is this new thing me and my team have been working on behind the scenes for you?
Drumroll please….
This was a huge undertaking to produce a limited edition issue dedicated to none other than… CHOCOLATE! 🍫⁠
It required a lot of work and investment so I'm not sure when we'll be able to produce another issue again.
This magazine is an absolute dream come true. I've been making magazines since I was a tween, dreaming of the day I'd become a big time magazine editor like Jenna Rink in 13 Going on 30.
I got to work with the amazing HTH team as well as LeAnna, the designer who designed the HTH brand and The Ultimate Cookie Handbook and Kate, the previous food editor of Food & Wine Magazine to bring this issue to life. I even interviewed my BFF, Ashley from BakerbyNature.com, in the issue.
The amazing thing about The Handle the Heat Magazine? Just like my cookbook, we self produced it! We got to pick out EVERYTHING! From the photography to the cover art to the design details… even the type of paper used (thick and glossy and luxurious!) and of course all of my best chocolate recipes inside.
The goal, just like for my cookbook, was to make something so high quality that no one would guess we weren't working with a massive publishing corporation. I'm so proud of the final result and hope you love leafing through the pages as much as we loved creating them.
⁠To celebrate, we'll be having an Ultimate HTH Bundle Sale starting June 9th at 9am PT until June 16th at 11:59pm PT!⁠
⁠You can get the brand new Limited Edition Handle the Heat Magazine AND a copy of the TWICE SOLD OUT Ultimate Cookie Handbook AND free shipping for over 30% off!
You'll save $20 total!!
(Free shipping available to U.S. customers only. Bundle is available to international customers, overseas shipping is calculated at checkout).
The magazine + the cookbook will help to make you the BEST BAKER you can be, all while having tons of fun along the way!
⁠I CAN'T WAIT for you guys to get your hands on this magazine + cookbook that we have worked so hard on!! Take a look at what some of our amazing customers have to say about their copies:
If you're already an Ultimate Cookie Handbook customer and you'd just like a copy of the magazine, click here to purchase.
Any other questions about this sale? Just email [email protected] and we'll take care of you!
About Handle the Heat...
I share trusted baking recipes your friends will LOVE alongside insights into the science of sweets. I'm a professionally trained chef, cookbook author, and cookie queen. I love to write about all things sweet, carb-y, and homemade. I live in Phoenix, Arizona (hence the blog name!)
© Handle the Heat - handletheheat.com
Join the Handle the Heat Community


---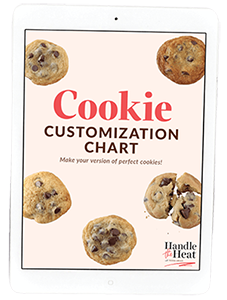 Do you want a more delicious life?
Instead of digging through cookbooks and magazines and searching the internet for amazing recipes, subscribe to Handle the Heat to receive new recipe posts delivered straight to your email inbox. You'll get all the latest recipes, videos, kitchen tips and tricks AND my *free* Cookie Customization Guide (because I am the Cookie Queen)!