Sunday night I lost my iPhone at work after we closed. I searched high and low but somehow it had disappeared from the last place I saw it. At first I thought it was no big deal. It's just a phone. At least it's not my car keys or wallet. But then I started to get a little panicky. All my emails, texts, contacts, tweets, facebook, everything is on there. No problem, the majority of that can be fixed with a few password changes. As I drove the half hour back home I started to get a little fidgety. No iTunes left me listening to awful commercials on the radio. There was no way for me to call my boyfriend to ask what he wanted to do for dinner. All I could think was that someone might be desperately trying to call me and I couldn't answer.
Thankfully we happened to have an old iPhone that I'm using until I find mine or get a new one. Just going one evening without made me realize how often I check twitter, facebook, and email. When we went to the cell phone service store to have the old phone activated I scanned the cell phones lining the walls on display. They were all smart phones. Pretty much everyone I know has a smart phone. It's a little scary to think how dependent we are on technology, namely that little device that lives in our pockets or purses. I felt so naked without my phone on me. It was awful.
What's the worst thing you've ever lost?
*Thanks to the folks at Sargento for sponsoring this post! Although Sargento sponsored this post all opinions and thoughts, like always, are my own.
Recipe Rundown
Taste: Bursting with flavor. I was a little concerned that the short ingredient list would result in bland tacos but they were absolutely divine.
Texture: The steak is slightly charred on the outside while juicy and tender inside. All the toppings add cheesiness, creaminess, crunch, and juiciness.
Ease: Super easy. You can prep all the toppings as the steak cooks.
Appearance: Like colorful pockets or flavor.
Pros: Easy, quick, tasty, cheap.
Cons: None!
Would I make this again? Oh yes.

Carne Asada Tacos
Serves 4
From Sargento
1 teaspoon ancho or chipotle chili powder
salt to taste
1 pound beef skirt steak, trimmed of excess fat
4 slices (1/4-inch thick) large sweet or yellow onion
2/3 cup chipotle or jalapeño salsa, divided
2 cups (8 ounces) Sargento® Artisan Blends® Shredded Authentic Mexican Cheese, divided
8 (6-inch) flour tortillas, warmed according to package directions
1 cup shredded romaine lettuce
1 large tomato, chopped
Optional toppings: diced ripe avocado, sour cream, chopped cilantro or green onions
Prepare barbecue grill or preheat broiler. Sprinkle chili powder and salt to taste over steak. Arrange steak and onion slices on grill grate or broiler pan. Spoon 1/3 cup salsa over steak and onion slices. Grill or broil 4 to 5 inches from heat source 4 to 5 minutes per side or until meat is pink in center and onion slices are tender.
Transfer steak to carving board; cut crosswise into thin strips. Place steak in a medium bowl. Separate onion slices into rings; add to bowl. Add 1 cup cheese; toss mixture well.
Fill warmed tortillas with steak mixture, lettuce, tomato, remaining cheese and remaining salsa. Garnish as desired.
About Tessa...
I share trusted baking recipes your friends will LOVE alongside insights into the science of sweets. I'm a professionally trained chef, cookbook author, and cookie queen. I love to write about all things sweet, carb-y, and homemade. I live in Phoenix, Arizona (hence the blog name!)
© Handle the Heat - handletheheat.com
Join the Handle the Heat Community


---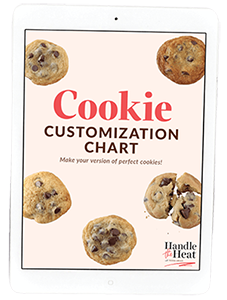 Do you want a more delicious life?
Instead of digging through cookbooks and magazines and searching the internet for amazing recipes, subscribe to Handle the Heat to receive new recipe posts delivered straight to your email inbox. You'll get all the latest recipes, videos, kitchen tips and tricks AND my *free* Cookie Customization Guide (because I am the Cookie Queen)!