Thanksgiving recipe numero tres! This one is particularly tasty. If you are someone who holds the assertion that side dishes are the best part of Thanksgiving, you just might have to make this one. The taste is mild so it won't overpower the other food on your plate but is rich enough to make you scarf it all down before you even look at your turkey.

Recipe Rundown
Taste: Mildly cheesy with a hint of warmth and salty topping.
Texture: The tender cauliflower are suspended in a rich, creamy, and cheesy sauce which is perfectly complimented by a crisp and crunchy breadcrumb topping. Aren't gratins wonderful?
Ease: Straightforward and fairly easy. If making for T-day I would steam the cauliflower up to 3 days ahead of time and store in an airtight container in the fridge.
Appearance: When it comes out of the oven the sauce is bubbling under the golden brown bread crumb topping.
Pros: Who knew vegetables could taste so good? (Granted, anything slathered in a cheese sauce and topped with breadcrumbs will probably be pretty tasty).
Cons: Dish does not reheat very well so it can't be made completely ahead of time.
Would I make this again? Yes!
Cauliflower Gratin
From Real Simple November 2010
Serves 8
4 tablespoons unsalted butter, plus more for the baking dish
2 small heads cauliflower (about 3 pounds total), cored and cut into small pieces
1/4 cup all-purpose flour
2 cups whole milk
6 ounces extra-sharp Cheddar, grated (1 1⁄2 cups)
1/8 teaspoon ground nutmeg
kosher salt and black pepper
1 cup panko (Japanese) bread crumbs
1/2 cup chopped fresh flat-leaf parsley
2 tablespoons olive oil
Heat oven to 375° F. Butter a shallow 2-quart baking dish. Fill a large pot with 1 inch of water and fit with a steamer basket; bring the water to a boil. Place the cauliflower in the basket, cover, and steam until very tender, 12 to 15 minutes; drain well.
Meanwhile, melt the butter in a large saucepan over medium heat. Sprinkle with the flour and cook, stirring, for 2 minutes. Gradually whisk in the milk and bring to a boil. Reduce heat and simmer, stirring occasionally, until thickened, 6 to 8 minutes.
Whisk in the cheese, nutmeg, 1 ½ teaspoons salt, and ¼ teaspoon pepper and cook, whisking, until the cheese is melted, 1 to 2 minutes. Remove from heat and gently fold in the cauliflower; transfer to the baking dish.
In a bowl, toss together the bread crumbs, parsley, oil, and ¼ teaspoon each salt and pepper. Sprinkle over the cauliflower and bake until golden brown and bubbling, 15 to 20 minutes.
About Tessa...
I share trusted baking recipes your friends will LOVE alongside insights into the science of sweets. I'm a professionally trained chef, cookbook author, and cookie queen. I love to write about all things sweet, carb-y, and homemade. I live in Phoenix, Arizona (hence the blog name!)
© Handle the Heat - handletheheat.com
Join the Handle the Heat Community


---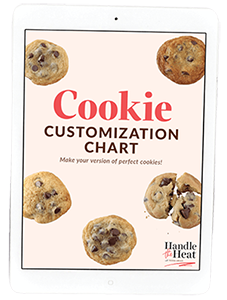 Do you want a more delicious life?
Instead of digging through cookbooks and magazines and searching the internet for amazing recipes, subscribe to Handle the Heat to receive new recipe posts delivered straight to your email inbox. You'll get all the latest recipes, videos, kitchen tips and tricks AND my *free* Cookie Customization Guide (because I am the Cookie Queen)!