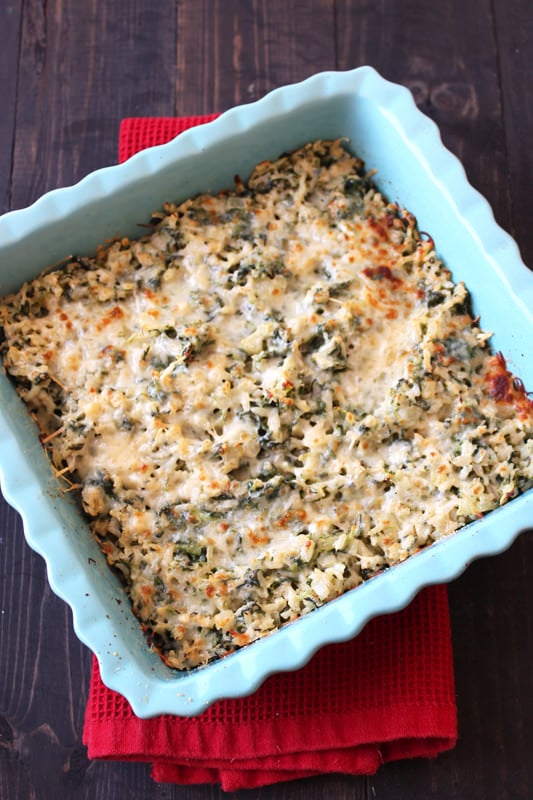 Cheesy Brown Rice Spinach Bake and Smokey Spicy Tomato Sauce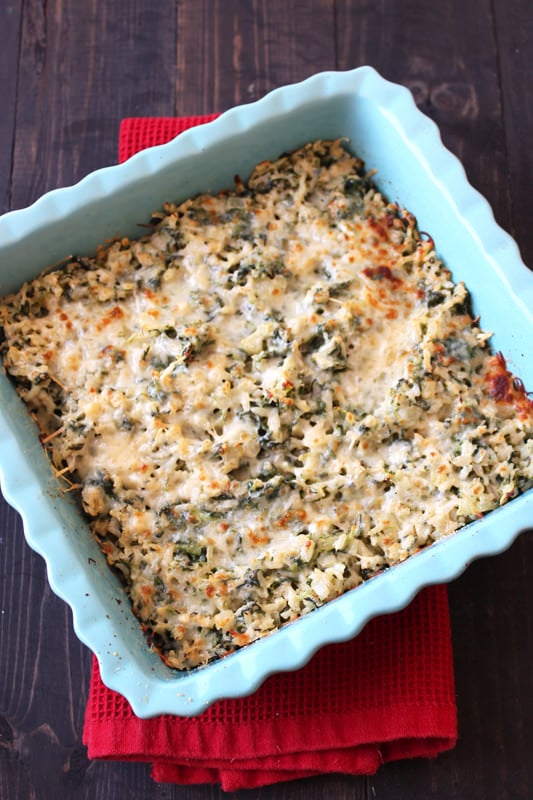 This post is sponsored by Tabasco. All opinions provided are my own.
Today I'm presenting to you my next two recipes for Tabasco's 10 ingredient recipe challenge! If you missed yesterday's introductory post, check out my Spicy Bacon Wrapped Cheese Stuffed Chicken recipe here along with a list of those 10 ingredients.
Usually when I'm thinking up recipes to post on the blog, I'm a little overwhelmed by the sheer possibility of potential recipes. There are literally thousands of ingredients, techniques, and types of recipes I could make and it can often be too much and stifles my creativity. It was actually kind of nice, in a slightly stressful way, to be limited to only certain ingredients. It really makes you realize what your style is and takes you out of your comfort zone. I still don't think I would come close to winning an episode of Chopped anytime soon, but I'm proud of my Tabasco creations! You guys are going to adore this brown rice bake, the textures alone are out of this world. Then I went ahead and created a spicy tomato sauce and added bacon to it. You're welcome. It would be great with any pasta or even just for dipping.
Recipe Rundown
Taste: The brown rice bake is nutty, earthy, slightly spicy, and absolutely tasty. Quite oppositely, the tomato sauce is acidic, smokey, spicy, and rich.
Texture: The brown rice bake is chewy, creamy, gooey, and slightly crisp from the browned cheese. YUM. The tomato sauce is mostly smooth and thick with small chunks of tomato and bacon still remaining.
Ease: Both recipes are very easy, though the brown rice bake takes a while. Make the brown rice ahead of time to expedite things!
Appearance: I love how these dishes feature complimentary colors: red and green. Both look appetizing in their own way.
Pros: I'm still surprised I was able to create recipes that I love using only the 10 ingredients provided by Tabasco.
Cons: None!
Would I make this again? Yes, the brown rice bake especially won't last long in your house!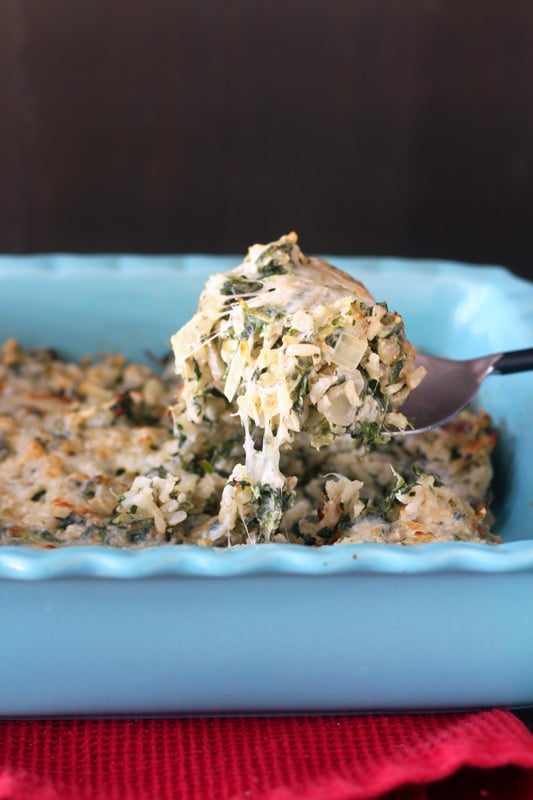 Cheesy Brown Rice & Spinach Bake
Serves 4
1 cup rinsed short grain brown rice
Salt and pepper
2 teaspoons olive oil
1 large sweet onion, chopped
4 ounces cream cheese, softened
10 ounces frozen chopped spinach, thawed and drained
1 tablespoon Tabasco sauce
1/2 cup shredded mozzarella cheese, divided
1/2 cup shredded Parmesan cheese
In a medium saucepan combine the rice, 2 1/4 cups water, and a pinch of salt. Bring to a boil, reduce to a simmer, cover, and cook for 45 minutes, or until the liquid is absorbed and the rice is tender. Make ahead of time and store in an airtight container in the fridge for up to 4 days.
Preheat the oven to 325°F. Spray an 8 by 8-inch baking dish with nonstick cooking spray.
Heat the oil in a large saucepan over medium-high heat. Add the onion and cook, stirring, until translucent and tender, about 5 minutes. Turn off the heat and add the cream cheese and cook, stirring constantly, until melted and smooth. Add the brown rice, spinach, Tabasco, half the mozzarella cheese, and salt and pepper to taste. Stir to combine.
Pour the mixture into the prepared baking dish and sprinkle with the remaining mozzarella cheese and the Parmesan. Cover with foil and bake for 30 minutes. Uncover and broil for another 3 to 5 minutes, or until the cheese is bubbling and golden brown. Serve.
Quick Smokey Spicy Tomato Sauce
Makes 2 1/2 cups
1 tablespoon olive oil
1/2 pound bacon, chopped into 1/2-inch pieces
1 large yellow onion, diced
2 teaspoons Tabasco sauce
1 (28 ounce) can crushed tomatoes
1 tablespoon tomato paste
Salt and freshly ground black pepper
Add the oil and bacon to a large and deep sauté pan or saucepan. Turn the heat to medium-high. Cook until the bacon is mostly rendered of its fat, but not quite crispy. Add the onion and continue cooking, stirring often, until softened, about 3 minutes. Add the Tabasco, crushed tomatoes, and tomato paste and season to taste with salt and pepper. Reduce heat to medium-low and simmer for about 20 minutes, until thickened slightly.
Recipes by Tessa of Handle the Heat
Disclaimer: I am in a paid partnership with Tabasco but all thoughts are my own, as always.
About Tessa...
I share trusted baking recipes your friends will LOVE alongside insights into the science of sweets. I'm a professionally trained chef, cookbook author, and cookie queen. I love to write about all things sweet, carb-y, and homemade. I live in Phoenix, Arizona (hence the blog name!)
© Handle the Heat - handletheheat.com
Join the Handle the Heat Community


---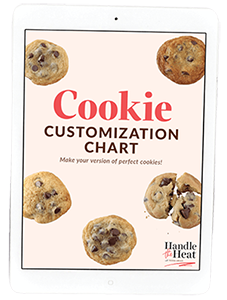 Do you want a more delicious life?
Instead of digging through cookbooks and magazines and searching the internet for amazing recipes, subscribe to Handle the Heat to receive new recipe posts delivered straight to your email inbox. You'll get all the latest recipes, videos, kitchen tips and tricks AND my *free* Cookie Customization Guide (because I am the Cookie Queen)!