Its always been a dream of mine to travel up and down the Mediterranean. To roam a land where wars were fought and glory earned. To gaze upon vast ancient buildings that were once home to some of the greatest civilizations known to man. To soak up the beauty of one of the most enchanting places on the planet. The history alone is enough to travel but the food. Oh, I can only imagine the food. 
Since I've never visited the Mediterranean, I really don't know what authentic cuisine might taste like. Maybe something like this recipe. Hopefully, because this recipe is mighty tasty. Either way, I'm sure I'd enjoy it.
Recipe Rundown
Taste: Classic Mediterranean ingredients lend themselves to saltiness, spiciness, freshness, nuttiness, and all-around savoriness.    
Texture: Tender, crunchy, cheesy, meaty.
Ease: A few simple ingredients interestingly arranged in less than 30 minutes.
Appearance: I found this dish to be both appetizing and unique.
Pros: Flavorful, pretty, simple.
Cons: None that I thought up. 
Would I make this again? Yes. 
Cheesy Mediterranean Stuffed Zucchini
Serves 4
4 medium zucchini 
salt and freshly ground black pepper
1/2 pound hot Italian sausage, casings removed
1/4 cup crumbled feta cheese
2 tablespoons pine nuts
2 tablespoons chopped roasted red peppers
2 tablespoons chopped scallions
pinch dried oregano
Preheat oven to 400 degrees. Spray a baking sheet with cooking spray or line with parchment paper.
Cut the zucchini in half lengthwise. Using a spoon, scoop out the insides, leaving a 1/4-inch thick shell. Place zucchini, cut sides up, on prepared baking sheet and sprinkle with salt and pepper. Set aside.
Heat a skillet over medium-high heat and cook the sausage, breaking up with a spoon, until browned. Remove from heat and mix in cheese, pine nuts, red peppers, scallions, oregano. Spoon sausage mixture into hallowed zucchini shells. Bake 15-18 minutes, until the zucchini is cooked and tender and the cheese is slightly melted.
About Tessa...
I share trusted baking recipes your friends will LOVE alongside insights into the science of sweets. I'm a professionally trained chef, cookbook author, and cookie queen. I love to write about all things sweet, carb-y, and homemade. I live in Phoenix, Arizona (hence the blog name!)
© Handle the Heat - handletheheat.com
Join the Handle the Heat Community


---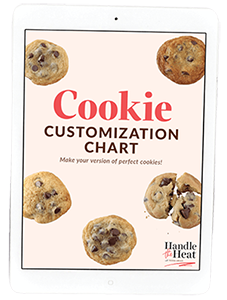 Do you want a more delicious life?
Instead of digging through cookbooks and magazines and searching the internet for amazing recipes, subscribe to Handle the Heat to receive new recipe posts delivered straight to your email inbox. You'll get all the latest recipes, videos, kitchen tips and tricks AND my *free* Cookie Customization Guide (because I am the Cookie Queen)!