Although I'm currently attending culinary school, my favorite recipes are still the simple ones. Sure, I can (usually) successfully make a gourmet dish with endless ingredients and techniques but why would I when a simple dish is easily as tasty? Don't get me wrong, it's fun to be challenged in the kitchen. But most days I don't want to have to yank out every ingredient from my pantry and dirty every dish in the cupboard. I just want something good to eat. This recipe for Chicken Fajitas comes from Jamie Oliver's Food Revolution cookbook.
With only a handful of ingredients, I was apprehensive about how flavorful this dish could possibly be. Turns out I had nothing to worry about. These fajitas have a delightful balance of flavors and they make the kitchen incredible.  Recipe Rundown Taste: Smoky, a hint of spice, tangy, and fresh. Texture: The chicken is perfectly cooked and moist, the onions are soft and slightly caramelized, and the peppers are juicy. I like to smash an avocado with some sour cream to spread on the tortillas for some creamy velvety tang. Ease: Takes about 20 minutes from start to finish!
Appearance: Lovely strips of brightly colored vegetables and chicken. Quick, easy, and healthy – AKA the perfect weeknight meal. None. Would I make this again? I've made this dish numerous times already. Chicken Fajitas From Jamie's Food
Revolution Serves 2 (If you want to serve 4, this recipe can easily be doubled)
1 red bell pepper, sliced into thin strips
1 medium onion, finely sliced
2 boneless, skinless chicken breasts, sliced lengthwise into thin strips
1 teaspoon smoked paprika
pinch cumin
2 limes
1 tablespoon olive oil
salt & freshly ground black pepper
sour cream, avocado, cheese, cilantro, etc. for accompaniment
Combine red bell pepper, onion, chicken, paprika, cumin, the juice of half a lime, and olive oil in a bowl. Season with salt and pepper, mix well. Cook immediately or let marinate for up for 30 minutes. Heat a cast-iron skillet or grill pan over high heat. Once hot, use a pair of tongs to transfer the chicken and vegetable pieces into pan. Cook for 6-8 minutes, stirring often so nothing burns. While fajita mixture is cooking, warm tortillas in microwave or dry frying pan. Once chicken is cooked through, divide fajitas mixture among tortillas. Serve with accompaniments of your choice, including remaining lime.
About Tessa...
I share trusted baking recipes your friends will LOVE alongside insights into the science of sweets. I'm a professionally trained chef, cookbook author, and cookie queen. I love to write about all things sweet, carb-y, and homemade. I live in Phoenix, Arizona (hence the blog name!)
© Handle the Heat - handletheheat.com
Join the Handle the Heat Community


---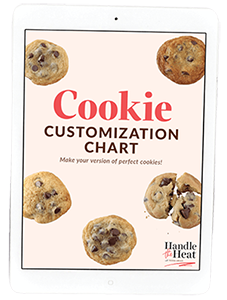 Do you want a more delicious life?
Instead of digging through cookbooks and magazines and searching the internet for amazing recipes, subscribe to Handle the Heat to receive new recipe posts delivered straight to your email inbox. You'll get all the latest recipes, videos, kitchen tips and tricks AND my *free* Cookie Customization Guide (because I am the Cookie Queen)!