Hey everyone 🙂 For Mother's Day I offered to make dinner, which was an idea my mom loved. I thought it would be less stressful and less expensive then finding a restaurant that wasn't filled to capacity with families celebrating Mother's Day. It did turn out to be less stressful and expensive, for everyone but me! I accidentally bought chicken tender breasts instead of chicken cutlets. Everything still worked out fine, but instead of big thin pieces of chicken, I had miniature ones.
I made Chicken Parmesan (at my Mom's request of either Lasagna or a chicken dish) with pasta, a salad, and Tiramisu for dessert. Everything turned out tasty! In fact, we're having leftovers tonight. I used Giada de Laurentiis' recipe (surprise, surprise) for a lightened version of Chicken Parmesan. The chicken in this recipe isn't coated with eggs and a pile of breadcrumbs, then fried. Its stands up to the traditional (and unhealthy) version, but definitely can't top it.
Note: I definitely used more cheese then the recipe called for! Also, I don't have an ovenproof skillet (someone feeling generous?) so I transferred everything to a glass baking dish. I didn't dot the tops of the cutlets with unsalted butter either, simply because I didn't have any unsalted butter.
Chicken Parmesan
From Everyday Italian by Giada de Laurentiis

1 tablespoon olive oil
1 teaspoon chopped fresh thyme
1 teaspoon chopped fresh rosemary
1 teaspoon chopped fresh flat-leaf parsley
4 chicken cutlets (about 3 oz each)
1 teaspoon salt
1/2 teaspoon freshly ground black pepper
3/4 cup Marinara Sauce (recipe follows)
1/4 cup shredded mozzarella cheese
8 teaspoons freshly grated Parmesan cheese
1 tablespoon unsalted butter, cut into pieces
Preheat the oven to 500 degrees. In a small bowl, stir the oil and herbs to blend. Brush both sides of the cutlets with the herb oil and sprinkle with salt and pepper. Heat a large, heavy ovenproof skillet over a high flame. Add the cutlets and cook just until brown, about 1 minute per side. Remove from heat.
Spoon the marinara sauce over and around the cutlets. Sprinkle 1 tablespoon of mozzarella over each cutlet, then sprinkle 2 teaspoons of Parmesan over each. Dot the tops with the butter pieces, and bake until the cheese melts and the chicken is cooked through, about 5 minutes.
Marinara Sauce
Makes about 2 quarts (8 cups); 1 quart will serve 4 over pasta
Lasts 1 week refrigerated, 3 months frozen

1/2 cup extra-virgin olive oil
2 small onions, finely chopped
2 garlic cloves, finely chopped
2 celery stalks, finely chopped
2 carrots, peeled and finely chopped
1/2 teaspoon sea salt, plus more to taste
1/2 teaspoon freshly ground black pepper, plus more to taste
2 (32 oz) cans crushed tomatoes
2 dried bay leaves
In a large pot, heat the oil over a medium-high flame. Add the onions and garlic and saute until the onions are translucent, about 10 minutes. Add the celery, carrots, and 1/2 teaspoon each of salt and pepper. Saute until all the vegetables are soft, about 10 minutes. Add the tomatoes and bay leaves, and simmer uncovered over low heat until the sauce thickens, about 1 hour. Remove and discard the bay leaves. Season the sauce with more salt and pepper to taste. (The sauce can be made 1 day ahead. Cool, then cover and refrigerate. Rewarm over medium heat before using.)
About Tessa...
I share trusted baking recipes your friends will LOVE alongside insights into the science of sweets. I'm a professionally trained chef, cookbook author, and cookie queen. I love to write about all things sweet, carb-y, and homemade. I live in Phoenix, Arizona (hence the blog name!)
© Handle the Heat - handletheheat.com
Join the Handle the Heat Community


---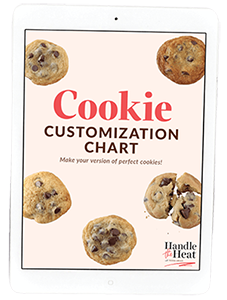 Do you want a more delicious life?
Instead of digging through cookbooks and magazines and searching the internet for amazing recipes, subscribe to Handle the Heat to receive new recipe posts delivered straight to your email inbox. You'll get all the latest recipes, videos, kitchen tips and tricks AND my *free* Cookie Customization Guide (because I am the Cookie Queen)!