By the time you read this post I'll probably be on a plane, making my way from Arizona to Colorado. And by the end of this week I'll have visited Denver, Salt Lake City, Boise, Spokane, and Seattle.
You might be wondering if I've turned into a gypsy. I haven't. I'll actually be visiting my boyfriend as he tours the country with his band. Now you're probably wondering if I've turned into a groupie. I haven't! Promise.
Lots of people I've talked with think that touring the country is some sort of fabulous almost-vacation. Sometimes it is, sometimes it isn't. From a girl's perspective, it's a little rough. The tour bus doesn't have a shower and the bathroom is about the size of an airplane bathroom. That means having to use what I imagine to be STD-laden venue bathrooms or hoping to have access to a hotel room. Your bunk is in all respects similar to a coffin (small & dark). Also, a mini fridge and microwave constitute a kitchen on the tour bus. That's a sad state for a food blogger like myself. You don't really know where your next meal will be from, but it's likely fast-food.
But it is fun to wake up in a new place everyday and I'm excited for this visit because outside of airports I've never visited Colorado, Utah, Idaho, or Washington. Of course I'm most excited to spend time with my boyfriend. If you would like to follow along as I travel up the west region of the U.S., follow me on twitter.
P.S. – don't worry, I worked overtime to make sure this week's recipe posts would be ready to go.
Recipe Rundown
Taste: Simple, tangy, sweet, and savory. A hint of pine from the rosemary.   
Texture: The chicken is moist and perfectly cooked while the sauce is thick, creamy, and full of sweet shallots.
Ease: Comes together in less than 20 minutes with a few simple ingredients.
Appearance: It was hard not to take a bite when photographing this recipe.
Pros: Quick, easy, light, perfect for dinner.
Cons: None.
Would I make this again? Yes!
Chicken with Creamy Dijon Sauce
Serves 4
From Cooking Light January/February 2011
4 (6-ounce) boneless skinless chicken breast halves
1/2 teaspoon kosher salt
1/4 teaspoon freshly ground black pepper
1 tablespoon olive oil
1 medium shallot, chopped
1/2 cup low-sodium chicken broth
1 fresh rosemary sprig
3 tablespoons whipping cream
2 teaspoons Dijon mustard
Place chicken breast halves between 2 sheets of plastic wrap; pound to 1/2-inch thickness. Sprinkle chicken with salt and pepper. Heat olive oil in a large skillet over medium-high heat. Add chicken; saute 3 minutes on each side or until slightly browned and cooked through. Transfer chicken with a serving platter.
Add chopped shallot to pan; saute for 2 minutes. Stir in chicken broth; bring to a boil and cook for 2 minutes. Stir in cream; cook 2 minutes more. Remove pan from heat and stir in Dijon mustard. Spoon pan sauce over chicken.
About Tessa...
I share trusted baking recipes your friends will LOVE alongside insights into the science of sweets. I'm a professionally trained chef, cookbook author, and cookie queen. I love to write about all things sweet, carb-y, and homemade. I live in Phoenix, Arizona (hence the blog name!)
© Handle the Heat - handletheheat.com
Join the Handle the Heat Community


---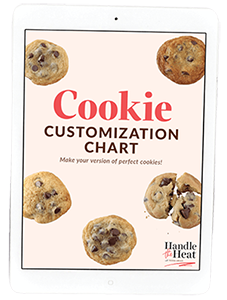 Do you want a more delicious life?
Instead of digging through cookbooks and magazines and searching the internet for amazing recipes, subscribe to Handle the Heat to receive new recipe posts delivered straight to your email inbox. You'll get all the latest recipes, videos, kitchen tips and tricks AND my *free* Cookie Customization Guide (because I am the Cookie Queen)!