Dark & Soft Restaurant Dinner Rolls
If you didn't already know, I have a major cookbook addiction. I could spend hours lusting over all the cookbooks on Amazon, adding them to my wishlist. I even had to buy an extra bookshelf for all my cookbooks (and I'm only 19). But I often catch myself eyeing recipes online and adding them to my "to-make" list, despite my vast cookbook collection. So lately I've made a point to start marking pages and making lists of tasty looking recipes from my shelves to make and post here. One of my favorite books, King Arthur Whole Grain Baking (which I actually reviewed here), never fails to inspire me to bake. When I flipped the pages to this recipe for Dark & Soft Restaurant Dinner Rolls, much like the ones at your favorite steakhouse, I started pulling out the necessary ingredients almost immediately. And I'm glad I did because the recipe created an easy dough and a delicious roll.

Recipe Rundown
Taste: Mildly sweet, nutty, and reminiscent of the rolls served at steakhouses.
Texture: Slightly crusty on the outside, soft and somewhat dense on the inside. 
Ease: This dough simply requires patience through 2 risings. Other than that, the dough is actually very easy to work with as it's not too sticky. 
Appearance: I think these might have been more attractive if I had sprinkled them with oatmeal flakes before baking.
Pros: Whole wheat, tasty, and satisfying.
Cons: A tad bit more tense than I usually prefer my bread to be.
Would I make this again? I actually froze half my rolls to save for later.
Dark & Soft Restaurant Dinner Rolls
From King Arthur Whole Grain Baking
Yield: 10 large rolls, 20 servings
1 cup lukewarm water

1/3 cup orange juice

4 tablespoons (1/2 stick, 2 ounces) unsalted butter, cut into 6 pieces

1/3 cup honey

2 1/4 cups (9 ounces) traditional whole wheat flour

2 1/4 cups (9 1/2 ounces) unbleached bread flour

1 3/4 teaspoons salt

3 tablespoons sugar

2 tablespoons Dutch-process cocoa

2 1/2 teaspoons instant yeast
To prepare the dough: Combine all the dough ingredients, and mix and knead them – by hand, mixer or bread machine – until you have a medium-soft, smooth dough. Cover and allow the dough until it's quite puffy, though probably not doubled in bulk, 1 to 2 hours.

Lightly grease a baking sheet or line with parchment paper.

To shape the rolls: Gently deflate the dough, and transfer it to a lightly greased work surface. Divide the dough into i0 even pieces (about 4 ounces each), and shape the pieces into 5 x 2-inch oval rolls. Place the rolls on the prepared baking sheet, and allow them to rise, covered, for 1 1/2 to 2 hours. They won't have doubled in size, but will appear puffy; when you gently press your finger into one, the indentation will rebound quite slowly. Toward the end of the rise, preheat the oven to 350 degrees F.

To bake the rolls: Uncover and bake the rolls until the bottoms appear slightly browned (you'll have to carefully pick one up to look) or until an instant-read thermometer inserted in the center of a roll reads about 200 degrees F, 25 to 30 minutes. Remove the rolls from the oven, and cool them on a rack.
About Tessa...
I share trusted baking recipes your friends will LOVE alongside insights into the science of sweets. I'm a professionally trained chef, cookbook author, and cookie queen. I love to write about all things sweet, carb-y, and homemade. I live in Phoenix, Arizona (hence the blog name!)
© Handle the Heat - handletheheat.com
Join the Handle the Heat Community


---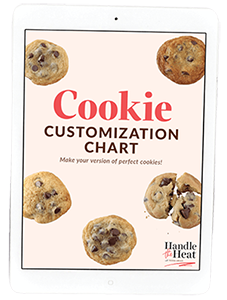 Do you want a more delicious life?
Instead of digging through cookbooks and magazines and searching the internet for amazing recipes, subscribe to Handle the Heat to receive new recipe posts delivered straight to your email inbox. You'll get all the latest recipes, videos, kitchen tips and tricks AND my *free* Cookie Customization Guide (because I am the Cookie Queen)!