There's an overwhelming pool of evidence that illustrates how beneficial eating a healthy breakfast is to your health. People who eat breakfast are often slimmer because they feel satisfied and energized throughout the morning and don't binge during lunch due to hunger. Breakfast is also the perfect time to squeeze all the necessary nutrients into your day such as minerals (especially calcium), vitamins, protein, and fiber. Everyone has time for breakfast, even if you have to wake up 10 minutes earlier. Believe me, those 10 minutes will not be missed once your body has fuel to be productive in the morning.
A wholesome breakfast should include fiber (fruits, vegetables, and whole grains) and protein (eggs, peanut butter, low fat dairy, lean meat or poultry, beans, and nuts). Here are some ideas that include those components to give you a delicious, satisfying, and healthy kick start to your morning.
Quick Breakfast Ideas
My favorite: Whole Wheat Frozen Waffles toasted with peanut butter spread on top and sprinkled with fresh fruit (berries, banana, mango, apple, anything you like) with a glass of milk.
Whole Wheat Pancakes slathered with yogurt and topped with fresh fruit. 
Breakfast on the go – whole grain cereal or granola with yogurt and fruit.
Breakfast burrito with a whole wheat tortilla, scrambled eggs, avocado, black beans, sharp cheddar, and salsa.
English muffin topped with diced tomato, shredded mozzarella, Canadian bacon, and chopped basil.

Healthy Breakfast Sandwich
Adapted from
So Easy
by Ellie Krieger
Makes 4 sandwiches
olive oil
4 whole eggs plus 4 egg whites
1/4 cup minced chives
1/4 cup chopped parsley
1/4 cup sharp cheddar cheese, shredded
4 whole-wheat English muffins
4 slices Canadian bacon
1 large beefsteak tomato, cut into slices (I ate my tomato slice on the side)
Crack eggs and egg whites into a bowl and whisk. Add chives, parsley, and cheese and stir to incorporate. 
Lightly coat skillet with olive oil. Ladle 1/4 egg mixture into skillet and cook, omelet style, until eggs are cooked through, about 1 to 2 minutes per side. Slide omelet onto a plate and repeat with remaining eggs; cover with foil to keep warm. 
In same skillet, heat Canadian bacon until warm, about 1 to 2 minutes per side. Toast English muffin. 
Fold omelet in to fit English muffin, then place omelet on 1 muffin half. Top with a bacon slice, then tomato, then top with other muffin half. Eat with a tall glass of fresh juice.
Check out these other healthy breakfast recipes:
About Tessa...
I share trusted baking recipes your friends will LOVE alongside insights into the science of sweets. I'm a professionally trained chef, cookbook author, and cookie queen. I love to write about all things sweet, carb-y, and homemade. I live in Phoenix, Arizona (hence the blog name!)
© Handle the Heat - handletheheat.com
Join the Handle the Heat Community


---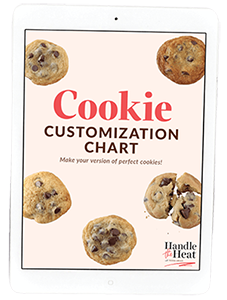 Do you want a more delicious life?
Instead of digging through cookbooks and magazines and searching the internet for amazing recipes, subscribe to Handle the Heat to receive new recipe posts delivered straight to your email inbox. You'll get all the latest recipes, videos, kitchen tips and tricks AND my *free* Cookie Customization Guide (because I am the Cookie Queen)!