Well we've made it through the first month of 2011. I hope your year has been full of health and happiness (and peanut butter) so far. I also hope you haven't abandoned your New Year's resolutions just yet. Even if you have, this recipe might save you. It incorporates several of the topics I've already covered in this Eat Healthy series – switching to whole wheat, eating breakfast, and switching from store-bought to homemade. Every little granola square is full of protein and peanut butter-chocolate goodness. No refined sugar, preservatives, artificial flavors or colors. Make a tray of these granola squares (seriously, it takes about a half hour to whip up) and you will have a week's worth of healthy snacks (or quick breakfast) for yourself and your family.
Also, can I just say that granola bars are so much better than granola all free form? Having something thick and chewy to sink your teeth into is just so much more satisfying.
Check out Eat Healthy Week one, two, three, and four for more easy recipes.



Recipe Rundown
Taste:
If you didn't know it already, I love the combination of chocolate and peanut butter. This is pretty much the granola version of one of my favorite
cookies
.
Texture:
Chewy in the middle, slightly crisp around the edges, with studs of chocolate chips and peanut chunks throughout.
Ease: Just a few simple ingredients mixed together and baked off.
Appearance: These granola bars just look like they're ready to sink your teeth into.
Pros: Just as tasty as the packaged variety but even better for you.
Cons: None. 
Would I make this again? Yes! Next time I think I'll add peanut butter chips (as soon as I find somewhere local to buy them).

Peanut Butter Chocolate Chip Granola Bars
From How Sweet it Is
Makes 12-16 bars
4 cups rolled oats
1/2 cup unsalted peanuts, chopped
3/4 cup natural peanut butter, melted
1/2 cup brown rice syrup or honey
1/2 cup chocolate chips
1. Preheat over to 350. In a large bowl, combine oats, and peanuts. Add brown rice syrup (or honey) and peanut butter, mix to combine. Add in chocolate chips and stir to evenly distribute. If mixture is still too dry (this can depend on your ingredients) add more peanut butter or syrup (or honey) 1 tablespoon at a time until moistened.
2. Using a spatula or your hands, press dough evenly in a greased (non-stick spray) 9 x 13 baking dish. Bake for 25 minutes.
About Tessa...
I share trusted baking recipes your friends will LOVE alongside insights into the science of sweets. I'm a professionally trained chef, cookbook author, and cookie queen. I love to write about all things sweet, carb-y, and homemade. I live in Phoenix, Arizona (hence the blog name!)
© Handle the Heat - handletheheat.com
Join the Handle the Heat Community


---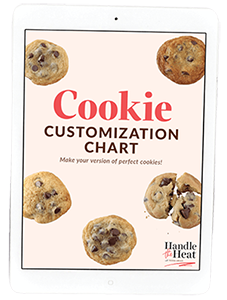 Do you want a more delicious life?
Instead of digging through cookbooks and magazines and searching the internet for amazing recipes, subscribe to Handle the Heat to receive new recipe posts delivered straight to your email inbox. You'll get all the latest recipes, videos, kitchen tips and tricks AND my *free* Cookie Customization Guide (because I am the Cookie Queen)!