Eat Healthy Week One – Add More Veggies
Welcome to my first recipe post in the new series Eat Healthy. This week I'll be focusing on adding more vegetables to your diet. Adding fruits to your diet is easy because fruit is sweet and tasty raw and on its own. Vegetables, however, are a little harder. Sure there's veggies like carrots which can make a good snack but you probably wouldn't want to take a big bite into an eggplant, squash, or raw potato. So to me, a recipe that feature lots of veggies but that also tastes fantastic is a gem, much like the one at the end of this post (Noodles with Spicy Vegetable Stir-Fry).
Here are 10 of my favorite tips for adding more vegetables to your daily diet:
Throw some into your pasta sauce: adding a handful of diced bell peppers, mushrooms, carrots, chopped spinach, sliced zucchini, or whatever you have on hand, is a quick and easy way to add veggies to your diet. The smaller you chop the vegetables, the less noticeable they are which makes this a good tip for getting kids to eat healthier. Another quick way to up the veg is by making yourself a vegetable-packed omelet for breakfast using some of the same vegetables mentioned just above. Add some cauliflower into your kid's mac & cheese or top your sandwich with leafy greens and whatever vegetables you have on hand.
Buy seasonal: seasonal produce is often cheaper and at its peak both nutritionally and taste-wise. Find out what's seasonal in your area and plan your weekly menu around it.
Use conveinence: if incorporating more vegetables into your diet seems daunting, don't hesitate to utilize today's convenience options (it's much better than no veggies). Canned vegetables are a great back-up when there's nothing fresh in the fridge. Frozen vegetables are even better since they are frozen at their peak freshness. Just be sure to avoid excess salt and other additives by reading labels.
Snack right: easy to prepare vegetables like baby carrots, grape tomatoes, snap peas, bell peppers, celery, and broccoli are easy to transport and taste great with healthy dips like hummus. 
Add salads: purchase a box or bag of pre-washed salad greens every week and incorporate at least one serving of leafy greens everyday. Check out my tutorial on how to make salad dressing in 2 minutes.
Make tasty sides: side dishes are an excellent opportunity to add some vegetables. I love to lightly steam vegetables like broccoli and green beans – it creates a crisp-tender texture that's SO much better than boiling (and healthier). I also adore roasted root vegetables (potatoes, carrots, turnips, parsnips, squash, etc). Be sure to give yourself a generous portion of vegetables on your dinner plate.
Get more from take-out: no matter how hard you try to eat healthy, take-out is going to be a necessary evil every once in a while. Make the most of it by ordering veggie pizzas, side salads, or steamed vegetables.
Don't forget: unwrap all your veggies from their grocery store plastic bags and put them in a place in your fridge or on your counter where you will see them often so you are reminded to use them before they go bad. Better yet, have them washed and prepared (if possible) so you won't have an excuse not to use them.
Make a goal: resolve to eat at least __ servings of vegetables a day. If that number is small, resolve to increase it gradually as time passes. If necessary, keep track through a journal, facebook, twitter, blog, phone, family member, anyway that makes you count your servings and holds you accountable.
Go Vegetarian: create a veggie day in your weekly menu where you opt for a fresh vegetarian dish, such as the following recipe, for dinner.
 If you can implement just one of the above tips this week, and hopefully a few by the end of this month, you're well on your way to a healthful diet.
Recipe Rundown
Taste: Spicy, sweet, and nutty. The flavors are very Asian and aromatic.
Texture: The vegetables are soft, the noodles are chewy, and the sauce is thick and luxurious.
Ease: Not the easiest dish as it requires a bit of prep and the use of a few dishes and tools. Even so, it shouldn't take more than a half hour to prepare.
Appearance: The sauce for this dish just looks creamy and delicious.
Pros: Full of vegetables, perfect meatless main dish, very tasty.
Cons: Requires quite a few ingredients and prep work. Doesn't keep well for leftovers.
Would I make this again? Yes.
 Noodles with Spicy Vegetable Stir-Fry
From The Food Matters Cookbook by Mark Bittman
Serves 4
Note: use almost any vegetable you have on hand to substitute for the vegetables listed (for example – tomato, winter squash, snow peas, green beans, broccoli) as long as you keep the total quanity the same and adjust the cooking times accordingly. You can also substitute any nut butter you like. 
salt
2 tablespoons vegetable oil
1 large onion, halved and sliced
1 cup chopped or grated carrot
2 tablespoons minced garlic
1 fresh hot chile (like jalapeno or Thai), seeded and minced, or to taste
grated zest of 1 lime
1 1/2 pounds eggplant, zucchini, summer squash, or a combination, peeled as necessary and cut into chunks
8 ounces rice, buckwheat (soba), or wheat noodles, preferably whole grain
1 cup coconut milk
1/3 cup peanut butter
1 tablespoon sugar or honey, optional
3 tablespoons soy sauce
black pepper
1/2 cup chopped fresh cilantro 
lime wedges
Bring a large pot of water to a boil and salt it. Put the oil in a large skillet over medium-high heat. When it's hot, add the onion and carrot and cook, stirring occasionally, until softened, about 5 minutes or so. Stir in the garlic, chile, lime zest, then add the eggplant, zucchini, and/or squash. Cook, stirring occasionally and adjusting the heat as necessary so the vegetable cooks quickly without burning, until softened, 10-20 minutes. 
Meanwhile, cook the noodles in the boiling water until tender but not mushy (follow the package instructions). When the noodles are just tender, drain them, reserving some of the cooking water.
Whisk together the coconut milk, peanut butter, sugar, or honey if you're using it, and soy sauce. Add the coconut mixture and noodles to the skillet and toss, adding noodle cooking water if necessary to moisten. Sprinkle with pepper, taste, and adjust seasoning if necessary. Serve hot, garnished with cilantro and lime wedges.
About Tessa...
I share trusted baking recipes your friends will LOVE alongside insights into the science of sweets. I'm a professionally trained chef, cookbook author, and cookie queen. I love to write about all things sweet, carb-y, and homemade. I live in Phoenix, Arizona (hence the blog name!)
© Handle the Heat - handletheheat.com
Join the Handle the Heat Community


---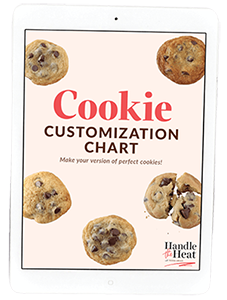 Do you want a more delicious life?
Instead of digging through cookbooks and magazines and searching the internet for amazing recipes, subscribe to Handle the Heat to receive new recipe posts delivered straight to your email inbox. You'll get all the latest recipes, videos, kitchen tips and tricks AND my *free* Cookie Customization Guide (because I am the Cookie Queen)!