30
I delve into my food photography setup including lighting, organization, equipment, and example photographs.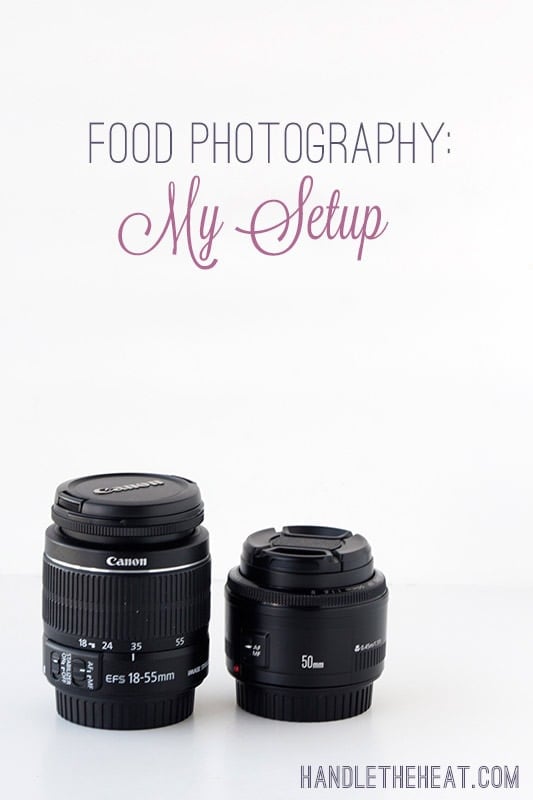 For a comprehensive list of all the equipment I use and a breakdown of lenses, see my first food photography post.

Today I'm going going to show you some behind-the-scenes shots of what goes into the first stages all the food photos I take for the various recipes I post on the blog. Warning, this post is quite picture-heavy! Like I stated in my first photography post, I am definitely not a professional. One look at my setup and you can see that. It is very basic and very DIY. An Ikea table, homemade wood boards, poster boards, sheets, and a big window make up the majority of my food photography setup. I even use a cardboard box to prop up my backdrops. This all happens while Chewie watches the food, licking his lips! Luckily it doesn't take much to get a good shot, just some basic knowledge and some good natural lighting.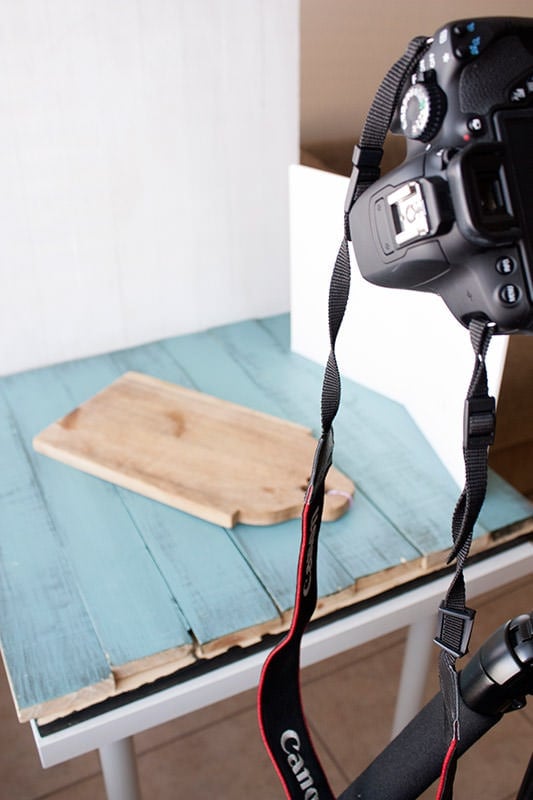 I have a few DIY wood boards which I shoot on most of the time. I basically used a combination of these three tutorials to create a dark wood board, a white board, and a distressed blue board. These boards are all made with basic materials, tools, and paint from Home Depot, with the help of Jared! I also sometimes shoot directly on poster board (example), sample tile squares from Home Depot (example), or on a marble pastry board (example), or some combination of all those. I often use a small bi-fold poster board to reflect light on small subjects, or a full size white poster board to reflect light on large setups. This Ikea tabletop is where 90% of the action happens. It's the perfect size and height for my little setup and was ultra cheap. I love it.
I love this tripod because it has so many different height options. I usually take vertical images, which this setup is perfect for, but sometimes I need to do horizontal justification for my YouTube thumbnail images. Many shoots I will set my tripod height so the images I photograph are taken from a three-quarters view, meaning they are a little above eye level but not completely overhead. This is the easiest angle to photograph from because it allows the food to take up the majority of the shot so I don't have to worry about too much styling or if my surface area is large enough to not have it cut off in the background. Sometimes I will do direct overhead shots, which I will either have to stand on a stool or use a shorter surface to achieve (example). Sometimes I will shoot at eye level, which requires a staged backdrop since it will be more prominent in the background of the image (example). It all just depends on the subject and my vision for the photo, but luckily this setup allows for a wide range of angles and lighting. I try to use at least two different angles per recipe to make sure I'm getting the best possible shot. Sometimes you don't know if another angle or lighting situation will look better or worse until you play around a bit.

I recently purchased a cart to store all my photography-related things because I was sick of having to go back-and-forth from the office to grab them mid-shoot and because I always left everything out in a big mess. The cart helps keep everything neat, organized, and maneuverable which is also nice if I need to tear down the setup if we're having company over or cleaning the room or something. Plus it's such a cute color. I'm such a sucker.
On the Ikea cart:
Lenses, lens caps, Rode shotgun microphone for video work, napkins, remote control, sheet for diffusing the window, clamps for holding up poster boards, binder clips for affixing the sheet to the window, small wooden boards, camera cleaning kit. Stacked behind the cart are large poster boards in various colors for backdrops or reflectors.
Lighting
As you can see from the above setup photos, I shoot in front of a large window at the front of my house. 99.99% of the finished food photos I publish for the recipe posts on this blog are shot with natural lighting. Sometimes my process step-by-step recipe shots are shot with a combination of natural lighting and the overhead lighting in my kitchen. My videos are shot with artificial lighting, that's a subject for another post.
The window is north facing and there are no buildings directly outside of it so it has bright indirect light for many hours throughout the day. It doesn't get too warm or too cool which is wonderful. I use this window because it is big and because it is one room away from the kitchen. It is also a fairly empty and spacious room. The bummer about my setup is that the room is technically the formal living room and is the first room guests walk into when entering our house. When we first moved in and I was trying to find the best place to create food photos, I thought the spare guest bedroom was the best place because everything would be tucked away and out of sight. The window in that room was half the size and faced west with another neighboring house blocking a lot of the light so the light quality wasn't great. I photographed in front of that window for a long time, basically until summer 2012. Check out the archives from January 2012 to see photos taken from that window. They're definitely not great food photos but they aren't terrible either.
This room actually has another window on the other wall, which is often blocked by my backdrop board when I'm doing side-lit photos. Sometimes if it's a gloomy day or if the sun is setting I will open up that window too to let in even more light. As you can see the main window is very bright, sometimes the light can be too reflective, especially if I'm photographing a drink or something on a shiny plate. If that happens, I'll attach a basic plain white bedsheet with binder clips to the blind headrail to diffuse the light. This makes the light softer and less reflective, giving a more airy dreamy quality to the photos. The nice thing about this setup is I can use the window for side-lighting or backlighting, as demonstrated by the photos below.
Left: f/3.2, 1/4 sec SS, ISO 100, 50mm lens | Right: f/4.5, 1/3 sec SS, ISO 100, 18-55mm lens at 37mm
Left: f/4.5, 1/8 sec SS, ISO 100, 18-55mm lens at 35mm | Right: 4/.5, 1/6 sec SS, 100 ISO, 50mm lens
While I only diffuse the light sometimes, I reflect the light much of the time. Sometimes if I want dark moody shadows I won't reflect the light, or I'll use a dark-shaded board to reflect, but often times I simply use a large white poster board held upright with basic clamps from Home Depot or if the subject is smaller, I'll use a bi-fold poster board from Michael's to reflect the light and avoid having any harsh or unflattering shadows. These options work great for me as I'm usually shooting in great conditions. Living in Arizona we have lots of sunlight most of the time, so I'm pretty lucky in that regard!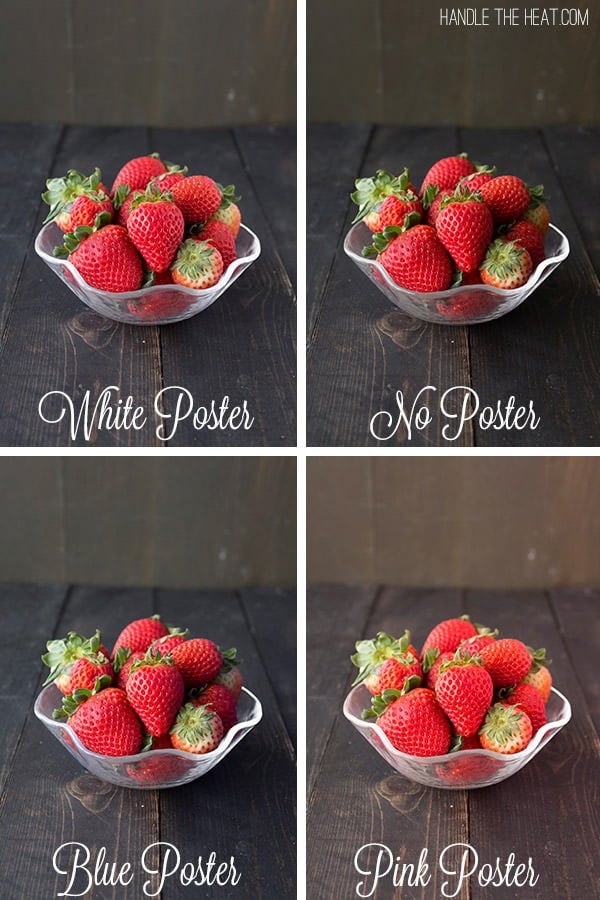 To further demonstrate the differences between side lighting and back-lighting and the effects reflectors can have, I took a handful of photos of the same bowl of strawberries with small variations. Note that these photos are completely unedited, just resized to fit in the collages with text describing the reflection setup. Each strawberry image was taken with my 18-55mm lens at about f/4.5, 1/4 sec, ISO 100, and at a 35mm focal length. In the above images I used side lighting from the window, coming in from a 9 o'clock angle. When I used a poster board to reflect the light, it was at a 3 o'clock angle. As you can see, the white poster erases any shadows and allows the strawberries to be bright and evenly lit. No poster allows for a darker, more shadowy image. The blue poster casts a cool hue and more shadowy effect on the strawberries while the pink poster casts a warm bright hue.

I used a similar procedure to showcase how reflectors change the photo in backlit situations. With no poster, all the light is coming from behind which leaves my strawberries in a bit of a shadow. When the poster is at 9 0'clock, there are less shadows but when the poster is right below my camera at 6 o'clock, the strawberries are completely illuminated with no shadows.
Did you find this interesting?
If so, you'll probably love the new project I'm working on called Food Blog Academy. Feel free to signup just below to receive more blogging articles, tips, tricks, and tutorials straight to your inbox. If you want to go a step further and enroll to receive exclusive training on how to transform your blog into your dream job, be sure to check it out here. Happy blogging!