Fresh Air Retreat – Scottsdale 2022
At the beginning of May I had the pleasure of attending the Fresh Air Retreat right here in Scottsdale, Arizona. It was SUCH a treat to get to spend time with so many other amazing professional food bloggers. We got to stay in a gorgeous Scottsdale house complete with a massive covered patio and a sparkling pool. Not to mention we were absolutely spoiled with gourmet food at every turn.
Chef Trimell Hawkins cooked most of our meals right from the house. I have to say… I got used to this way too quickly.
The entire retreat was organized by Liz and Lauren, two wonderful blogger friends of mine, and made possible by their hard work alongside some incredible sponsors.
One of the main sponsors, Minute Rice, conducted a challenge with us seeing how creative we could get using their Minute Rice Cups using a smorgasbord of ingredients to work with.
I went the sweet route (of course) and made a simple white rice bowl with peanut butter, vanilla yogurt, fresh berries, banana, and cinnamon. It's actually something I would eat for quick and easy breakfast or post workout snack. In fact, they sent us home with a variety of the Rice Cups and I've already eaten almost all of them. They're such a solid pantry staple to make a quick and easy meal with whatever you have on hand.
My bowl was probably the least creative… Kristen won the competition when she combined leftover cooked salmon, avocado, cucumber, sesame seeds, and soy sauce to create a dish that literally looks like it came from a restaurant (bottom right):
We also had the pleasure of getting treated to some delicious Certified Angus Beef. My favorite part of getting to know their brand was doing a side-by-side visual and taste test comparison of different grades of ribeye. It was FASCINATING and the difference in the taste, texture, and appetite appeal was remarkable.
If you're not familiar with Zwilling, they are comprised of a collection of premium brands from J.A. Henckels knives to Staub cast iron cookware (two of my favorites). We got a peek at new products they've recently launched as well as an education into the process of making quality knives.
Despite getting spoiled by the sponsors (and getting to take home some sweet swag), my favorite part of the week was simply getting to relax and spend time with other food bloggers. People who 'get' what you do for a living. Blogging can feel pretty isolating at times so there's nothing more special than quality time spent in person.
Go visit all the other attendees websites, you're sure to find some delicious recipes to add to your list!
Thanks to all of the incredible sponsors for making such a special week possible:
Photography by Arrae Creative.
About Tessa...
I share trusted baking recipes your friends will LOVE alongside insights into the science of sweets. I'm a professionally trained chef, cookbook author, and cookie queen. I love to write about all things sweet, carb-y, and homemade. I live in Phoenix, Arizona (hence the blog name!)
© Handle the Heat - handletheheat.com
Join the Handle the Heat Community


---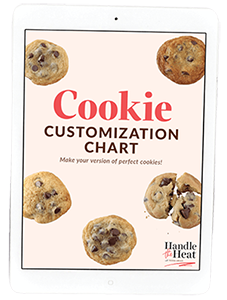 Do you want a more delicious life?
Instead of digging through cookbooks and magazines and searching the internet for amazing recipes, subscribe to Handle the Heat to receive new recipe posts delivered straight to your email inbox. You'll get all the latest recipes, videos, kitchen tips and tricks AND my *free* Cookie Customization Guide (because I am the Cookie Queen)!