Did you know that I adore shrimp? And pasta? And Italian food all-together? Did you also know I love my meals (and men) to be uncomplicated, easy, healthy, satisfying and great on a weeknight? I can safely say that this recipe satisfied all of what I love in a recipe. It comes straight from the cover of Ellie Krieger's newest book So Easy. I've made a few of Ellie's recipes in the past and have been pleased with every single one and this Garlic Basil Shrimp is no exception. I think if you add this recipe to your menu for dinner this week, you'll be pleased too.
Recipe Rundown
Taste: Simple yet mouthwatering. These flavors are divine when paired.
Texture: Perfect, just don't overcook the shrimp.
Ease: Very easy, very weeknight dinner proof.
Appearance: Shrimp is an attractive seafood specimen. I love the look of this dish because the shrimp and tomatoes are about the same size and orzo always looks lovely.
Expense: If you buy the shrimp frozen this recipe rounds out under $10.
Pros: Super easy, delicious, and healthy. And shrimp is my favorite!
Cons: I can't think of any.
Would I make this again? Mhmm!

Garlic Basil Shrimp
2 tablespoons olive oil
1 1/4 pounds large shrimp (20 to 25 per pound), peeled and deveined
3 garlic cloves, minced
1/8 teaspoon dried hot red-pepper flakes, or more to taste
3/4 cup dry white wine
1/4 cup finely chopped fresh basil leaves
1 1/2 cups grape tomatoes, halved
salt and freshly ground black pepper
3 cups cooked orzo pasta, preferably whole wheat
Heat the oil in a large heavy skillet over moderately high heat until hot but not smoking, then saute shrimp, turning over once, until just cooked through, about 2 minutes. Transfer with a slotted spoon to a large bowl.
Add garlic and red pepper flakes to the oil remaining in skillet and cook until fragrant, 30 seconds. Add wine and cook over high heat, stirring occasionally, for 3 minutes. Stir in basil and tomatoes and season the sauce with salt and freshly ground black pepper, to taste. Return the shrimp to pan and cook just until heated through.
About Tessa...
I share trusted baking recipes your friends will LOVE alongside insights into the science of sweets. I'm a professionally trained chef, cookbook author, and cookie queen. I love to write about all things sweet, carb-y, and homemade. I live in Phoenix, Arizona (hence the blog name!)
© Handle the Heat - handletheheat.com
Join the Handle the Heat Community


---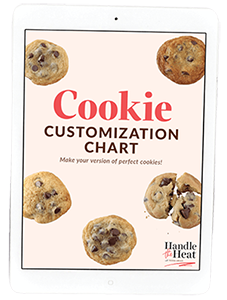 Do you want a more delicious life?
Instead of digging through cookbooks and magazines and searching the internet for amazing recipes, subscribe to Handle the Heat to receive new recipe posts delivered straight to your email inbox. You'll get all the latest recipes, videos, kitchen tips and tricks AND my *free* Cookie Customization Guide (because I am the Cookie Queen)!