Everything you need to know about making healthy grains for your family to help keep your New Year's resolutions, including a printable cooking guide.

The benefits of regularly consuming whole grains are seemingly endless, yet many people don't even get one serving of whole grains a day. Whole grains can be an essential part of a balanced diet and are actually super easy to make and store for servings throughout the week. Hopefully by the end of this quick post you will know exactly why you should be eating whole grains daily and how to prepare them easily.
Health Benefits of Whole Grains:*
-Whole grains may help reduce the risk of heart disease, stroke, and diabetes
-Whole grains can help with weight management

Nutrients:
-Found in many grains: protein, fiber, thiamin, riboflavin, niacin, folate, iron, magnesium, selenium
-In addition to aiding in digestion, fiber helps the body gain a feeling of fullness which can help in weight management
Many of these nutrients are lost when grains are processed, like when producing white flour. Just incorporating even one serving of whole grains a day can positively affect one's health, but aim for 3 servings a day. A serving is generally 1/2 cup of cooked grains. In this post I'm focusing on unprocessed whole grains, but incorporating more whole wheat bread products is also extremely beneficial. Additionally, many of these whole grains are gluten-free, making them excellent food options for people suffering from celiac disease, gluten intolerance, or wheat allergies.
*Note that I am not a registered dietician or nutrition expert, though I have taken college-level classes on the subject. The information shared here comes from a variety of sources including the USDA and the Whole Grains Council.
Buying:
-I love to buy whole grains in the bulk section of my local health foods store
-If buying from bulk bins, be sure the bins are kept clean and have a frequent turnover of product
-Never buy or serve grains that have a musty, oily, or off scent, they have probably gone rancid
Storage:
-Store uncooked whole grains in an airtight container in a cool, dry place for up to 6 months
-You can also freeze uncooked whole grains in an airtight container for up to a year
-Cooked grains can be stored in the fridge in an airtight container for up to 4 days
-Larger sized cooked grains, like brown rice and farro, can also be stored in the freezer in an airtight container for up to 6 months
-Grains can be served cold, at room temperature, or warm
-To reheat grains, add a splash of water before reheating in the microwave or on the stove
Cooking:
The below guide, which can be saved onto your phone or tablet or printed for future reference, details the liquid ratio and cooking times for many different grains. Note that liquid ratios and times are approximate and may be changed upon personal preference, when the grains are tender to your liking.
-Soak grains in water for several hours to decrease cooking time
-For extra flavor, add a pinch of salt and use vegetable or chicken broth instead of water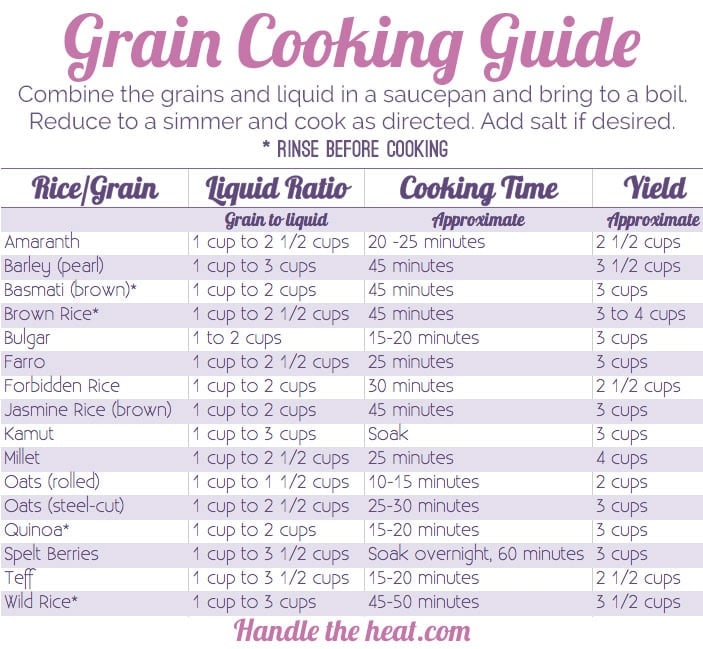 Stay tuned for more posts and recipes showing you how to incorporate grains into tasty meals!
Want more delicious recipes and kitchen tips? Sign up for the FREE Handle the Heat newsletter! And stay in touch on Facebook, Twitter, Pinterest, YouTube, and Instagram for all of the latest updates.
About Tessa...
I share trusted baking recipes your friends will LOVE alongside insights into the science of sweets. I'm a professionally trained chef, cookbook author, and cookie queen. I love to write about all things sweet, carb-y, and homemade. I live in Phoenix, Arizona (hence the blog name!)
© Handle the Heat - handletheheat.com
Join the Handle the Heat Community


---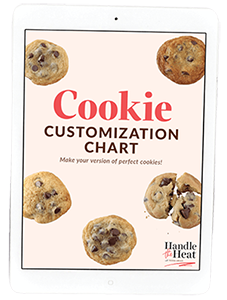 Do you want a more delicious life?
Instead of digging through cookbooks and magazines and searching the internet for amazing recipes, subscribe to Handle the Heat to receive new recipe posts delivered straight to your email inbox. You'll get all the latest recipes, videos, kitchen tips and tricks AND my *free* Cookie Customization Guide (because I am the Cookie Queen)!