Green Beans with Caramelized Onions
T-minus four days till Thanksgiving! Are you ready?
Recipe Rundown
Taste: Is there anything better than the sweet yet savory taste of caramelized onions? They will make any vegetable dish taste gourmet.
Texture: I altered the recipe slightly by steaming the green beans instead of boiling. Not only does this increase the nutrients that remain in the dish but I really really really hate soggy and limp green beans and that could happen by boiling if you aren't careful.
Ease: Caramelize the onions, steam the green beans, and toast the almonds up to 3 days ahead of time and store in the fridge then toss in a skillet over medium heat to combine and heat through on Thanksgiving right before serving.
Appearance: I'll admit that this dish isn't a piece of art but it is SO delicious I don't care.
Pros: Simple, scrumptious, can be made ahead of time. I like to save some caramelized onions for leftover sandwiches later in the week.
Cons: None.
Would I make this again? Yes! In a few days 🙂
Green Beans with Caramelized Onions
Adapted from Tyler Florence via Food Network
Serves 6-8
Kosher salt
3 pounds green beans, trimmed of stem end
1/2 cup skin on sliced almonds (optional)
3 tablespoons unsalted butter
5 tablespoons extra-virgin olive oil
2 large onions, sliced thin
2 tablespoons chopped fresh thyme leaves
Freshly ground black pepper
1. Fill a large pot with a few inches of water and fit with a
steamer basket
. Turn heat on medium and once water begins to simmer place trimmed green beans in the steamer basket. Cover and steam for 10 minutes, or until the green beans are
crisp-tender
. Run the beans under cold water to stop them from cooking.  
2. Reserve the beans while you start the onions. Heat a large skillet over medium heat. Add the almonds and toast stirring every now and then until golden, about 3 to 5 minutes. Remove the almonds from the skillet and reserve.
3. Return the skillet to medium heat and add the butter and olive oil and heat until the butter has melted. Add the onions, season with salt and pepper, and cook stirring frequently until the onions caramelize, 20 to 25 minutes. Add the thyme, and cook for another 5 minutes. Add the cooked cooled green beans and almonds, and stir well to combine. Season with salt and pepper to taste.
About Tessa...
I share trusted baking recipes your friends will LOVE alongside insights into the science of sweets. I'm a professionally trained chef, cookbook author, and cookie queen. I love to write about all things sweet, carb-y, and homemade. I live in Phoenix, Arizona (hence the blog name!)
© Handle the Heat - handletheheat.com
Join the Handle the Heat Community


---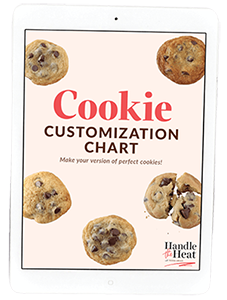 Do you want a more delicious life?
Instead of digging through cookbooks and magazines and searching the internet for amazing recipes, subscribe to Handle the Heat to receive new recipe posts delivered straight to your email inbox. You'll get all the latest recipes, videos, kitchen tips and tricks AND my *free* Cookie Customization Guide (because I am the Cookie Queen)!