Grilled Shrimp & Sausage Skewers
This post may contain affiliate links. Read our disclosure policy.
Over the past year or so I've been saving and bookmarking recipes that involve grilling, despite the fact that we lived in an apartment and didn't own a grill. I saved those recipes with the hope that one day, we would own a grill. One day, I wouldn't have to touch the oven during the Arizona summer and could instead make my meals outside. I'm happy to report that my hopes became reality when my boyfriend received a grill for his birthday from his parents. Yay! We've been experimenting every other day with the grill and have enjoyed (mostly) tasty food (there was an undercooked chicken breast and a burned loaf of garlic bread). One of my favorites so far is this recipe for shrimp and sausage skewers, a gem I saved nearly a year ago from Bon Appetit magazine. To me, this recipe sums up the essence of grilling – skewers loaded with sausage, seafood, and fresh veggies which is then glazed with an layer of smoky flavor. It doesn't get better than that. 


Recipe Rundown
Taste: Sweet, spicy, smoky, fresh.
Texture: Lovely combination of tender shrimp, toothsome sausage, and juicy tomatoes.
Ease: The most time consuming part was actually threading the ingredients through the skewers, which can be done ahead of time. If you're like me and don't pay attention while you're making the skewers, you might not end up with matching skewers. Whoops.
Appearance: These skewers are just begging to be eaten.
Pros: Perfect recipe for a BBQ.
Cons: None.
Would I make this again? Yes!
Grilled Shrimp & Sausage Skewers with Smoky Glaze
From Bon Appetit June 2010
Serves 6
3/4 cup olive oil
4 large garlic cloves, pressed
2 tablespoons chopped fresh thyme
5 teaspoons smoked paprika
4 teaspoons Sherry wine vinegar
3/4 teaspoon salt
1/2 teaspoon freshly ground black pepper
1/2 teaspoon dried crushed red pepper
12 uncooked extra-large shrimp (13 to 15 per pound), peeled, deveined
12 1-inch-long pieces andouille or other fully cooked smoked sausages (such as linguiça; about 16 ounces)
12 cherry tomatoes
12 2-layer sections of red onion wedges
Nonstick vegetable oil spray
About Tessa...
I share trusted baking recipes your friends will LOVE alongside insights into the science of sweets. I'm a professionally trained chef, cookbook author, and cookie queen. I love to write about all things sweet, carb-y, and homemade. I live in Phoenix, Arizona (hence the blog name!)
© Handle the Heat - handletheheat.com
Join the Handle the Heat Community


---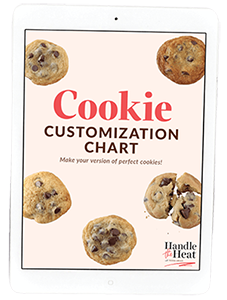 Do you want a more delicious life?
Instead of digging through cookbooks and magazines and searching the internet for amazing recipes, subscribe to Handle the Heat to receive new recipe posts delivered straight to your email inbox. You'll get all the latest recipes, videos, kitchen tips and tricks AND my *free* Cookie Customization Guide (because I am the Cookie Queen)!