Healthy Chicken-Zucchini Alfredo
I write this post as I'm eying the digital clock at the upper corner of my computer screen. Not since kindergarten have I started classes after 11 a.m. and let me tell you, it feels weird. The culinary arts program I attend only offers night-time classes and the concept is still bizarre to me. I bolt out of bed every morning ready to start the day when I have to remind myself I still have over nine hours till class starts.
I usually work nights during the week at my part-time job, so my days have become spare. I've started to get used to this new schedule, though, especially when I realized it opened up a glorious amount of time for cooking and taking photos during when the sun is flooding through my windows (yay!). This Chicken-Zucchini Alfredo was a by-product of my newly discovered day-time freedom when I went through all of my old cooking magazines and organized my favorite recipes into a binder. This gem made it into that binder and now onto your screen where I hope you'll save it to your list of favorite recipes. I usually don't go for "low-fat" anything but sometimes you want to feel like you're indulging without also feeling the side effects (for example: "Since when do these jeans not fit…?"). I wouldn't trust anyone else to nail a "low-fat" recipe except for Ellie Krieger, who wrote this one in March's issue of Food Network Magazine. Its healthy, easy, and utilizes the perfect compromise of pantry ingredients and fresh ingredients.
How do you pass the time when you manage to snag a spare day?
Recipe Rundown
Taste: Looking at the low-fat and otherwise inconspicuous ingredients made me wonder if this dish would have any flavor. Turns out I had no need to worry as this dish, while simple, was tasty. Sometimes the best meals are the simplest ones where every single ingredient is registered by your taste buds, like a speck of pepper or parsley.
Texture: The thick and silky sauce coats your tongue while you sink your teeth into the firm pasta and tear apart the tender chicken and soft zucchini. This is the best textured low-fat Alfredo sauce I've tasted.
Ease: This recipe does make a bit of a mess in the kitchen with multiple pots, pans, bowls, and utensils but there is nothing complicated about making it.
Appearance: The half-moon shaped green zucchini really pop out among the otherwise bland colored long pieces of chicken and fettuccine.
Pros: No guilt inducing, simple ingredients makes this dish a summer staple.
Cons: None, really.
Would I make this again? Summer staple!
Chicken-Zucchini Alfredo
From Food Network Magazine March 2010
kosher salt 
3 tablespoons extra-virgin olive oil
2 cloves garlic, minced
2 zucchini, thinly sliced into half-moons
4 4-oz thin skinless, boneless chicken breasts
freshly ground pepper
12 oz whole-wheat fettuccine
1 tablespoon flour
1 cup cold low-fat milk (I used 2% because that's what I had)
1/2 cup evaporated nonfat milk
3/4 cup freshly grated parmesan chese
1/4 cup chopped fresh parsley
1. Bring a large pot of salted water to a boil. Heat 1 tablespoon olive oil in a nonstick skillet over medium heat. Add half the garlic and cook 30 seconds, being careful not to burn. Add the zucchini, cover and cook until tender, stirring, about 6 minutes. Transfer to a bowl.
2. Heat another tablespoon oil in the skillet over medium-high heat. Season the chicken with 1/4 teaspoon each salt and pepper and cook through, 2-3 minutes per side. Transfer to a plate.
3. Cook the pasta in the boiling water as package directs. Drain, reserving 1/2 cup cooking water; return the pasta to the pot.
4. Meanwhile, whisk the flour and low-fat milk in a bowl. Place the remaining garlic and 1 tablespoon oil in the skillet and cook over medium-high heat, 30 seconds. Add the flour-milk mixture and bring to a boil, stirring. Reduce the heat to low and cook, stirring; 2 minutes. Add the evaporated milk, 1/2 teaspoon salt, and the cheese; stir to melt, 1 minute.
5. Cut the chicken into strips. Toss with the pasta, sauce, zucchini, and parsley, adding the reserved pasta water to loosen if necessary.
About Tessa...
I share trusted baking recipes your friends will LOVE alongside insights into the science of sweets. I'm a professionally trained chef, cookbook author, and cookie queen. I love to write about all things sweet, carb-y, and homemade. I live in Phoenix, Arizona (hence the blog name!)
© Handle the Heat - handletheheat.com
Join the Handle the Heat Community


---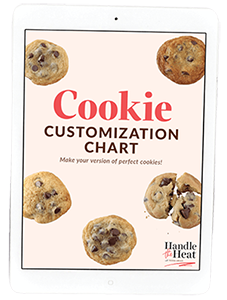 Do you want a more delicious life?
Instead of digging through cookbooks and magazines and searching the internet for amazing recipes, subscribe to Handle the Heat to receive new recipe posts delivered straight to your email inbox. You'll get all the latest recipes, videos, kitchen tips and tricks AND my *free* Cookie Customization Guide (because I am the Cookie Queen)!