A Homemade Kitchen series includes recipes that feature homemade versions of your favorite store-bought meals, snacks, treats, condiments and more. Homemade is better for your budget, body, and taste buds.
I hope all my American readers are enjoying their holiday weekend. I hope all my Canadian readers had a fantastic Canada day. And for everyone else, I hope you're enjoying yourself wherever and whenever you are! 
The other day I had the desire of making slider burgers, but with a twist. I thought about simply miniaturizing my favorite beef burger recipe, but I've been on a turkey kick lately. However turkey is usually so bland so I racked my brain for a flavor profile that would be easy to create yet interesting to taste. Hawaiian-inspired flavors came to mind (I have no idea why, it's not like Hawaii would make a wonderful vacation destination right about now). Then I remembered those little packaged Hawaiian rolls I've seen at the store so many times. They would be the most adorable and perfect little buns for my turkey sliders. It was time to make my own rolls.
Stay tuned for tomorrow's post where I use these rolls in a summery Hawaiian-inspired turkey slider recipe!
Recipe Rundown
Taste: The taste profile for these rolls is very similar to those store-bought Hawaiian rolls. The only difference is that these homemade ones have a more subtle sweetness.
Texture: Soft, slightly crusty at the bottoms and edges.  
Ease: The dough requires no kneading and can be made up to a day ahead of time, however it is fairly shaggy and wet.
Appearance: I have yet to see warm bread just out of the oven look anything but mouthwatering.
Pros: Fairly easy to make and no nasty ingredients like high fructose corn syrup.
Cons: The rolls taste best freshly baked.
Would I make this again? Yes. 
Rolls rising before being baked
Hawaiian Bread Rolls
Adapted from A Good Appetite
Makes 16 rolls
1/2 cup warm water
1/2 cup pineapple juice
1/4 cup melted butter, plus more for brushing
1 tablespoon dry yeast
1/2 teaspoon salt
1 large egg, beaten
1/2 teaspoon pure vanilla extract
6 tablespoons sugar
3 cups all-purpose flour
Combine water, pineapple juice, and melted butter in a large bowl. Sprinkle in yeast. Add salt, egg, vanilla, and sugar, stir to combine. Using a wooden spoon, mix in the flour 1 cup at a time. Use your hands to mix if the dough becomes too stiff. The dough will be very soft and slightly shaggy. Cover loosely and let rise in a warm spot until doubled in size, about 2 hours.
If baking later, place the covered and risen dough in the fridge overnight before shaping into rolls and baking.
On baking day, spray two 9-inch round cake pans with non-stick spray. Shape the dough into 16 evenly sized balls. If you have a digital scale, use it to size each ball at 1 1/2 ounces. Place 8 balls of dough in each cake pan, cover with a towel, and let rise until doubled in size, about 2 hours.
Preheat oven to 350 degrees F. Brush the rolls with melted butter. Bake for 20-25 minutes, or until golden brown. Cool on rack.
About Tessa...
I share trusted baking recipes your friends will LOVE alongside insights into the science of sweets. I'm a professionally trained chef, cookbook author, and cookie queen. I love to write about all things sweet, carb-y, and homemade. I live in Phoenix, Arizona (hence the blog name!)
© Handle the Heat - handletheheat.com
Join the Handle the Heat Community


---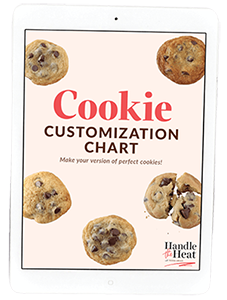 Do you want a more delicious life?
Instead of digging through cookbooks and magazines and searching the internet for amazing recipes, subscribe to Handle the Heat to receive new recipe posts delivered straight to your email inbox. You'll get all the latest recipes, videos, kitchen tips and tricks AND my *free* Cookie Customization Guide (because I am the Cookie Queen)!