Please welcome back Kristin from Bake Like A Champ as she shares this surprisingly easy guide for How to Make Your Own Vanilla Extract! Be sure to show her blog some love for me. -Tessa
Like Tessa, I've been baking nearly my whole life. I can't believe it took me almost 30 years to make my own vanilla extract. Once I did, I decided I'm never going back! Not only is it budget-friendly, it's fun and produces much better results than anything you can buy at the store.  With the incredible Internet these days, we have access to reasonably-priced vanilla beans unlike ever before. Today I'm sharing with you exactly how to make your own vanilla extract and where I prefer to buy the components.
You'll need three things:
1. Vanilla beans
2. Neutral-tasting vodka
3. Glass bottle
I purchase my vanilla beans from Amazon, but if you have a favorite place in town that you know carries them at a reasonable price, by all means, go there. I bought 10 6-inch beans for $15. As for the vodka, I bought a 750 ml bottle for $12 that should last me at least a year or two's worth of baking. My only advice for the vodka type is to buy one with a neutral flavor. This is also why we're not using bourbon, as that has a tendency to overpower the vanilla flavor.  Feel free to use any glass bottle you have at home, but these are the ones I use for vanilla. They run about $3 per bottle. So all in for a 12 oz bottle of vanilla, I've spent $15, which is about a third of the price of most vanilla extracts found at grocery stores. And a huge bonus, I don't have to keep running to the store every other day during holiday baking season to buy another 4 oz bottle!
Here's how you do it:
For every two liquid ounces of alcohol, use one vanilla bean. So for my 12 oz bottle (pictured), I use 6 vanilla beans. Split each bean lengthwise and place them in your bottle. Fill the bottle with vodka. Twist on your cap and shake. After about a week, the liquid will turn a beautiful amber color, but it's not ready yet. I wait two weeks minimum, but four to six weeks is best.  Vanilla flavor is most notable in items that aren't baked, like sauces, custards, pastry creams, ice creams, etc.  If you make any of these things, homemade vanilla extract will WOW you.  And even if you stick with the basics like cookies and cakes, homemade vanilla extract is still sure to impress even the harshest of critics.
Once you're running low on extract, just add a few more beans and re-fill with vodka. Feel free to leave the old beans in there so it gives it even more flavor. I know some people only add more vodka and no new beans, but the beans won't be as potent, which is why I add additional beans at that point. You might want to plan ahead for when this happens because you won't be able to use it for a few weeks until it fully steeps.
If you're interested in more baking hacks, I'm giving away my 3-Step Guide to Freezer Baking, free for Handle The Heat readers today. You can download it here.
About Kristin...
Kristin Beischel is the author of Bake Like A Champ, where she helps people discover a game-changing approach to baking from scratch that actually fits into their busy lives. Download her 3-Step Guide to Freezer Baking, free for Handle The Heat readers, so you can start impressing your friends and family today.
© Handle the Heat - handletheheat.com
Join the Handle the Heat Community


---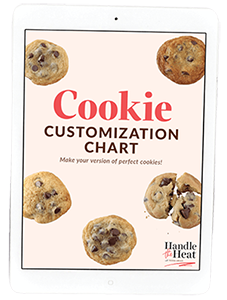 Do you want a more delicious life?
Instead of digging through cookbooks and magazines and searching the internet for amazing recipes, subscribe to Handle the Heat to receive new recipe posts delivered straight to your email inbox. You'll get all the latest recipes, videos, kitchen tips and tricks AND my *free* Cookie Customization Guide (because I am the Cookie Queen)!