Italian Sausage Soup with Tortellini
On my latest
giveaway
I asked you all to publish a comment describing what your favorite food to eat during this time of the year is. I've had a lot of fun reading all your comments and seeing what kind of family traditions everyone has. There seems to be a consensus though. Mostly everyone who described something savory mentioned a heart-warming soup, stew, or roast, and I must say I agree. Something warm, fulfilling, and just all around comforting is my favorite thing to have while it's chilly outside (as far as savory foods go). I mean, someone created an entire collection of
inspirational books
entitled
Soup for the Soul
. So here is a soup recipe to warm both your kitchen and soul and to hopefully inspire all those little taste buds in your family.
Recipe Rundown
Taste: Rich and savory with a slight hint of fennel seed from the sausage and a lovely cheesy bite from the tortellini.
Texture: A variety of soft vegetable textures with chunks of browned sausage and chewy bites of pasta. 
Ease: Easy to make. It does take some time on the stove top but can be left pretty much unattended.
Appearance: I love the variety of ingredients floating in the rich broth. A sprinkling of parsley adds another pop of color.
Pros: Perfect warming one-pot meal for those chilly December days. This dish keeps well in the fridge if you only add as much tortellini as you plan on eating that day. I added enough tortellini for 2 people, let it cook through, then served 2 bowls. I placed the rest of the soup in the fridge and had it the next day for lunch, warming it up on the stove in a saucepan with enough tortellini for myself.
Cons: None. This dish could easily be made lighter with chicken or turkey sausage too.
Would I make this again? I have some in the freezer!
Italian Sausage Soup with Tortellini
From All Recipes
Serves 8
1 pound sweet Italian sausage, casings removed
1 cup chopped onion
2 cloves garlic, minced
5 cups low-sodium beef broth
1/2 cup water (or additional beef broth)
1/2 cup red wine
4 large tomatoes – peeled, seeded and chopped (use a super sharp peeler or this method to peel the tomatoes)
1 cup thinly sliced carrots
1/2 tablespoon packed fresh basil leaves
1/2 teaspoon dried oregano
1 (8 ounce) can tomato sauce
1 1/2 cups sliced zucchini
8 ounces fresh tortellini pasta
3 tablespoons chopped fresh parsley
In a 5 quart Dutch oven, brown sausage. Remove sausage and drain, reserving 1 tablespoon of the drippings.
Saute onions and garlic in drippings. Stir in beef broth, water, wine, tomatoes, carrots, basil, oregano, tomato sauce, and sausage. Bring to a boil. Reduce heat; simmer uncovered for 30 minutes.
Skim fat from the soup. Stir in zucchini and parsley. Simmer covered for 30 minutes. Add tortellini during the last 10 minutes. Sprinkle with Parmesan cheese on top of each serving.
About Tessa...
I share trusted baking recipes your friends will LOVE alongside insights into the science of sweets. I'm a professionally trained chef, cookbook author, and cookie queen. I love to write about all things sweet, carb-y, and homemade. I live in Phoenix, Arizona (hence the blog name!)
© Handle the Heat - handletheheat.com
Join the Handle the Heat Community


---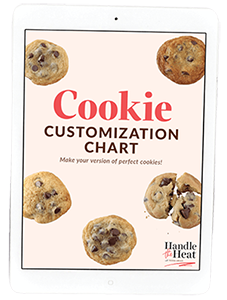 Do you want a more delicious life?
Instead of digging through cookbooks and magazines and searching the internet for amazing recipes, subscribe to Handle the Heat to receive new recipe posts delivered straight to your email inbox. You'll get all the latest recipes, videos, kitchen tips and tricks AND my *free* Cookie Customization Guide (because I am the Cookie Queen)!