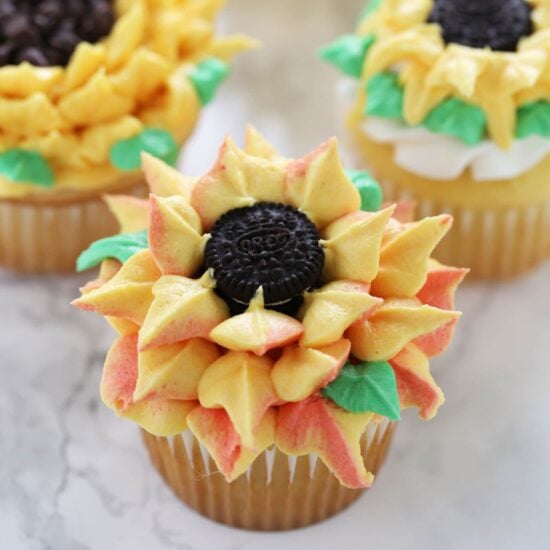 How to Make Sunflower Cupcakes

This post may contain affiliate links. Read our disclosure policy.
Sunflowers are possible the happiest flowers in the world. So I'm just going to ignore the fact that they're basically technically a weed.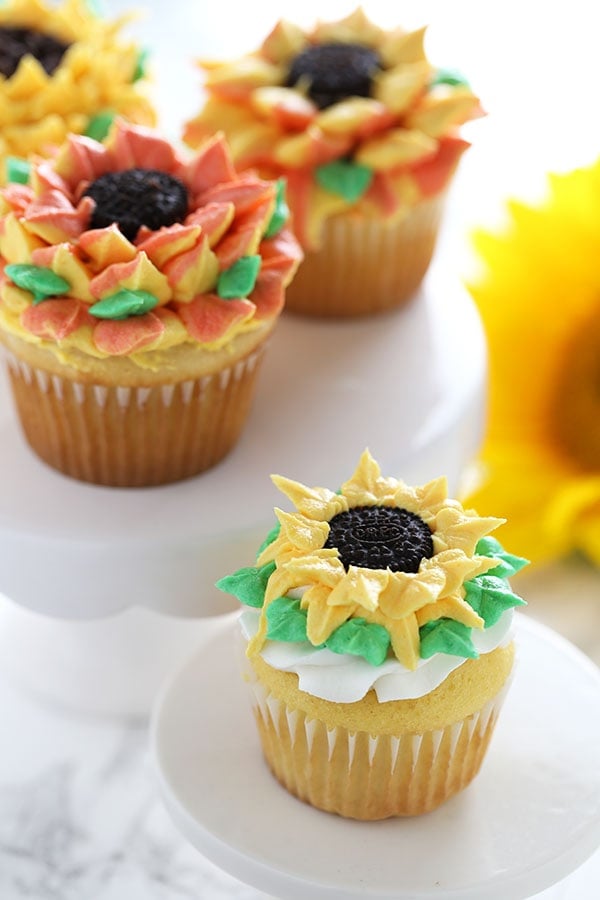 I think these sunflower cupcakes are just as bright and pretty as the actual flower, but so much better because you can actually EAT them!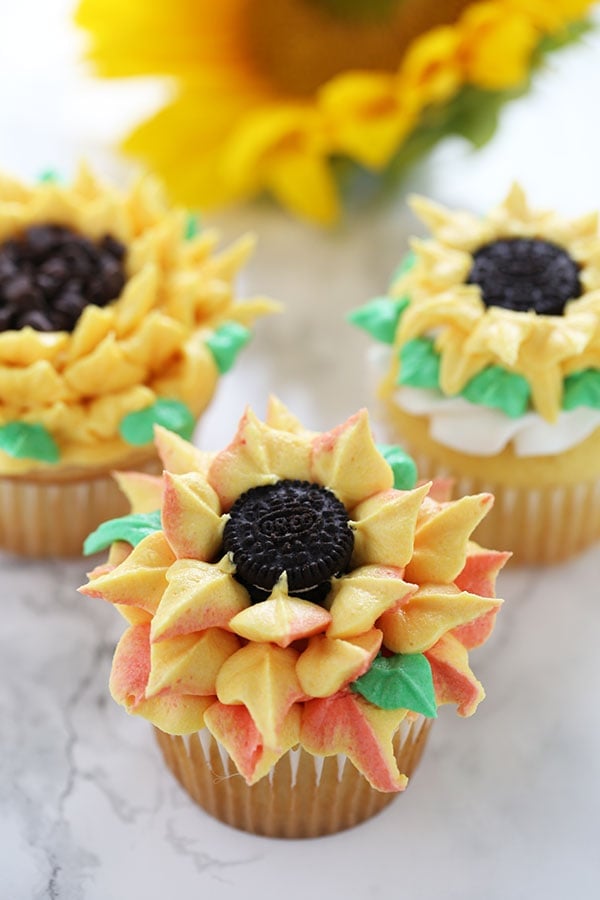 Last week I showed you how to make elegant Hydrangea Cupcakes here. Now while these Sunflower Cupcakes aren't quite as quick and easy, they're still totally doable.
You don't need a ton of artistic skill or special equipment. Just a couple leaf piping tips and yellow and green food coloring!
What you need to make sunflower cupcakes
Buttercream! My Best Buttercream recipe + video can be found here, or scroll to the end of this post for a special free buttercream guide.
Leaf Piping Tips! You will need at least two, one for the sunflower petals and one for the leaves. For the cupcake above and the one below, I used the smaller leaf tip. For the two-toned version I used a bigger one. Use whatever you have or can find! Here are the exact products I used:
Wilton #366 Leaf Tip (smaller)
Ateco #352 Leaf Tip (bigger)
For the food coloring, I always prefer gel. You just need a small amount to get a huge color payoff, so it doesn't affect the consistency of your buttercream too much. I used my yellow food coloring with a teeny amount of copper coloring mixed in to get the perfect petal color. For the two-toned cupcakes, I add a streak of copper to my piping bag using a spoon and then squished it together.
Americolor Lemon Yellow gel food coloring
Americolor Copper gel food coloring
Americolor Leaf Green gel food coloring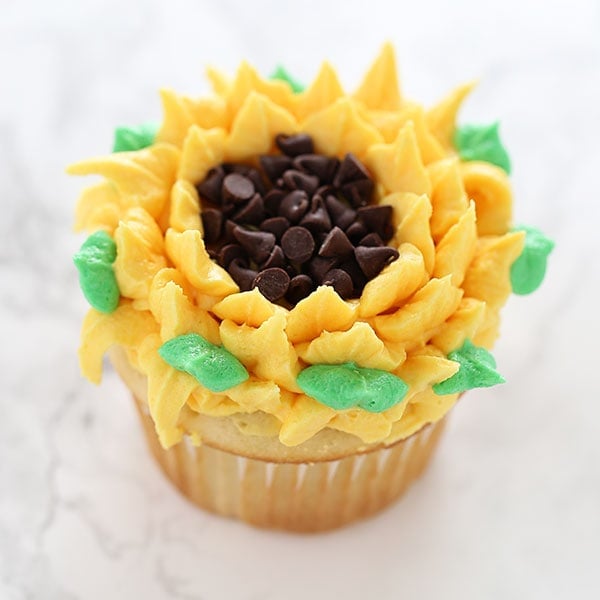 As you can see, I used mini chocolate chips or mini oreos for the sunflower centers. This makes easy work of decorating, and adds some extra deliciousness! You could also use chocolate sprinkles.
Got questions or frustrations with buttercream?
Like I mentioned in the video, if you're decorating with buttercream while it's hot or humid, or plan to serve anything outside, there's a few tips to prevent melting and drooping. Firstly, make the buttercream without adding any cream or milk. This will give you a thicker sturdier consistency. You can also add extra powdered sugar to thicken it up.
Since butter has a melting temperature of about 90°F, that can be problematic in some situations. In that case, you might consider using half or all shortening in place of the butter. While shortening doesn't offer the same superior taste and melt-in-your mouth texture as butter, sometimes it's better than having your frosting creations melt on you.
Check out my FREE Best Buttercream Guide! It reveals my favorite buttercream recipe, flavor customization directions, tons of tips & tricks for decorating, storing, and more: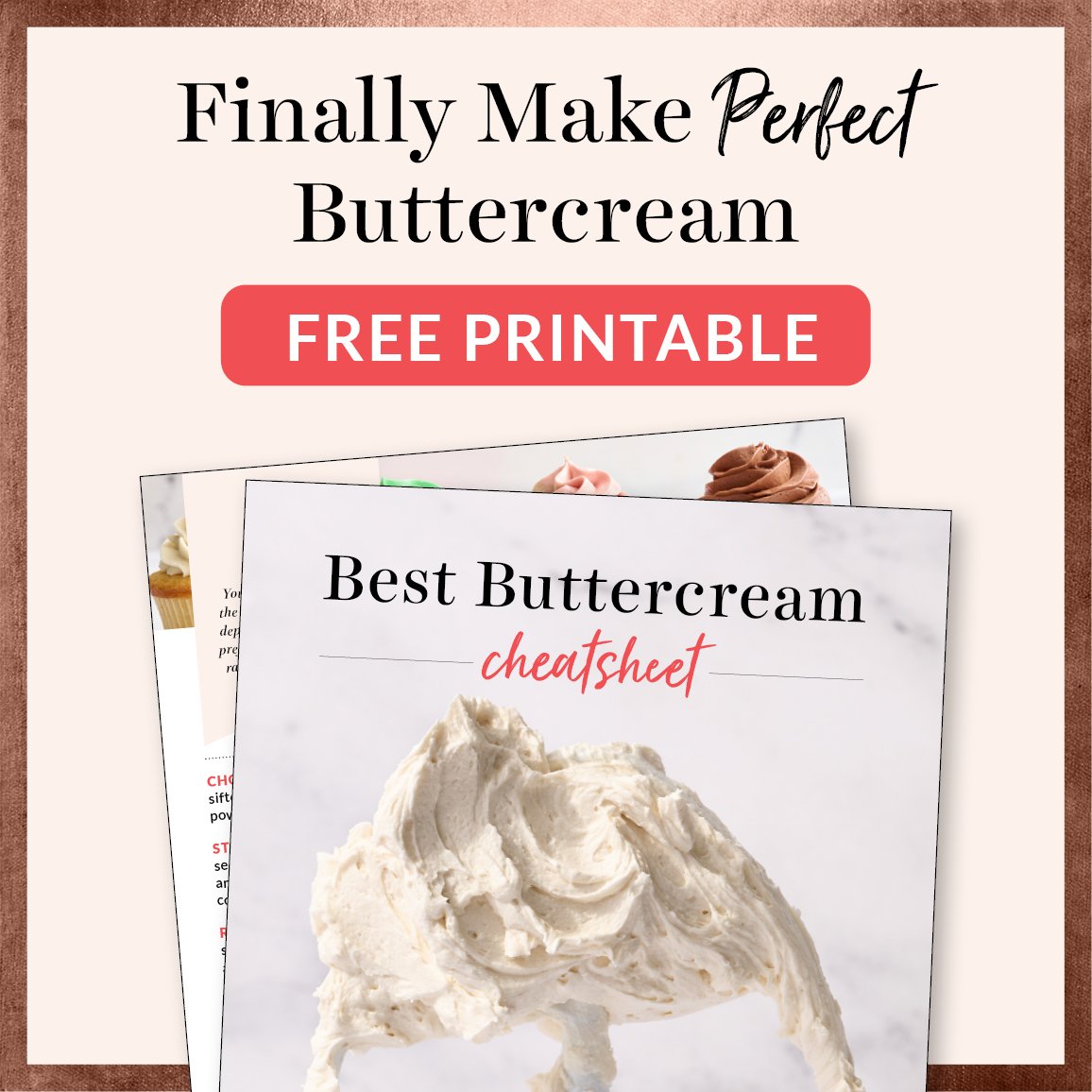 About Tessa...
I share trusted baking recipes your friends will LOVE alongside insights into the science of sweets. I'm a professionally trained chef, cookbook author, and cookie queen. I love to write about all things sweet, carb-y, and homemade. I live in Phoenix, Arizona (hence the blog name!)
© Handle the Heat - handletheheat.com
Join the Handle the Heat Community


---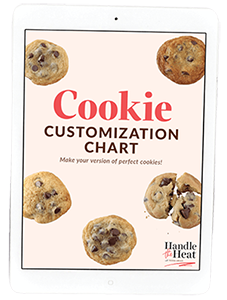 Do you want a more delicious life?
Instead of digging through cookbooks and magazines and searching the internet for amazing recipes, subscribe to Handle the Heat to receive new recipe posts delivered straight to your email inbox. You'll get all the latest recipes, videos, kitchen tips and tricks AND my *free* Cookie Customization Guide (because I am the Cookie Queen)!