Norwegian Salmon & Gravlax
This post brought to you by Norwegian Salmon. All opinions are 100% mine.
Seafood. Where do I begin? It's one of my most beloved foods. I'd be happy eating it daily. Sadly, living in Arizona there isn't much access to high-quality seafood. That's why when the folks over at the Norwegian Seafood Council asked me to work with them I excitedly agreed. I may even get to visit Norway to see how their salmon is farmed (wouldn't that be just plain cool!?). When I found out I'd be learning all about salmon from Norway I was even more thrilled as I've recently discovered a love for salmon. Really, what's not to love?
There are about a million ways to spice up a salmon filet and it's loaded with Omega-3 fatty acids. Just google "Omega-3" and you'll get an amazing list of the health benefits this nutrient offers, including heart-healthy properties. It even makes your skin better. The USDA actually recommends two servings of fish a week. With demand increasing for fresh seafood, the industry must find sustainable practices to safely provide this healthful food.
Responsible & Sustainable Norwegian Practices
It's always good to know where your food comes from. Not only does it make you appreciate and savor every bite just a little bit more, it helps you to keep your family and the Earth safe and healthy. Norway comes from a long line of rich seafaring heritages and traditions. Because of this Norwegians prize their seafood and seafood production. Norway's seafood industry has pioneered the development of responsible ocean salmon-farming, allowing them to keep up with the increasing demand for quality salmon without sacrificing safety or sustainability.
It's not surprising that Norway is the world's largest seafood supplier, providing to over 150 different countries. Norwegian Salmon is raised in spacious, comfortable conditions by highly skilled craftsmen utilizing the latest technologies. In fact, Norwegian law dictates that salmon make up less than 2.5 percent of an aquaculture facility's volume. That means the facility is made up of 97.5 percent water, allowing the salmon to have a healthy life. The salmon are carefully monitored throughout their life and fed an all-natural diet.
The cultural pride and ancestral respect for nature fuels the Norwegian seafood industries' efforts to improve its already strict standards of safety and excellence in raising ocean-farmed salmon. This guarantees consumers enjoy fresh, delicately flavored salmon from Norway year-round.
"Knowing exactly where your seafood comes from and how it was harvested is the best way to make a good choice for your family," says Børge Grønbech, USA Director of the Norwegian Seafood Export Council.
This dedication to responsible fishing and respect for the environment was eye-opening for R.D., blogger Kate Geagan, M.S., R.D., who participated in an educational trip to Norway in April 2011. "Norway has done a world-class job of linking responsible fisheries with ocean preservation and food security – two of the biggest challenges facing the world in our lifetime," said Geagan in her June 5 blog titled 'From Fjord to Fork?  My Firsthand Look at A Norwegian Salmon Farm.' "And remember that the science suggests that fish, even farmed fish, is always a better choice for dinner, from both a lean AND eco-friendly standpoint, when compared to other staples such as beef or pork."
"The analogy I would give is that farmers in Norway are treating their salmon the way our organic farmers in the U.S. treat their farms," said Ashley Koff, R.D., M.S., on a Good Morning America Health Segment, May 5, 2011, after also participating in an educational trip to Norway in April of 2011.
Words from Aino Olaisen
For thousands of years, the ice-cold artic waters and crystal-clear fjords of Norway have influenced the rich fishing heritage carried forth by generations of Norwegians who make it their living.  One of these Norwegians is Aino Olaisen. Aino hails from Lovund, Norway, a small, now thriving, island fishing village. Her father established Nova Sea AS in 1972 with the goal to reserve the trend of depopulation and depression in Lovund's industry at the time. With a focus on integrity, honesty, and quality, the company has managed to meet that goal and beyond. Lovund has since flourished as a natural source of fresh salmon and cod, slowly grown as nature intended in the cold, clear Norwegian waters. The farmers in Lovund provide more than 425 million meals every year for the global salmon market. Impressive, considering there are only 423 redidents of Lovund. Aino, now the owner, takes pride in her company's strict regulations for traceability and safety. She describes her company as a high-technology global business that has provided a simple way of living. The ocean's bounties are a pleasure shared by everyone in this vital Norwegian industry.
"It's amazing to be able to every day play an important part in people's lives," explains Aino.  "Food is such a basic, simple part of people's survival but at the same time, it's indispensable.  That's why we take so much pride in providing the highest quality salmon to add taste and enjoyment to the lives of the people who eat it."
When asked why Americans should choose Norwegian salmon, Aino says simply, "Norway has a long history of harvesting from the ocean and the Norwegian culture is strongly connected to the sea.  Our salmon is healthy, delicious and produced in safe environments with complete traceability.  Plus, Norwegian salmon contains important marine proteins and omega-3 fatty acids that are so important for the human body. That's why Norwegians are so healthy." Aino's family eats salmon regularly. She loves to wrap it in foil and bake it in the oven with soy sauce, herbs, chili, ginger, and fresh lime juice.
Norwegian Gravlax
Norway's popular cuisine is a reflection of the seafaring heritage. Norwegians have found distinctive and delicious ways to incorporate salmon into breakfast, lunch, and dinner. Gravlax literally means "Grave-Salmon" and refers to the medieval practice of curing raw salmon by burying it in the sand above high tide. Today gravlax is cured with sugar, salt, and fresh dill which produces a fresh, delicate flavor. It is traditionally served with stewed potatoes or on an open-faced sandwich.
Last semester in culinary school we actually learned how to make gravlax. I'll admit, when it was done curing I was a bit apprehensive to try it for the first time (I had never tasted cured salmon before) because it looked just like raw salmon. But then I remembered that I had eaten raw salmon in sushi before and that culinary school was a wonderful opportunity to try new things. I was surprised to find I actually really enjoyed the gravlax, so much so I went back for seconds! It's super easy to make which was also surprising.
It's pretty amazing to think about all the cultures that have developed tasty curing methods for foods since refrigeration wasn't always around. Props to our ancestors for managing to nourish both their bodies and taste buds in unfavorable conditions.
Recipe Rundown
Taste: Supremely fresh, clean, and not overly fishy.
Texture: Soft yet somewhat firm. If sliced thin enough it almost melts in your mouth.
Ease: Ridiculously easy. Who would have thought you could cure salmon at home?
Appearance: Gravlax, despite it being centuries old, looks gourmet and elegant.
Pros: Super easy, healthy, and fresh.
Cons: It takes a few days to cure. You'll just have to be patient. 
Would I make this again? Yes. But not before I experiment some more with my beautiful Norwegian salmon.
Norwegian Gravlax Recipe
Salmon:
1 (2 pound) salmon fillet, skin on
3 tablespoons salt
2 tablespoons sugar
1 tablespoon coarsely ground pepper
1 bunch dill, coarsely chopped
Gravlax sauce:
4 egg yolks
½ teaspoon salt
½ cup vegetable oil or mild olive oil
1 tablespoon sugar
1 tablespoon white wine vinegar
½ teaspoon white pepper
1 tablespoon mustard
2-3 tablespoon finely chopped dill
For the salmon:
Trim salmon fillet if necessary. Scrape skin well.
Combine salt, sugar and pepper. Sprinkle half of the salt mixture in the bottom of a roasting pan, then sprinkle half of the dill. Place the fillet in the pan skin side down. Press the remaining salt mixture and dill on the flesh side of the fillet, using light pressure.
Put fish in the refrigerator for 3-4 days. Turn it every day. Scrape seasoning and dill from the fillets before serving.
For the sauce:
In a small bowl combine egg yolks and salt. Whisk to break up yolks. Slowly pour in the oil while whisking quickly until the sauce has a thick consistency, similar to mayonnaise. Add sugar, vinegar, pepper, and mustard to the sauce. Add dill just before serving. The sauce will keep in the refrigerator for up to 1 week.
To serve:
Cut the salmon into thin slices and serve with sauce, stewed potatoes or bread and salad.
About Tessa...
I share trusted baking recipes your friends will LOVE alongside insights into the science of sweets. I'm a professionally trained chef, cookbook author, and cookie queen. I love to write about all things sweet, carb-y, and homemade. I live in Phoenix, Arizona (hence the blog name!)
© Handle the Heat - handletheheat.com
Join the Handle the Heat Community


---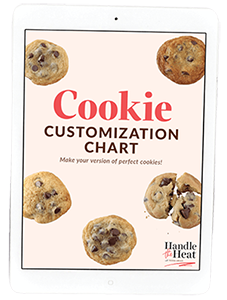 Do you want a more delicious life?
Instead of digging through cookbooks and magazines and searching the internet for amazing recipes, subscribe to Handle the Heat to receive new recipe posts delivered straight to your email inbox. You'll get all the latest recipes, videos, kitchen tips and tricks AND my *free* Cookie Customization Guide (because I am the Cookie Queen)!