November Baking Challenge
Happy Halloween!! Last month's baking challenge was all about my Best Ever Pie Crust. I LOVED seeing all of your beautiful pies. More on that below.
This month's challenge recipe is…. PUMPKIN BREAD ROLLS!
Pumpkin Bread Roll Challenge

Since this is the PERFECT festive fall or Thanksgiving recipe, I thought it would be absolutely perfect for our November baking challenge. I'm SO excited because this recipe is already so well loved that I hope it will become a holiday staple for even more families. They're just so cute and delicious, and surprisingly easy to make. The recipe post also has a step-by-step video and tons of tips for how to make these ahead of time so you can safe yourself some stress as the holiday season gets underway.
Also, members of The Magic of Baking will be getting an exclusive live Q&A session with me this month to answer all of your Thanksgiving questions and frustrations.
Here's how to participate in this challenge:
Step 1: Make a batch of my Pumpkin Bread Rolls.
Step 2: Take a photo of your pie creation and share it before November 30th 11:59pm MT. You have TWO ways to share your photo to be eligible for the prize:
Instagram
Upload your photo to your PUBLIC Instagram account and tag me @handletheheat AND use the hashtag #handletheheat
Facebook community
Share your photo inside my private Handle the Heat Facebook community. If you're not already inside, click here to request access (you must answer the questions to join).
You can submit to one or the other, or to BOTH for two entries.
Prize
Every person who submits a photo following those directions will be entered into a random giveaway to win one $75 Amazon gift card! No purchase necessary.
This is open to anyone in the world who can shop with Amazon, I will purchase a digital gift card from your country's Amazon website.
The winner will be selected randomly; so don't worry about taking a perfect picture. Your photos may be put on display to share with my entire audience – that's hundreds of thousands of people!
So what do you think? Are you up for the challenge?
October Baking Challenge
How amazing are all of these pies?! And this is just a handful! I'm so glad everyone loved my Best Ever Pie Crust recipe. Since I'm publishing this post on October 31st, the winners will be selected and notified by the end of this week. So keep an eye out on your inbox!
About Tessa...
I share trusted baking recipes your friends will LOVE alongside insights into the science of sweets. I'm a professionally trained chef, cookbook author, and cookie queen. I love to write about all things sweet, carb-y, and homemade. I live in Phoenix, Arizona (hence the blog name!)
© Handle the Heat - handletheheat.com
Join the Handle the Heat Community


---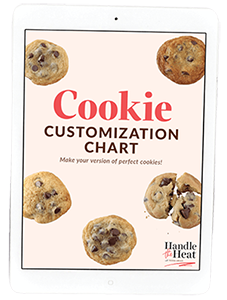 Do you want a more delicious life?
Instead of digging through cookbooks and magazines and searching the internet for amazing recipes, subscribe to Handle the Heat to receive new recipe posts delivered straight to your email inbox. You'll get all the latest recipes, videos, kitchen tips and tricks AND my *free* Cookie Customization Guide (because I am the Cookie Queen)!