Penne with Spicy Sausage-Tomato Sauce
I can't count the number of times I've saved a recipe from a magazine or website, intending to try it out, only to forget about it the second I walk away. I saved this particular recipe years ago and randomly stumbled upon it recently. Rigatoni with Spicy Sausage-Tomato Sauce, Arugula, and Parmesan. Although that recipe title is a mouthful (most Bon Appetit recipe titles are. Also, sorry about that lame pun) it sounded scrumptious. I made quite a few changes from the original recipe from Bon Appetit magazine to make this recipe both delicious and nutritious. I swapped out pork sausage for spicy turkey sausage, but you could also use chicken. Trader Joe's is one of my favorite places to pick up chicken and turkey sausages. I also swapped out whole-wheat penne for rigatoni (I can't find whole-wheat rigatoni anywhere!) for some added fiber.  Next I added some more vegetables which ended up being mushrooms and bell pepper, mostly because that's what I had on hand. Feel free to add your favorite veggies. The result was something crave-worthy, both because of the taste and nourishment.

Recipe Rundown
Taste: Totally Italian. Can't beat the combination of basil, oregano, and tomato especially when it's enhanced with spicy sausage and arugula.  
Texture: The sauce is chunky, and meaty.    
Ease: A little bit of prep work and a little bit of waiting for the sauce to simmer. Nothing difficult. 
Appearance: Love the contrasting colors from the tomatoes & bell peppers and the arugula, basil, and oregano. 
Pros: Easy, flavorful, healthy.
Cons: None!
Would I make this again? I froze half of the batch to save for later (I don't need to serve 6).
Penne with Spicy Sausage-Tomato Sauce
Adapted from Bon Appetit June 2008
Serves 6
1 tablespoon olive oil
1 large onion, chopped
1 red bell pepper, chopped
8 ounces mushrooms, chopped
3 garlic cloves, chopped
1 pound hot Italian chicken or turkey sausage, casings removed
1/2 cup dry red wine
1 28-ounce can diced tomatoes in juice
1 28-ounce can crushed tomatoes with added puree
8 ounces whole wheat penne or other whole wheat tube-shaped pasta
2 cups (packed) fresh arugula, stemmed
1/2 cup thinly sliced fresh basil leaves
1 tablespoon chopped fresh oregano
1/2 cup freshly grated Parmesan cheese
About Tessa...
I share trusted baking recipes your friends will LOVE alongside insights into the science of sweets. I'm a professionally trained chef, cookbook author, and cookie queen. I love to write about all things sweet, carb-y, and homemade. I live in Phoenix, Arizona (hence the blog name!)
© Handle the Heat - handletheheat.com
Join the Handle the Heat Community


---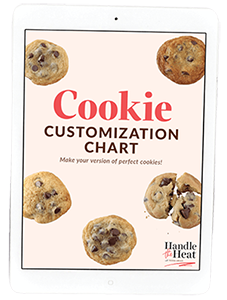 Do you want a more delicious life?
Instead of digging through cookbooks and magazines and searching the internet for amazing recipes, subscribe to Handle the Heat to receive new recipe posts delivered straight to your email inbox. You'll get all the latest recipes, videos, kitchen tips and tricks AND my *free* Cookie Customization Guide (because I am the Cookie Queen)!