10 MOST POPULAR Recipes of 2021!
To be totally transparent with you, I'm a little bit shocked I'm even writing this post today.
How in the world is 2021 almost over?! I truly feel like this year FLEW BY.
I don't know about you, but my 2021 was a whirlwind of a year. Lots of highs… and some lows. Lots of transitions and lots of subsequent challenges… and lots of learning and growing from those challenges.
I turned 30 in March, Joe and I moved in together, and I traveled a ton (at least by comparison of 2020). In some ways, I feel like a different person than last year's version of myself – in the best way!
2021 was a pivotal year for HTH. It was a year of risk, creativity, transition, and the launching of numerous brand new projects. It was scary, overwhelming, and intense… but also gratifying, rewarding, and fun.
Here are the highlights:
We published 29 recipes
Received over 4,700+ entries to date across all our monthly baking challenges
Saw over 14.2 million unique visitors to handletheheat.com
We launched three brand new offerings:
So, to recap the year, I've compiled a list of the Top 10 Handle the Heat recipes according to number of page visits. It's so fun to look back and see which recipes you all loved baking up in your kitchens.
What was YOUR favorite Handle the Heat recipe this year? Have you made any of the most popular recipes? Let me know in the comments below – I'd love to hear from you!
Top 10 Handle the Heat Recipes of 2021
I was so surprised this post made it into the top 10! Tempered chocolate is wonderful to use when making homemade candy, such as truffles or peanut butter cups or peppermint bark, because it maintains a nice smooth, shiny, and hard texture even at room temperature. In fact, I'm demonstrating how to temper chocolate to make Christmas truffles in a live Zoom class for HTH members. Click here to join the Baking School waitlist! 

This recipe has made it to the top 10 for two years in a row now! Everyone LOVES this chocolate cake – it's so flavorful, moist and rich. The tender cake is smothered in the most silky and creamy chocolate frosting!

Another hit that just won't quit. I had no idea these doughnuts would continue to be so popular for so many years. Old-fashioned doughnuts are my favorite, and it's obvious I'm not alone in that!
If you've already made these doughnuts, love 'em, and now want to try another flavor variation: check out these Chocolate Old-Fashioned Doughnuts.
The pie that's perfect for literally *any* occasion. A birthday, potluck at work, holiday gathering – you name it, this pie will be a hit with your friends and family!

This is another recipe that has made it to this top 10 list for another year in a row now! I published this recipe so long ago in 2013 but it's absolutely DELISH. It's such a great copycat recipe for those super soft and addicting breadsticks that everyone loves.
And yes, they truly are even better than Olive Garden. Yep, I said it!

You guys went crazy for this French Silk Pie this year. Easily one of my most popular pie recipes for two years in a row now! I'm talking THOUSANDS of you making it during Thanksgiving. It requires no raw eggs and is about 1,000 times better than any premade frozen chocolate pie from the grocery store.

It looks like a lot of you guys don't have an ice cream maker! I actually had two machines at one point. But then I lived in an apartment for a year where the freezer was so narrow that the ice cream freezer bowl literally wouldn't fit. So I had to find a few ways to make ice cream without it. I cover my top three methods in this post.

This recipe is perfect if you want that chewy texture of a box mix but with real chocolate flavor. My hope is that you'll never go back to the mix again. One bowl recipe made in under an hour!
One of our most popular Baking Challenges of 2021 was our Brownie Showdown between the Best Ever Chewy Brownies and my Ultimate Brownies! Which do you prefer, chewy or fudgy?!

These cookies feature my most favorite flavor combination of all time: peanut butter and chocolate. These cookies are big, thick, chewy and soft. Outrageously good!

And here we have it, the MOST POPULAR RECIPE OF 2021! This is the third year in a row that these cookies are at the top of the list!
It's shocking to me that this recipe has been viewed MILLIONS of times. But then I remember how delicious and easy to make these cookies are, and maybe it's not that shocking.
If you haven't baked up a batch of these cookies yet, I highly recommend doing so ASAP. And if you have made them and loved them, maybe make another batch and pop some dough balls in the freezer for the next time a cookie craving hits?!
---
Handle the Heat Team Favorites
Tessa's Favorite Recipe of 2021: Soft Pretzels
From Tessa: The new Soft Pretzel recipe was one of my favorites because I got to write and share Joe's original recipe with the world! He even helped me teach a Zoom class on how to make his pretzels to our HTH members which was so much fun.
A close second favorite was my Lemon Loaf Pound Cake, which actually took me by surprise because I'm usually such a chocolate person!
Lastly, the HTH recipes I made most often were definitely my Bakery Style Chocolate Chip Cookies and my Chewy Brownies (though neither of those were new this year, just old favorites).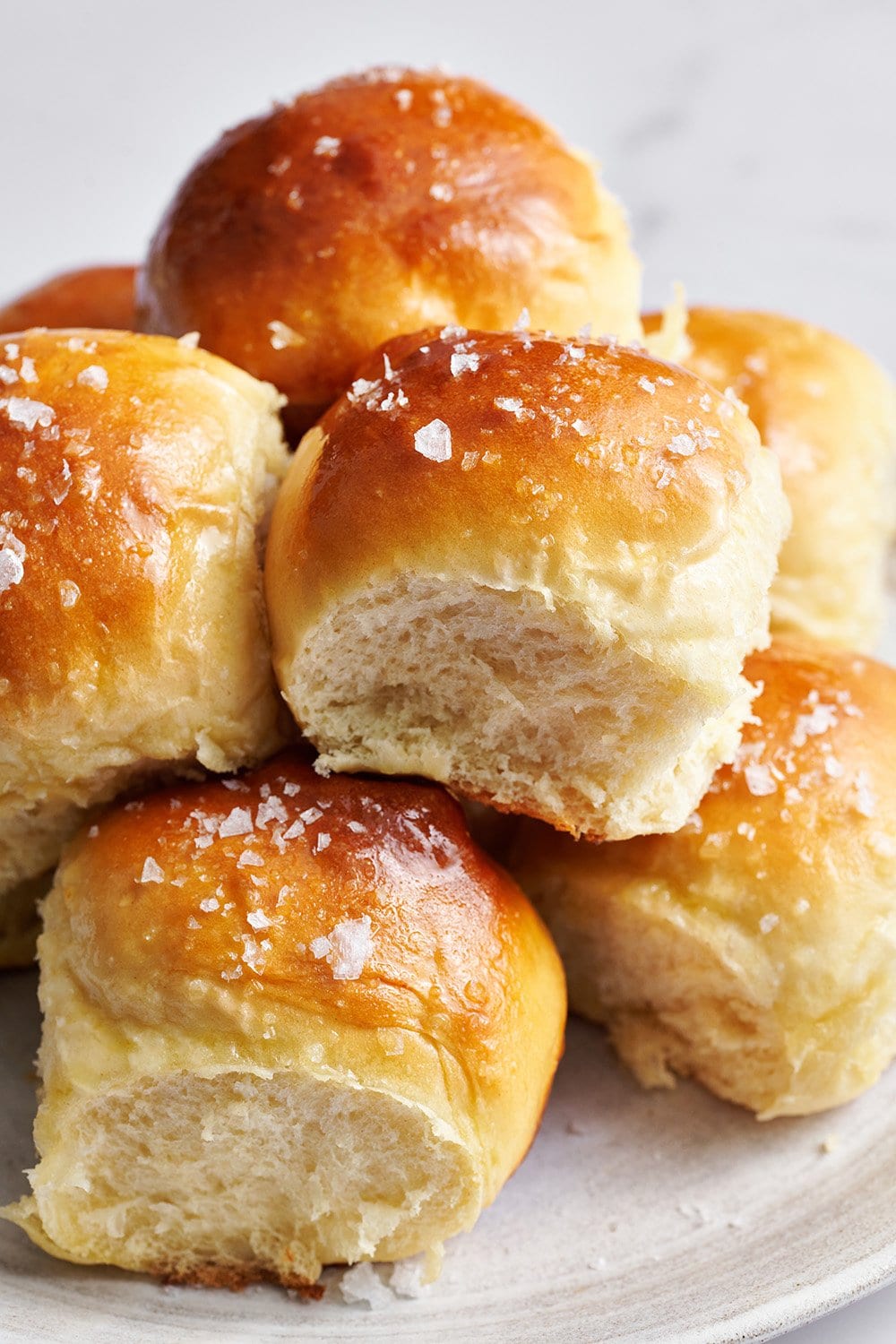 From Haley: This year I attempted making homemade bread rolls for the first time. I don't know why it took me so long or why I've always been intimidated of making homemade rolls… it was INSANELY easy following Tessa's recipe! I made these rolls multiple times (including for both Friendsgiving and Thanksgiving), and they were an absolute hit with all my friends and family. Everyone said, "Where did you buy these rolls? They're the best I've ever had!" and I felt pretty cool saying I made them from scratch.
I can't forget to mention my other favorite HTH recipes of the year… you won't be sorry if you try these Browned Butter Toffee Chocolate Chip Cookies or Gingerbread White Chocolate Blondies. YUM.
Emily's Favorite Recipe of 2021: Apple Galette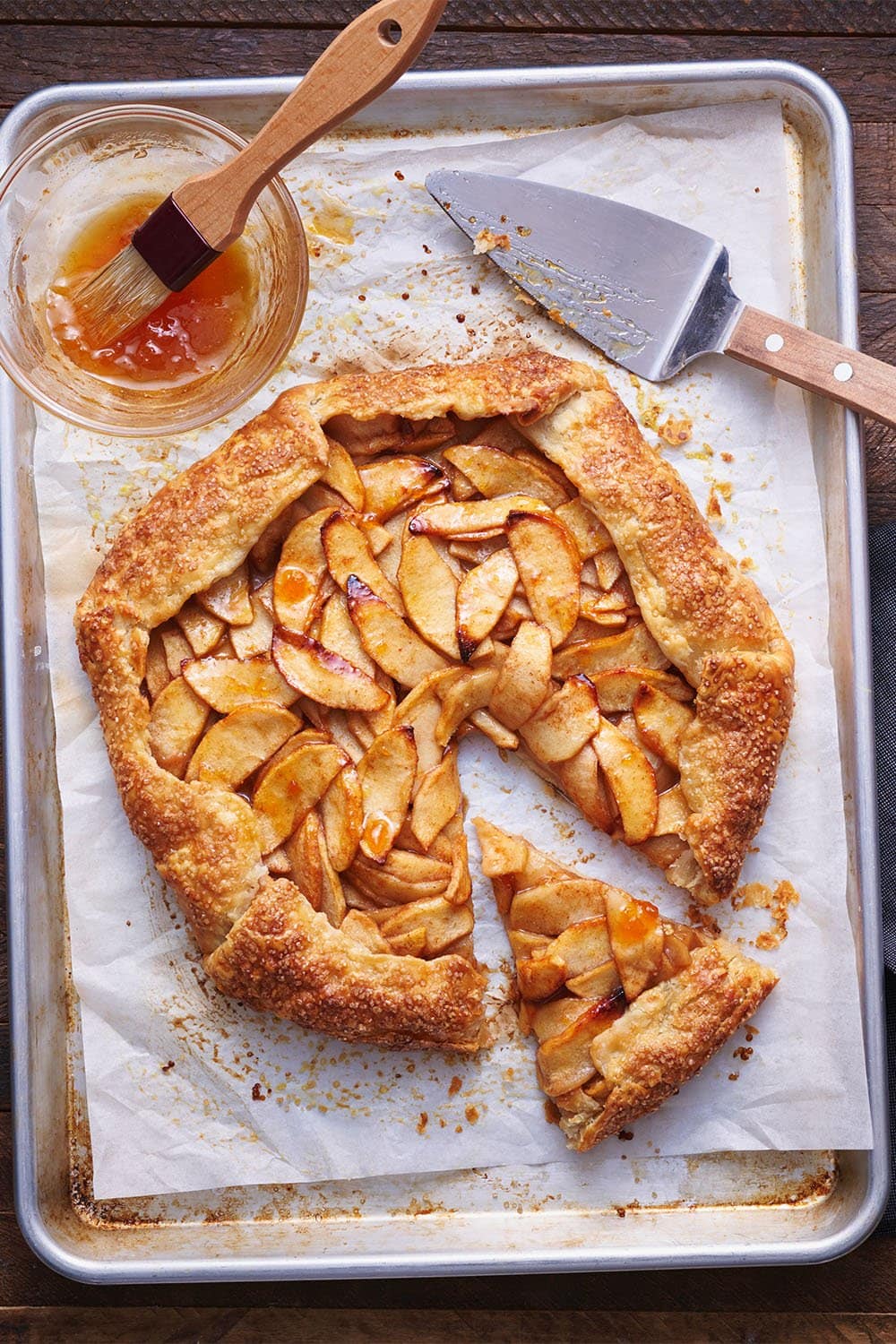 From Emily: I've made this galette numerous times and it's SUCH a treat. I love how simple it is to create, the texture of the crunchy sugar on the incredibly flaky crust, the spice on the apples, and the slight sweetness from the apricot jam. It's heavenly, it smells amazing while it's baking and is definitely something my husband and I will 100% eat year round.
Followed closely by the Blueberry Pie and of course the Peppermint Chocolate Cake (aka my first time making not only a layer cake, but also a drip effect)!
---
And that's a wrap!
I can't wait to see which recipes are your favorite for 2022 – we're already working hard behind the scenes to bring you some very delicious content next year.
In the meantime, I'd love to hear what your favorite HTH recipe of 2021 was – comment below!
About Tessa...
I share trusted baking recipes your friends will LOVE alongside insights into the science of sweets. I'm a professionally trained chef, cookbook author, and cookie queen. I love to write about all things sweet, carb-y, and homemade. I live in Phoenix, Arizona (hence the blog name!)
© Handle the Heat - handletheheat.com
Join the Handle the Heat Community


---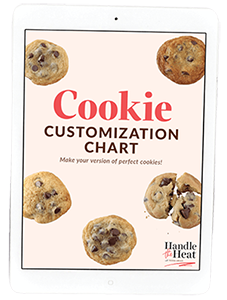 Do you want a more delicious life?
Instead of digging through cookbooks and magazines and searching the internet for amazing recipes, subscribe to Handle the Heat to receive new recipe posts delivered straight to your email inbox. You'll get all the latest recipes, videos, kitchen tips and tricks AND my *free* Cookie Customization Guide (because I am the Cookie Queen)!