Sausage Stuffed Mushrooms
I had never had stuffed mushrooms until recently when I ate dinner at a local pizzeria and the waitress recommended the stuffed mushrooms as our appetizer. They were outstanding. I came to realize that the pizzeria itself was outstanding, too. I'm not usually a big fan of mushrooms, I'll eat them if its thrown into a pasta or salad, but never by themselves. However, there's something to be said about a mushroom filled with cheesy goodness, accentuated by the characteristic flavors of Italian sausage, and then baked till the topping is crisp and absolutely mouthwatering. When I took my first bite out of those stuffed mushrooms at that seemingly unpromising pizzeria, I knew I'd be taking many more for as long as that pizzeria was still in business. That is, until I found this gem of a recipe from Ina Garten. Then I knew I'd be taking many more bites of stuffed mushrooms at home, which is even more rewarding.
I had a difficult time at the supermarket finding mushrooms that were big enough to stuff. However, I came to find that having leftover stuffing wasn't a bad thing at all because it provided several mornings of delicious scrambled eggs.
Recipe rundown:
Taste: Beautiful depth of classic Italian flavors. Marinating the mushrooms in wine and olive oil added a deep flavor that stood up to the stuffing.
Texture: Tender mushrooms, gooey filling, crisp topping. Could the texture get any better?
Ease: Very simple steps, only difficulty I had was getting the stuffing into my too-small mushrooms.
Appearance: Anything bite-sized wins the appearance category in my opinion.
Expense: Unfortunately these aren't the cheapest appetizers to make, the wine, sausage, and mascarpone put the cost over $10, and I already had the Marsala.
Pros: Rivals the recipe at one of my favorite restaurants, and leaves extra stuffing to be used for all sorts of goodies, like scrambled eggs.
Cons: I personally have a difficult time finding mushrooms large enough, but that could just be my local supermarkets. Also, the cost.
Would I make this again? Definitely. I've been asked for the recipe, too.
Sausage Stuffed Mushrooms
Difficulty Level: Easy
Time: 1 hour 15 minutes
Yield: 6-8 servings
nocoupons
16 extra-large white mushrooms
5 tablespoons good olive oil, divided
2 1/2 tablespoons Marsala wine or medium sherry
3/4 pound sweet Italian sausage, removed from the casings
6 scallions, white and green parts, minced
2 garlic cloves minced
2/3 cup panko crumbs
5 ounces mascarpone cheese, preferably from Italy
1/3 cup freshly grated Parmesan
2 1/2 tablespoons minced fresh parsley leaves
Salt and freshly ground black pepper
Preheat the oven to 325 degrees F.
Remove the stems from the mushrooms and chop them finely. Set aside. Place the mushroom caps in a shallow bowl and toss with 3 tablespoons of the olive oil and Marsala. Set aside.
Heat the remaining 2 tablespoons olive oil in a medium skillet over medium heat. Add the sausage, crumbling it with the back of a wooden spoon. Cook the sausage for 8 to 10 minutes, stirring frequently, until it's completely browned. Add the chopped mushroom stems and cook for 3 more minutes. Stir in the scallions and garlic and cook for another 2 to 3 minutes, stirring occasionally. Add the panko crumbs, stirring to combine evenly with all the other ingredients. Finally, swirl in the mascarpone and continue cooking until the mascarpone has melted and made the sausage mixture creamy. Off the heat, stir in the Parmesan, parsley, and season with salt and pepper, to taste, Cool slightly.
Fill each mushroom generously with the sausage mixture. Arrange the mushrooms in a baking dish large enough to hold all the mushrooms in a snug single layer. Bake until the stuffing for 50 minutes, until the stuffing is browned and crusty.
About Tessa...
I share trusted baking recipes your friends will LOVE alongside insights into the science of sweets. I'm a professionally trained chef, cookbook author, and cookie queen. I love to write about all things sweet, carb-y, and homemade. I live in Phoenix, Arizona (hence the blog name!)
© Handle the Heat - handletheheat.com
Join the Handle the Heat Community


---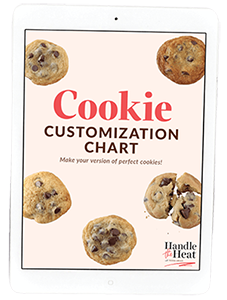 Do you want a more delicious life?
Instead of digging through cookbooks and magazines and searching the internet for amazing recipes, subscribe to Handle the Heat to receive new recipe posts delivered straight to your email inbox. You'll get all the latest recipes, videos, kitchen tips and tricks AND my *free* Cookie Customization Guide (because I am the Cookie Queen)!