Slow-Cooker Beef Short Ribs
This post may contain affiliate links. Read our disclosure policy.
I love the concept of utilizing a slow-cooker to make dinner. What's not to love? It's more energy efficient than the oven, especially when it's 100 degrees out and you don't want the oven to heat up your entire house. It can turn cheap, tough cuts of meat into luscious, fork-tender meals. It steers you away from resorting to take-out because you don't have time to make dinner. Plus the latest slow-cookers on the market have functions that set the machine to "keep-warm" once your food is cooked, so you don't have to worry about someone being home to shut it off.
Despite the fact that I love the idea of a slow-cooker (to the point that I probably sound like a salesperson), I don't find myself using one very often. Most recipes out there for slow-cookers use packaged, store-bought ingredients like soup mixes and sauces. I prefer my meals to be mostly homemade. I actually found this recipe for slow-cooked short ribs out of necessity – I bought short ribs on sale and needed to use them. 
So, with all that said, I have a favor to ask of you guys. I'd love to see your favorite slow-cooker recipes. Preferably without ingredients like cream of mushroom soup, soup mixes, or store-bought salad dressings or sauces. I'd love to post more slow-cooker recipes!
Recipe Rundown
Taste: A little spice, a little sweetness, and all around savory.
Texture: Fork-tender.
Ease: It takes about 20 minutes to prep all the ingredients, brown the ribs, and get it all in the slow-cooker. Nothing too difficult, just a lot of ingredients.
Appearance: Rustic yet elegant.
Pros: Full of flavor and is made ahead of time.
Cons: None really, except that you dirty a skillet in the process.
Would I make this again? Maybe if short ribs are on sale again.
Slow-Cooker Beef Short Ribs
Serves 6
Adapted from Food.com
1/3 cup all-purpose flour
1 teaspoon kosher salt
1/4 teaspoon freshly ground black pepper
2 1/2 pounds boneless beef short ribs
1/4 cup (4 tablespoons) butter
1 large onion, chopped
1 cup low-sodium beef broth
3/4 cup red wine vinegar
1/4 cup chili sauce
3/4 cup light brown sugar
2 tablespoons ketchup
2 tablespoons Worcestershire sauce
2 tablespoons minced garlic
1 teaspoon chili powder
Place flour, salt, and pepper in a large paper or plastic bag. Add ribs and shake to coat evenly.
Heat butter in a large skillet over medium-high heat and add coated ribs. Cook ribs on all sides until nicely browned then place in slow cooker. In the same skillet, add the remaining ingredients. Bring to a boil, stirring, until mixture reduces slightly, about 3 minutes.
Pour mixture over ribs in slow-cooker. Cover, and cook on low for 8-9 hours.
About Tessa...
I share trusted baking recipes your friends will LOVE alongside insights into the science of sweets. I'm a professionally trained chef, cookbook author, and cookie queen. I love to write about all things sweet, carb-y, and homemade. I live in Phoenix, Arizona (hence the blog name!)
© Handle the Heat - handletheheat.com
Join the Handle the Heat Community


---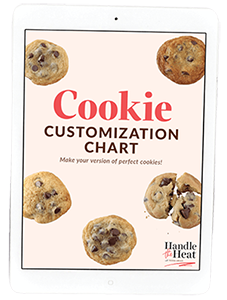 Do you want a more delicious life?
Instead of digging through cookbooks and magazines and searching the internet for amazing recipes, subscribe to Handle the Heat to receive new recipe posts delivered straight to your email inbox. You'll get all the latest recipes, videos, kitchen tips and tricks AND my *free* Cookie Customization Guide (because I am the Cookie Queen)!