Slow-cooker Mexican Shredded Beef
This post may contain affiliate links. Read our disclosure policy.
Cinco de Mayo is just a few days away. If you're like me and grew up in the southwest U.S., someone you know is bound to throw a Cinco de Mayo party. We even had Cinco de Mayo fiestas in my Spanish classes in high school. Cinco de Mayo is a Mexican holiday that celebrates Mexico's victory in a battle that took place in the 1800s. The funny thing is, Mexicans don't really celebrate this holiday. It's been adopted by Americans who I think wanted another reason to drink beer and eat Mexican food. Hey, why not? 
This slow-cooker shredded beef would be perfect to bring to a Cinco de Mayo party because people can use the beef in their favorite way (tacos, nachos, salad, etc., see below). Check out these Mexican recipes:
Recipe Rundown
Taste: Depth of Hispanic-inspired flavors with a hint of spice.
Texture: Fork tender. 
Ease: Taking the extra step of searing the beef before slow-cooking really adds a wonderful flavor and prevents the beef from falling apart in the slow-cooker. However, it does take a few minutes and dirties an extra pan.
Appearance: Looks just like the shredded beef from your favorite restaurant!
Pros: Simple, easy, tasty. Can be used for tacos, salads, tostadas, quesadillas, nachos, burritos, chimichangas, taquitos… the list is endless. The leftovers taste great too!
Cons: None.
Would I make this again? Yes!
Slow-Cooker Mexican Shredded Beef
From Elly Says Opa
1 (2 pound) boneless beef roast
1 tablespoon canola oil
1 onion, sliced
4 cloves garlic, minced
1/2 tablespoon tomato paste
3/4 cup beef broth
1/2 teaspoon parsley
2 teaspoons chili powder 
1 1/2 teaspoons cumin
1/2 teaspoon cayenne
1/2 teaspoon paprika
1/2 teaspoon oregano
In a large, heavy skillet heat the oil over medium-high heat. Sprinkle the beef roast liberally with salt and pepper.  Once the oil is hot, add the roast to the pan and brown on all sides, about 2 minutes per side.  Place roast in the slow-cooker.
Add the sliced onion to the pan and cook for about 2 minutes. Stir garlic and tomato paste into pan. After another 30 seconds to 1 minute, add beef broth and spices.  Scrape any browned bits at the bottom of the pan with a wooden spoon, then pour the broth-onion mixture into the slow-cooker over the roast.
Cook on low for 8 hours. The beef should be tender enough to easily pull apart with two forks. Once the beef is shredded, return to the slow-cooker to absorb any leftover liquid.
About Tessa...
I share trusted baking recipes your friends will LOVE alongside insights into the science of sweets. I'm a professionally trained chef, cookbook author, and cookie queen. I love to write about all things sweet, carb-y, and homemade. I live in Phoenix, Arizona (hence the blog name!)
© Handle the Heat - handletheheat.com
Join the Handle the Heat Community


---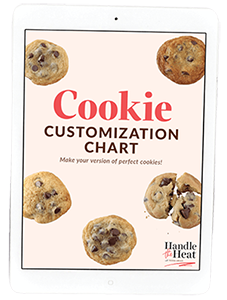 Do you want a more delicious life?
Instead of digging through cookbooks and magazines and searching the internet for amazing recipes, subscribe to Handle the Heat to receive new recipe posts delivered straight to your email inbox. You'll get all the latest recipes, videos, kitchen tips and tricks AND my *free* Cookie Customization Guide (because I am the Cookie Queen)!