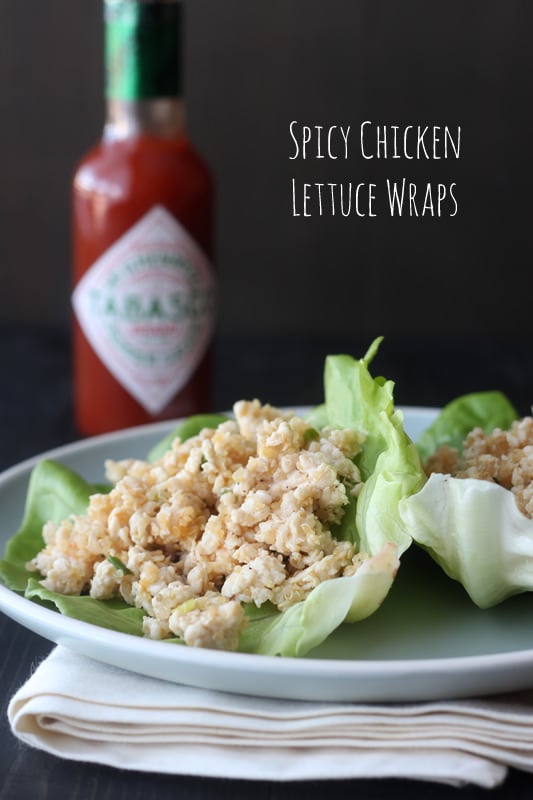 Disclaimer: I am in a paid partnership with Tabasco but all thoughts are my own, as always.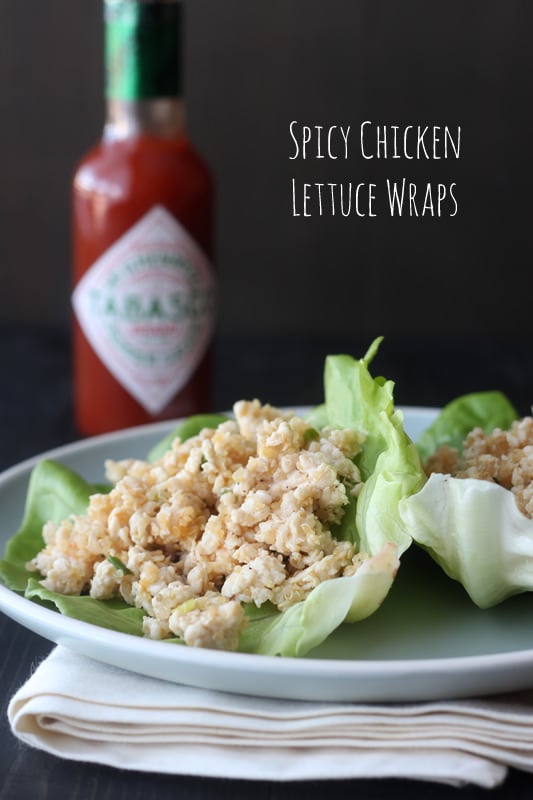 This post is sponsored by Tabasco. All opinions provided are my own.
It's the final day of the Tabasco 10 ingredient recipe challenge. If you missed day one or want to see the list of ingredients again, be sure to see my post for Spicy Bacon Wrapped Cheese Stuffed Chicken. Also check out yesterday's post for some cheesy goodness and some more bacon goodness.
Today's recipes are the lighter ones of the 5 Tabasco recipes I created. They both feature nutritious whole grains and are fast to make.
Recipe Rundown
Taste: The lettuce wraps have a simple spicy taste while the salad is bursting with fresh, sweet, and spicy flavors.
Texture: I love how refreshing yet filling the lettuce wraps are. The roasted tomatoes, chickpeas, feta, and chewy farro make for an excellent array of textures.
Ease: Both recipes have few ingredients and are quick and easy.
Appearance: So many pretty colors! Isn't the salad particularly gorgeous? I loved photographing it.
Pros: Easy, fresh, healthy.
Cons: None.
Would I make this again? Yes, I would make both recipes again! They're great ways to get some grains and/or veggies in.
Spicy Chicken Lettuce Wraps
Serves 4
1/4 cup dry quinoa, rinsed
Salt and freshly ground black pepper
2 teaspoons peanut oil
1 pound ground chicken
1 tablespoon Tabasco sauce
2 scallions, sliced
1 tablespoon sesame oil
1 large head butter or bibb lettuce, leaves separated
In a small saucepan combine the quinoa with 1/2 cup water and a pinch of salt. Bring to a boil, reduce to a simmer, and cook, covered for 15 minutes. Remove from heat and let rest for 5 minutes to absorb any excess liquid. Can be made ahead of time and stored in the refrigerator for up to 3 days.
Heat the peanut oil in a large skillet over medium-high heat. Add the chicken, Tabasco, scallions, and salt and pepper to taste. Cook, breaking up the chicken into small pieces, until no longer pink. Add the quinoa and sesame oil and toss to combine. Spoon the chicken mixture onto lettuce leaves and serve.

Farro Salad with Roasted Tomatoes, Spinach, Chickpeas, and Feta
Serves 4
1 cup farro, rinsed
Salt and freshly ground pepper
2 cups cherry tomatoes
1 tablespoon olive oil
2 teaspoons Tabasco sauce, divided
1 (14-ounce) can chickpeas, well rinsed and drained
2 cups fresh baby spinach
1/4 cup grated feta cheese
In a medium saucepan combine the farro with 2 1/2 cups water and 1 teaspoon salt. Bring to a boil, reduce heat to a simmer, and cook, uncovered, until the farro is tender and the liquid is absorbed, about 15 to 25 minutes. Farro can be made ahead of time and stored in the fridge for up to 3 days.
Preheat the oven to 375°F. Place the tomatoes on a sheet tray and drizzle with olive oil and 1 teaspoon of the Tabasco. Season with salt and pepper. Roast for 10 to 12 minutes, or until the tomatoes are blistered and starting to brown. Let cool slightly.
Toss the tomatoes, farro, chickpeas, spinach, feta, and remaining teaspoon of Tabasco to combine. Season with salt and pepper. Serve or store in the fridge for
up to 3 days, less time if using previously stored farro.
Recipes by Tessa of Handle the Heat
Disclaimer: I am in a paid partnership with Tabasco but all thoughts are my own, as always.
About Tessa...
I share trusted baking recipes your friends will LOVE alongside insights into the science of sweets. I'm a professionally trained chef, cookbook author, and cookie queen. I love to write about all things sweet, carb-y, and homemade. I live in Phoenix, Arizona (hence the blog name!)
© Handle the Heat - handletheheat.com
Join the Handle the Heat Community


---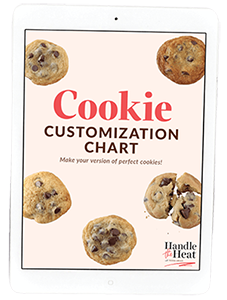 Do you want a more delicious life?
Instead of digging through cookbooks and magazines and searching the internet for amazing recipes, subscribe to Handle the Heat to receive new recipe posts delivered straight to your email inbox. You'll get all the latest recipes, videos, kitchen tips and tricks AND my *free* Cookie Customization Guide (because I am the Cookie Queen)!