This post has been sponsored by Kahlúa. All opinions provided are my own.
It's the first month of summer, and it is HOT here in Phoenix! I basically want to go live inside my freezer right now, but since that really isn't an option I'll have to settle for iced and frozen cocktails instead. I'm thrilled to be partnering with Kahlúa, the classic rum and coffee liqueur, and their new Summer Shake-Up campaign to help inspire you to shake things up this season. Kahlúa is a staple in our house, so I'm sharing three cocktail recipes with you today to help you keep cool all summer long.
From frozen treats, adorable drinks, long bike rides, tank tops and tan lines, to outdoor movie nights, days at the beach, campfire s'mores, backyard barbeques, and everything in between, we want to inspire you to do things a little differently this summer! I've loved prepping our house for summer these past few weeks. We hung up some adorable string lights across our patio, cleaned off the grill, and even spray painted our patio furniture for a little DIY refresh and update. I treated myself to a new pair of retro sunglasses, a new hat, and a pedicure. We are ready!
June is all about the excitement of the first official month of summer, and I can't think of a better way to kick things off than with some refreshingly cool cocktails. They are absolutely delightful, and perfect for celebrating summer with your friends and family all season long. I don't know about you but there's always at least one bottle of Kahlúa in our house, it's a long-time favorite when friends and family come over for backyard cookouts.
I especially love how versatile Kahlúa is. It's good hot or cold, on its own, mixed with something simple, or transformed into an elegant cocktail. I adore how the coffee flavor cuts through the sweetness of recipes like the Frozen Mudslide, leaving you with an incredible balance of flavor with every sip. Plus, it goes great with chocolate and as a complete and total chocoholic, that's something I can get behind! I know a lot of summer entertaining is focused on fruit, but I just can't forget about my chocolate and my coffee lovers! Kahlúa has inspired me to shake it up this summer by serving my all-time favorite flavors chilled and frozen.
What kinds of twists are you putting on entertaining this summer?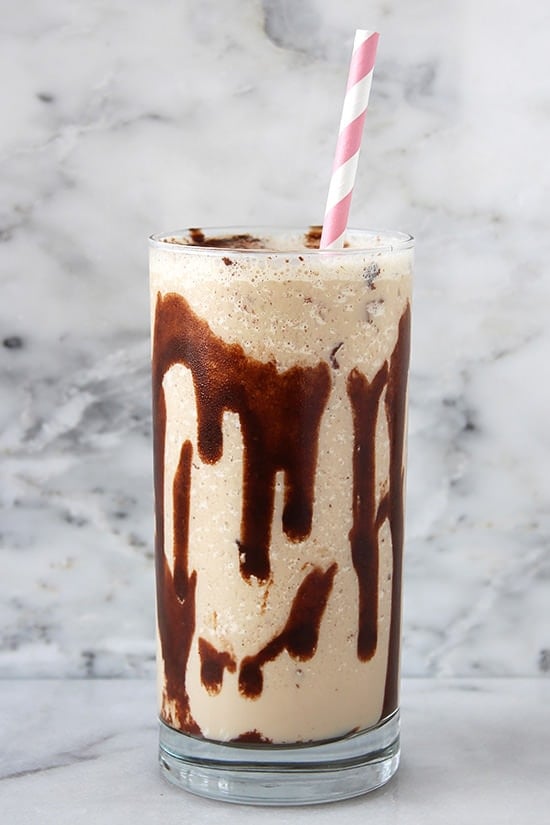 Kahlúa Frozen Mudslide
1 part Kahlúa
1 part ABSOLUT® Vodka
1/2 part Irish cream liqueur
1 part vanilla ice cream
In a blender add ice, Kahlúa, ABSOLUT, cream and ice cream and blend. Rim the inside of your glass with chocolate syrup and pour into a hurricane glass.
Kahlúa Bushwacker
2 ounces Kahlúa
2 ounces Malibu Coconut Rum
2 ounces crème of coconut
1 ounce dark rum
1 ounce Hiram Walker dark crème de cacao
4 ounces milk
Combine all ingredients in a blender with 2 cups of ice. Blend until smooth and pour into hurricane glass or mason jar.
Kahlúa Iced Coffee
2 parts Kahlúa
2 parts chilled iced coffee
1 part milk or cream
Pour Kahlúa into a highball glass filled with ice. Add coffee and milk or cream.
Check out Kahlúa's social media pages for fun entertaining and cocktailing inspiration and be sure to share all the ways you're shaking up summer with the hashtag #KahluaSummer.
This post has been sponsored by Kahlúa. All opinions provided are my own.
About Tessa...
I share trusted baking recipes your friends will LOVE alongside insights into the science of sweets. I'm a professionally trained chef, cookbook author, and cookie queen. I love to write about all things sweet, carb-y, and homemade. I live in Phoenix, Arizona (hence the blog name!)
© Handle the Heat - handletheheat.com
Join the Handle the Heat Community


---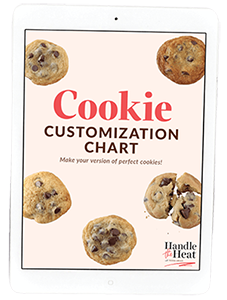 Do you want a more delicious life?
Instead of digging through cookbooks and magazines and searching the internet for amazing recipes, subscribe to Handle the Heat to receive new recipe posts delivered straight to your email inbox. You'll get all the latest recipes, videos, kitchen tips and tricks AND my *free* Cookie Customization Guide (because I am the Cookie Queen)!