Take-out at Home: Beef & Broccoli
I've got some SUPER exciting news I've been anxiously waiting to share with you guys. Myself, along with my partners in crime – Lauren, Hannah, Elissa, and Kam – have been invited to speak at this year's BlogHer Food.  I can't tell you how thrilled, nervous, anxious, terrified, honored, surprised, and bewildered I am. Honestly, I never ever, ever, ever thought I would be invited to speak about anything related to blogging. What do I know?! Luckily my partners from The Kitchen Generation know quite a bit so I think our panel will be…. great!
Anyways, enough about me and more about beef & broccoli! Possibly the best stir-fry I've made at home. Ever. SO full of perfect flavor, so do-able at home. I really have no reason to go out for Asian when I have this recipe. My goal when creating the "take-out at home" series was to feature recipes that are just as fast to make at home as they would be to order and pick up from any restaurant. I also wanted the recipes to be healthier for you and the planet. This one fits that bill perfectly.

Recipe Rundown
Taste: And I quote, "better than Pei Wei". Sorry for saying "and I quote".
Texture: The beef is perfectly cooked while the veggies are an ideal crisp tender.      
Ease: This recipe, like any other stir-fry recipe, requires a bit of prep work. But once you start cooking it takes less than 10 minutes. 
Appearance: So pretty and colorful!
Pros: Legitimately more flavorful and healthy than any Asian take-out I've tasted. Can be made in the same time it takes to drive to a restaurant and wait for your food to be cooked.     
Cons: None!
Would I make this again? Yes. I plan on making this dish again and again.
Stir-Fried Beef & Broccoli
From The New Best Recipe
Serves 4
*Note: Place the steak in the freezer for 15 minutes before slicing to make it easier to cut. Then, slice the steak lengthwise into 2-inch wide pieces. Cut each of those 2-inch wide pieces across the grain into very thin slices, not more than 1/4 inch thick.
1 pound flank steak, sliced* (see note)
3 tablespoons soy sauce
1 tablespoon dry sherry (I used orange juice as a substitute)
2 tablespoons low-sodium chicken broth
5 tablespoons oyster sauce (can be found in the Asian section of your grocery store)
1 tablespoon light brown sugar
1 teaspoon toasted sesame oil
1 teaspoon cornstarch 
6 medium garlic cloves, minced
1 tablespoons minced fresh ginger
3 tablespoons peanut or vegetable oil
1 1/4 pounds broccoli, florets cut into bite-size pieces
1/3 cup water
1 small red bell pepper, cored, seeded, and diced
3 scallions, cut on the diagonal 
1. Combine the beef and soy sauce in a medium bowl; cover with plastic wrap and refrigerate at least 10 minutes or up to 1 hour, stirring once. Meanwhile, whisk the sherry, chicken broth, oyster sauce, brown sugar, sesame oil, and cornstarch in a measuring cup. Combine the garlic, ginger, and 1 1/2 teaspoons of the peanut oil in a small bowl.
2. Drain the beef and discard the liquid. Heat 1 1/2 teaspoons of the peanut oil in a nonstick 12-inch skillet over high heat until smoking. Add half the beef to the skillet and break up the clumps; cook without stirring, 1 minute, then stir and cook until the beef is browned about the edges, about 30 seconds. Transfer the beef to a medium bowl. Add 1 1/2 teaspoons of the peanut oil to the skillet, heat until just smoking, and repeat with remaining beef.
3. Add 1 tablespoons of the oil to the now-empty skillet; heat until just smoking. Add the broccoli and cook 30 seconds; add the water, cover the pan, and lower the heat to medium. Steam the broccoli until crisp-tender, about 2 minutes; transfer to a paper-towel lined plate.
4. Add the remaining 1 1/2 teaspoons peanut oil to the skillet; increase the heat to high and heat until just smoking. Add the bell pepper and cook, stirring frequently, until spotty brown, about 1 1/2 minutes.
5. Clear the center of the skillet; add the garlic and ginger mixture to the clearing and cook, mashing the mixture with a spoon, until fragrant, 15-20 seconds, then stir the mixture into the peppers. Return the beef and broccoli to the skillet and toss to combine. Whisk the sauce to recombine, then add to the skillet; cook, stirring constantly, until the sauce is thickened and evenly distributed, about 30 seconds. Transfer to a serving platter, sprinkle with the scallions, and serve.
About Tessa...
I share trusted baking recipes your friends will LOVE alongside insights into the science of sweets. I'm a professionally trained chef, cookbook author, and cookie queen. I love to write about all things sweet, carb-y, and homemade. I live in Phoenix, Arizona (hence the blog name!)
© Handle the Heat - handletheheat.com
Join the Handle the Heat Community


---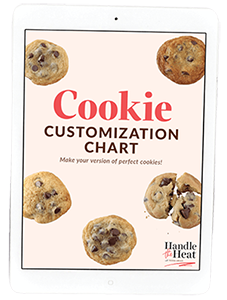 Do you want a more delicious life?
Instead of digging through cookbooks and magazines and searching the internet for amazing recipes, subscribe to Handle the Heat to receive new recipe posts delivered straight to your email inbox. You'll get all the latest recipes, videos, kitchen tips and tricks AND my *free* Cookie Customization Guide (because I am the Cookie Queen)!