Take-Out at Home: Chicken Gyros
Take-Out at Home features recipes similar to your favorite fast food but are just as easy to cook at home as they are to order or pick up, plus they're healthier.
Greek-inspired food is fantastic. It's so fresh and flavorful, not to mention people who eat Mediterranean foods are often more healthy and live longer. Unfortunately, there aren't a lot of good Greek or Mediterranean restaurants around me so I've had to resort to creating Greek take-out meals at home. This recipe for chicken gyros does not disappoint, I actually think it's better than most gyro eateries I've been to. The tzatziki sauce is so refreshing and the chicken and whole wheat pita make the meal light. You actually feel good after eating these. I like to serve mine with a fresh salad but you could also incorporate more veggies into your gyro.

Recipe Rundown
Taste: Garlicky with a dose of brightness from the vinegar and lemon and coolness from the cucumber.
Texture: The chicken is tender and moist while the tzatziki is creamy.    
Ease: Very easy, you just have to marinate the chicken and create the tzatziki one hour ahead of time.   
Appearance: Looks pretty tasty!
Pros: Perfect for a weeknight dinner, tastes great and is guilt-free. 
Cons: None.
Would I make this again? I've already made this recipe multiple times.


Other Take-Out at Home Recipes:
Chicken Gyros
Serves 4
From Annie's Eats via Elly Says Opa
For the tzatziki sauce:
16 oz. greek yogurt or plain yogurt
1/2 hothouse cucumber or 1 regular cucumber, peeled and seeded
2 cloves garlic, finely minced
1 teaspoon white wine vinegar
Salt and pepper
Squeeze of fresh lemon juice
Extra virgin olive oil
For the chicken:
4 cloves garlic, smashed
Juice of 1 lemon
2 tsp. red wine vinegar
2 tbsp. extra virgin olive oil
2 heaping tbsp. plain yogurt
1 tbsp. dried oregano
Salt and pepper
1 1/4 lbs. boneless, skinless chicken breasts, cut into strips or bite sized chunks
To assemble:
Pita bread, whole wheat if possible
Fresh tomatoes, seeded and diced
Red onion, sliced thin (I skipped this because I don't like raw onion)
To make the tzatziki sauce:
If using plain yogurt, strain the yogurt using cheesecloth over a bowl.  Let strain for several hours or overnight, if possible, to remove as much moisture as possible. Note, if using lower fat yogurt there will be more liquid strained. If using Greek yogurt, skip this step.
Shred the cucumber.  Wrap in a towel and squeeze to remove as much water as possible.  Mix together the yogurt, shredded cucumber, garlic, white wine vinegar, salt and pepper to taste, and lemon juice. Drizzle lightly with olive oil.  Refrigerate for at least 30 minutes before serving to allow the flavors to meld.
To prepare the chicken:
Combine the garlic, lemon juice, red wine vinegar, olive oil, yogurt, oregano, and salt and pepper to taste in a medium bowl.  Whisk together until mixed well.  Add the chicken pieces to the bowl and mix well to coat.  Cover and refrigerate for about 1 hour.
Preheat broiler. Cook chicken under broiler for about 2-4 minutes per side, depending on size of pieces.  Once the chicken is completely cooked through, transfer to a plate and let rest for 5 minutes.
Warm pitas. Top with chicken, tzatziki sauce, diced tomatoes and sliced onions.  Serve immediately.
About Tessa...
I share trusted baking recipes your friends will LOVE alongside insights into the science of sweets. I'm a professionally trained chef, cookbook author, and cookie queen. I love to write about all things sweet, carb-y, and homemade. I live in Phoenix, Arizona (hence the blog name!)
© Handle the Heat - handletheheat.com
Join the Handle the Heat Community


---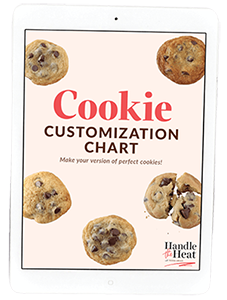 Do you want a more delicious life?
Instead of digging through cookbooks and magazines and searching the internet for amazing recipes, subscribe to Handle the Heat to receive new recipe posts delivered straight to your email inbox. You'll get all the latest recipes, videos, kitchen tips and tricks AND my *free* Cookie Customization Guide (because I am the Cookie Queen)!