Top Handle the Heat Bakers of 2021!
2021 absolutely flew by like no other year.
It was definitely a unique year – lots of highs and also some lows.
One of the best parts of 2021 (and every other year)?! Getting to see the bakes made by this very special HTH community!
Today I'm thrilled to announce the Top Bakers of 2021. These amazing bakers joined EVERY Handle the Heat Monthly Baking Challenge in 2021. How incredible is that?!
Last year, we had 3 talented bakers who joined all 12 challenges. This year…
WE HAD 54. 😱🤯 Meet them all in the infographic below!
Want to join in on the fun? Our 2022 baking challenges are going to be bigger and better than ever! Find out how to join here.
2021 Handle the Heat Monthly Baking Challenges Recap:
A BIG thank you to everyone who joined a monthly baking challenge in 2021.
Drooling over your delicious photos for each challenge is one of my favorite parts of each month. I also love hearing how many of you get to try a recipe for the first time that you might not have thought to try otherwise!
I can't wait to share the sweet scoop on all the delicious challenges we have in store for 2022.
Make sure you're on our email list and we'll let you know as soon as the new month's baking challenge is live!
About Tessa...
I share trusted baking recipes your friends will LOVE alongside insights into the science of sweets. I'm a professionally trained chef, cookbook author, and cookie queen. I love to write about all things sweet, carb-y, and homemade. I live in Phoenix, Arizona (hence the blog name!)
© Handle the Heat - handletheheat.com
Join the Handle the Heat Community


---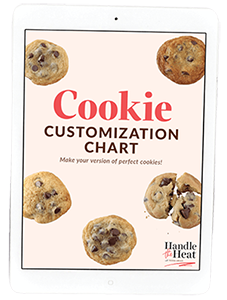 Do you want a more delicious life?
Instead of digging through cookbooks and magazines and searching the internet for amazing recipes, subscribe to Handle the Heat to receive new recipe posts delivered straight to your email inbox. You'll get all the latest recipes, videos, kitchen tips and tricks AND my *free* Cookie Customization Guide (because I am the Cookie Queen)!