10 MOST POPULAR Recipes of 2020!
2020 was an absolutely insane year full of hardships and heartbreak.
I truly don't know what I would have done without the comfort of baking and this amazing HTH community full of passionate, kind-hearted and supportive bakers.
SO many of you turned to baking during this difficult year. It warmed my heart to see so many people trying their hand at baking recipes from scratch for the first time. One good thing that came out of this year is so many of you ditching boxed mixes!
Another top moment of 2020 was SELLING OUT OF COOKBOOKS when we launched in September of this year. Nothing has made me happier than seeing how happy YOU guys are receiving your Ultimate Cookie Handbooks and finding new cookie recipes to impress your friends and family with.
Today I've gathered a list of the Top 10 Handle the Heat recipes according to number of page visits. It's so fun to look back and see which recipes you all loved baking up in your kitchens.
What was YOUR favorite Handle the Heat recipe this year? Have you made any of the most popular recipes? Let me know in the comments below – I'd love to hear from you!
Top 10 Handle the Heat Recipes of 2020
These cookies are easy to make and ready in 30 minutes. I think these were the simple, quick yet satisfying dessert we all needed during a crazy year. These cookies are super similar to Tate's Chocolate Chip Cookies but with a slight chew in the center that I really enjoy.

This recipe has made it to the top 10 for two years in a row now! Everyone LOVES this chocolate cake – it's so flavorful, moist and rich. The tender cake is smothered in the most silky and creamy chocolate frosting!

You guys went crazy for this French Silk Pie this year. Easily my most popular pie recipe for two years in a row now! I'm talking HUNDREDS of you making it on the day of Thanksgiving. It requires no raw eggs and is about 1,000 times better than any premade frozen chocolate pie from the grocery store. We made it for the December Baking Challenge!

A super nostalgic and comforting brownie recipe that so many of you loved this year! These copycat cosmic brownies are 100x better than the store-bought version (just read the hundreds of comments and rave reviews!). Ultra rich, fudgy and chewy.

This is another recipe that has made it to this top 10 list for another year in a row now! I published this recipe so long ago in 2013 but it's absolutely DELISH. It's such a great copycat recipe for those super soft and addicting breadsticks that everyone loves.

Another hit that just won't quit. I had no idea these doughnuts would continue to be so popular for so many years. Old fashioned doughnuts are my favorite and it's obvious I'm not alone in that!

I knew I loved you guys! These cookies feature my most favorite flavor combination of all time: peanut butter and chocolate. These cookies are big, thick, chewy and soft. Outrageously good!

It looks like a lot of you guys don't have an ice cream maker! I actually had two machines at one point. But then I lived in an apartment for a year where the freezer was so narrow that the ice cream freezer bowl literally wouldn't fit. So I had to find a few ways to make ice cream without it. I cover my top three methods in this post.

Well, well, well. More BROWNIES! This recipe is perfect if you want that chewy texture of a box mix but with real chocolate flavor. My hope is that you'll never go back to the mix again. One bowl recipe made in under an hour!

And here we have it, the MOST POPULAR RECIPE OF 2020! These chocolate chip cookies were also the most popular recipe of 2019. I get messages almost daily from people singing the praises of this cookie recipe. So many of you baked up these cookies to share with others and shipped them across the country to family members or friends you were apart from during quarantine. I'm absolutely honored that you guys love these cookies as much as I do. If you haven't baked up a batch yet, RUN to your kitchen!!
About Tessa...
I share trusted baking recipes your friends will LOVE alongside insights into the science of sweets. I'm a professionally trained chef, cookbook author, and cookie queen. I love to write about all things sweet, carb-y, and homemade. I live in Phoenix, Arizona (hence the blog name!)
© Handle the Heat - handletheheat.com
Join the Handle the Heat Community


---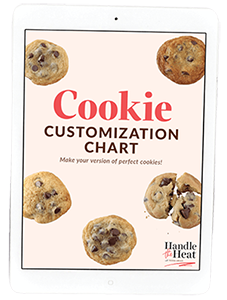 Do you want a more delicious life?
Instead of digging through cookbooks and magazines and searching the internet for amazing recipes, subscribe to Handle the Heat to receive new recipe posts delivered straight to your email inbox. You'll get all the latest recipes, videos, kitchen tips and tricks AND my *free* Cookie Customization Guide (because I am the Cookie Queen)!