When I was in Atlanta for Blogher Food, The Kitchen Generation gang and I went to a place called Yeah! Burger for dinner. Twice. It was fairly close, affordable, super tasty, and had awesome gluten-free selections. It also had the best turkey burger I've ever tasted. Up until then, I had not been a big fan of turkey burgers. Dry, tasteless, gray. However this particular turkey burger was rich, bursting with flavor and juiciness. And the whole wheat bun it was sandwiched between was killer. Actually better than its white counterpart. The bun was deeply brown with an almost malted flavor. I have yet to find a whole-wheat bun recipe that yields that deep color and flavor yet fluffy texture (let me know if you have a recipe). 
So as soon as I got home I set out on a mission to find a delectable turkey burger recipe that was still healthier than it's beef brother. Where did I turn first? The New Best Recipe, of course. Holy grail of recipe collections. The first turkey burger recipe I found required that you grind your own turkey thigh meat. Nuh uh. Too much work. Thankfully there was a quick & dirty recipe listed after.
Oh, and don't fret about the ricotta in the recipe. I was a little weirded out by it too but it adds moisture, stabilizes the patties, and adds cheesy richness.

Recipe Rundown
Taste: Surprisingly savory from the caramelized crust, tangy from the Dijon and cheese, and perfectly seasoned. Much more flavorful than most turkey burgers I've had.     
Texture: Crisp on the outside, juicy and tender on the inside. 
Ease: Just a few ingredients, hardly any prep work, and about 20 minutes cook time.
Appearance: Meat will never be pretty but it can still be mouthwatering.
Pros: Healthy, simple, flavorful
Cons: The only thing is that ricotta burns easily so you have to keep a close eye on the patties as they brown.   
Would I make this again? Yes.
Turkey Burgers
Serves 4
1/2 cup ricotta cheese (whole-milk or skim)
2 teaspoons worcestershire sauce
2 teaspoons Dijon mustard
1/2 teaspoon salt
1/2 teaspoon pepper
1 teaspoon minced fresh thyme leaves
1 1/4 pounds 93% lean ground turkey
1 tablespoon vegetable or canola oil
Mix the ricotta, worcestershire sauce, mustard, salt, pepper and thyme in a bowl. Add the ground turkey; lightly mix to combine. Divide the mixture into four portions. Working with one portion at a time, toss the meat from hand to hand to form a ball; with your fingertips, lightly flatten each ball into a one-inch thick patty. Be careful not to overwork the meat.
Heat a large, heavy-bottomed skillet (cast-iron works well) over medium heat until well heated, 4 to 5 minutes. Add the oil, then the burgers. Cook over medium heat until the bottom side of each burger has a nice brown crust, about 3 to 4 minutes. Turn the burgers, and cook until the other side starts to brown, 3 to 4 minutes longer. Reduce the heat to low and partially cover the pan with a lid so steam can escape.  Cook, turning once or twice for even browning, until an instant-read thermometer inserted from the side into the center of the burger registers 160 degrees, 8 to 10 minutes longer. Serve immediately. 
About Tessa...
I share trusted baking recipes your friends will LOVE alongside insights into the science of sweets. I'm a professionally trained chef, cookbook author, and cookie queen. I love to write about all things sweet, carb-y, and homemade. I live in Phoenix, Arizona (hence the blog name!)
© Handle the Heat - handletheheat.com
Join the Handle the Heat Community


---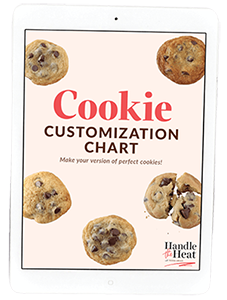 Do you want a more delicious life?
Instead of digging through cookbooks and magazines and searching the internet for amazing recipes, subscribe to Handle the Heat to receive new recipe posts delivered straight to your email inbox. You'll get all the latest recipes, videos, kitchen tips and tricks AND my *free* Cookie Customization Guide (because I am the Cookie Queen)!