HUGE NEWS!
I'm *SO* excited to announce that we are officially expanding our team! Handle the Heat is looking for a Digital Marketing & Conversion Manager.
One of the best things about Handle the Heat is the incredible community. Because of this, we really wanted to turn to all of you first to find the perfect fit for this role.
We strongly believe that the person we're looking for is already connected to the world of Handle the Heat, and we cannot wait to hear back from you!
If you (or someone you know) loves to dream up amazing marketing promotions, happily spends hours poring over metrics and creating dashboards, and has proven experience turning audiences into happy customers, this may be the job for you!
A Couple Quick Notes:
This is a full time hourly virtual position open to anyone eligible for employment in the U.S., however we would prefer someone based in AZ. You'd be helping turn the existing Handle the Heat audience into happy customers by building out our marketing strategy and sales funnels.
We're looking for someone to join our team and grow with the company, not someone who's looking to grow their own business.
If this sounds like "OOOH, that could totally be me!" or "wow, that's my friend Sally for sure!" check out the job + application details here.
We cannot wait to welcome a new team member. It feels like the perfect time to expand Team HTH and we're so excited!
Tessa
P.S. If you know of anyone who might be a good fit for this position, please feel free to send this opportunity to them!
About Tessa...
I share trusted baking recipes your friends will LOVE alongside insights into the science of sweets. I'm a professionally trained chef, cookbook author, and cookie queen. I love to write about all things sweet, carb-y, and homemade. I live in Phoenix, Arizona (hence the blog name!)
© Handle the Heat - handletheheat.com
Join the Handle the Heat Community


---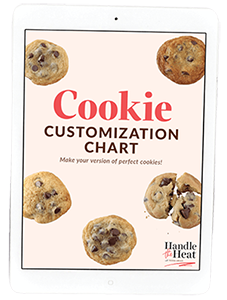 Do you want a more delicious life?
Instead of digging through cookbooks and magazines and searching the internet for amazing recipes, subscribe to Handle the Heat to receive new recipe posts delivered straight to your email inbox. You'll get all the latest recipes, videos, kitchen tips and tricks AND my *free* Cookie Customization Guide (because I am the Cookie Queen)!