Classes resumed Monday. I'll admit it, I enjoyed having a leisurely summer break doing nothing but working part-time at my retail job and focusing on the blog. Don't worry though, I worked hard to make sure I'd have a handful of recipes up my sleeve to make the transition from summer to school seamless. Along with a few English classes, I'm continuing with culinary school and enrolled in two cooking classes this semester. 
I was wondering, would you guys like to see a series of posts revolved around what I have learned/am learning at culinary school? Or would that be totally boring? I'd love to get your feedback!
These garlic knots are super easy, they use the master whole-grain artisan dough recipe I posted last week. If you haven't made that dough already, make it!

Recipe Rundown
Taste: Nutty, fruity, fresh, with just enough garlic.
Texture: The knots are crisp on the outside, soft on the inside.
Ease: Super easy since the dough is already prepared. All you have to do is saute the garlic, shape the knots, and bake. Would be fun to shape the knots with kids.
Appearance: How could you not want to tear off a bite?
Pros: Easy, healthy, delectable.
Cons: None.
Would I make this again? Yes!
Whole Grain Garlic Knots
Makes 5 large knots
From Healthy Bread in 5 Minutes a Day
1 pound (grapefruit-sized portion) Whole Grain Master Recipe dough
1/4 cup extra-virgin olive oil
1/2 cup finely minced Italian parsley
4 cloves garlic, finely minced
2 tablespoons grated Parmesan cheese
Dust the surface of refrigerated dough with flour and divide into five 3-ounce pieces (about the size of small peaches). Dust each one with more flour and quickly shape into balls.
Elongate each ball into a rope and tie it into a knot. Allow the knots to rest for 30 minutes, covered loosely with plastic wrap, on an greased or lined cookie sheet.
Meanwhile, preheat the oven to 450 degrees, with a baking stone placed on the middle rack. Place an empty broiler tray for holding water (the steam will ensure a crisp crust) on any other rack that won't interfere with the rising knots.
While dough is resting and oven is preheating, saute the parsley and garlic in olive oil in a small skillet for about 4 minutes, or until garlic is soft and mixture is aromatic.
Drizzle rested knots with garlic-parsley oil, you may have some leftover for another use. Sprinkle knots with Parmesan cheese. Place cookie sheet on baking stone in oven, pour 1 cup of hot tap water into the broiler tray, and quickly close the oven door. Bake for about 20 minutes, until knots are browned and firm. Serve warm.
About Tessa...
I share trusted baking recipes your friends will LOVE alongside insights into the science of sweets. I'm a professionally trained chef, cookbook author, and cookie queen. I love to write about all things sweet, carb-y, and homemade. I live in Phoenix, Arizona (hence the blog name!)
© Handle the Heat - handletheheat.com
Join the Handle the Heat Community


---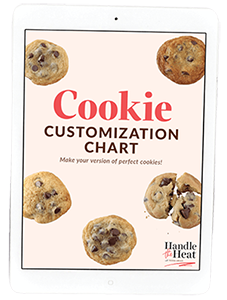 Do you want a more delicious life?
Instead of digging through cookbooks and magazines and searching the internet for amazing recipes, subscribe to Handle the Heat to receive new recipe posts delivered straight to your email inbox. You'll get all the latest recipes, videos, kitchen tips and tricks AND my *free* Cookie Customization Guide (because I am the Cookie Queen)!