Growing up in Arizona, Mexican food is a part of nearly everyone's diet. Summers usually meant trips down south to Rocky Point, where Arizonans flock to enjoy the ocean. I can remember being a kid and experiencing the most intense humidity down in Mexico, so intense that all of our vacation photos have a blurry haze caused by moisture infiltrating the now old-school film camera. I guess Arizona really does have a "dry heat", as the humidity astounded me. The food I remember most comes in two forms: a quesadilla from a shack off the road leading down to Rocky Point and a flan relished at a restaurant on top of a small bluff overlooking the gorgeous baja coast. Sadly, Mexico has become too dangerous to visit. But either way, I've always found myself craving and cooking more Italian food. However as the weather has grown warmer, I've recently found myself craving more and more Mexican food. The defining piquancy and spiciness of Mexican food is unlike any other cuisine.
Recipe Rundown
Taste: Such a depth of spicy Spanish flavors.
Texture: Cheesy, crunchy, soft, tender, chunky, thick.      
Ease: I'll admit the number of ingredients intimated me. However, I managed to successfully make this recipe for the first time while on the phone. If I can make a recipe while distracted on the phone, anyone can! 
Appearance: The only cheese I had in my fridge (besides mozzarella and parm) was a pre-shredded Mexican blend so my enchiladas didn't get as melty as they should have. I think they still looked pretty damn good though.
Pros: Impressive dinner to serve for company. Also, I froze half of the filling since I don't need to serve 8.   
Cons: Long list of ingredients.
Would I make this again? Like I said, I have extra filling sitting in the freezer!

Chicken Enchiladas
From Tyler Florence
Serves 8
3 tablespoons vegetable oil
1 1/2 pounds skinless boneless chicken breast
Salt and pepper
2 teaspoons cumin powder
2 teaspoons garlic powder
1 teaspoon Mexican Spice Blend
1 red onion, chopped
2 cloves garlic, minced
1 cup frozen corn, thawed
5 canned whole green chiles, seeded and coarsely chopped
4 canned chipotle chiles, seeded and minced
1 (28-ounce) can stewed tomatoes
1/2 teaspoon all-purpose flour
16 corn tortillas
1 1/2 cups enchilada sauce, canned
1 cup shredded Cheddar and Jack cheeses
Garnish: chopped cilantro leaves, chopped scallions, sour cream, chopped tomatoes
Coat large saute pan with oil. Season chicken with salt and pepper. Brown chicken over medium heat, allow 7 minutes each side or until no longer pink. Sprinkle chicken with cumin, garlic powder and Mexican spices before turning. Remove chicken to a platter, allow to cool.
Saute onion and garlic in chicken drippings until tender. Add corn and chiles. Stir well to combine. Add canned tomatoes, saute 1 minute.
Pull chicken breasts apart by hand into shredded strips. Add shredded chicken to saute pan, combine with vegetables. Dust the mixture with flour to help set.
Microwave tortillas on high for 30 seconds. This softens them and makes them more pliable. Coat the bottom of 2 (13 by 9-inch) pans with a ladle of enchilada sauce. Using a large shallow bowl, dip each tortilla in enchilada sauce to lightly coat. Spoon 1/4 cup chicken mixture in each tortilla. Fold over filling, place 8 enchiladas in each pan with seam side down. Top with remaining enchilada sauce and cheese.
Bake for 15 minutes in a preheated 350 degree F oven until cheese melts. Garnish with cilantro, scallion, sour cream and chopped tomatoes before serving. Serve with Spanish rice and beans.
About Tessa...
I share trusted baking recipes your friends will LOVE alongside insights into the science of sweets. I'm a professionally trained chef, cookbook author, and cookie queen. I love to write about all things sweet, carb-y, and homemade. I live in Phoenix, Arizona (hence the blog name!)
© Handle the Heat - handletheheat.com
Join the Handle the Heat Community


---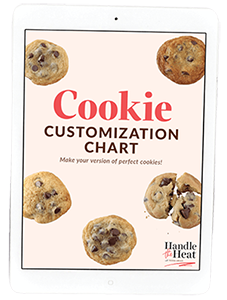 Do you want a more delicious life?
Instead of digging through cookbooks and magazines and searching the internet for amazing recipes, subscribe to Handle the Heat to receive new recipe posts delivered straight to your email inbox. You'll get all the latest recipes, videos, kitchen tips and tricks AND my *free* Cookie Customization Guide (because I am the Cookie Queen)!