I love shrimp. I love all sorts of seafood, actually, but shrimp will always be one of my favorites. It's the texture that makes shrimp so crave-worthy. Yet, shrimp is so often overcooked. And not to sound dramatic, but overcooked shrimp is the worst. Thankfully, the masterminds behind Cooks' Illustrated and America's Test Kitchen have developed a method for producing perfectly cooked shrimp on the stove-top. Score!
Recipe Rundown
Taste: Sweet, spicy, tangy. Perfect combination of Spanish flavors.
Texture: The method in this recipe ensures your shrimp will be perfectly cooked. The chipotle lime glaze is slightly thick and filled with small chunks of chipotle.    
Ease: Super simple and fast.   
Appearance: Perfectly pink shrimp speckled with bits of green cilantro and deep brown chipotle.
Pros: This recipe is perfect for tapas, as an appetizer or to go in tacos, quesadillas, burritos, anything!
Cons: None.
Would I make this again? Yes.

Chipotle-Lime Shrimp
Serves 4
Adapted from The New Best Recipe
1 chipotle in adobo sauce, minced
2 teaspoons adobo sauce
4 teaspoons brown sugar
2 tablespoons lime juice
2 tablespoons chopped fresh cilantro
2 tablespoons vegetable oil
1 1/2 pounds extra-large shrimp (21-25 per pound), peeled and deveined
1/4 teaspoon salt
1/4 teaspoon ground black pepper
1/8 teaspoon sugar
Combine chipotle, adobo sauce, sugar, lime juice, and cilantro in a small bowl. Set aside.
Heat 1 tablespoon oil in a 12-inch skillet over high heat until smoking. Meanwhile, toss the shrimp, salt, pepper, and sugar in a medium bowl. Add half of the shrimp to the pan in a single layer and cook until spotty brown and the edges turn pink, about 1 minute. Remove the pan from the heat. Using tongs, flip each shrimp and let stand until all but the very center is opaque, about 30 seconds. Transfer the shrimp to a large plate. Repeat with the remaining oil and shrimp.
After the second batch has stood off the heat, return the first batch to the skillet. Pour the chipotle-lime mixture over the shrimp and toss to combine. Cover the skillet and let stand until the shrimp are cooked and the chipotle-lime mixture is heated through, 1 to 2 minutes. Serve immediately.
About Tessa...
I share trusted baking recipes your friends will LOVE alongside insights into the science of sweets. I'm a professionally trained chef, cookbook author, and cookie queen. I love to write about all things sweet, carb-y, and homemade. I live in Phoenix, Arizona (hence the blog name!)
© Handle the Heat - handletheheat.com
Join the Handle the Heat Community


---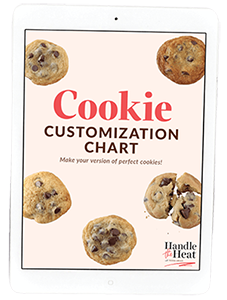 Do you want a more delicious life?
Instead of digging through cookbooks and magazines and searching the internet for amazing recipes, subscribe to Handle the Heat to receive new recipe posts delivered straight to your email inbox. You'll get all the latest recipes, videos, kitchen tips and tricks AND my *free* Cookie Customization Guide (because I am the Cookie Queen)!