Soup may be the ultimate comfort food. It's warm, inviting, and nourishing to the mind and body. Chowder is my favorite kind of soup, who wouldn't love its rich and creamy heartiness? This recipe is a breeze as it requires just five minutes of prep work since it utilizes frozen corn. If you would like to use fresh instead, go ahead. Just set aside some time for husking and removing the kernels. Also, while while chives give a pleasant onion-y kick, if you don't have any on hand feel free to use Italian parsley. Whatever you do, don't skip out on fresh herbs, they tie the dish together and makes it taste fresh.
Recipe Rundown
Taste: Earthy, fresh, and slightly sweet.
Texture: The soup is creamy while the potatoes are perfectly soft and chunky  
Ease: Very easy! Simple prep work and just a half hour cooking time.
Appearance: I love the combination of green chives, yellow corn, and red potatoes.
Pros: Quick, easy, and perfect for lunch or as an addition to dinner.
Cons: None, except this dish could potentially be diminished by low-quality frozen corn, so use the best you can afford.
Would I make this again? Yes!
Corn Potato Chowder
Serves 4-6
Adapted from Shape November 2009
2 tablespoons butter
1 onion, minced
1 stalk celery, minced
1 teaspoon minced garlic
1 1/2 teaspoons salt
pinch cayenne pepper (optional)
4 cups water
3 small red potatoes, cut into 3/4-inch dice
3 cups frozen sweet corn kernels
1/2 cup whole milk
1/4 cup heavy cream
freshly ground black pepper
chopped chives
In a stockpot or Dutch oven, melt butter over medium heat. Add onion, celery, garlic, salt and cayenne pepper is using. Cook, stirring occasionally, for about 5 minutes or until the onion and celery begin to soften.
Add potatoes then water to pot. Bring to a boil, then reduce heat to low. Partially cover and simmer gently for about 15 minutes or until potatoes are completely soft.
Add corn and simmer for 5 minutes. Stir in milk and cream and heat very gently for 1 minute more, Season with pepper, ladle into bowls, top with chives, serve.
About Tessa...
I share trusted baking recipes your friends will LOVE alongside insights into the science of sweets. I'm a professionally trained chef, cookbook author, and cookie queen. I love to write about all things sweet, carb-y, and homemade. I live in Phoenix, Arizona (hence the blog name!)
© Handle the Heat - handletheheat.com
Join the Handle the Heat Community


---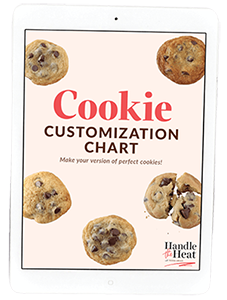 Do you want a more delicious life?
Instead of digging through cookbooks and magazines and searching the internet for amazing recipes, subscribe to Handle the Heat to receive new recipe posts delivered straight to your email inbox. You'll get all the latest recipes, videos, kitchen tips and tricks AND my *free* Cookie Customization Guide (because I am the Cookie Queen)!