Growing up I never really ate fudge much. I don't know if you guys had a different experience and we're the weird ones, but it just wasn't something we made or bought hardly ever. I can pretty much count the number of times I ate it as a kid and I think all of those times were on vacation. It's probably because as a kid you just want to eat all the sweets and with fudge you have to practice restraint. It only takes a few bites to feel satisfied! Not to mention most fudge is outrageously sweet and sends you into a sugar coma practically immediately.
Yet recently making homemade fudge has appealed to me more and more. Of course, fudge is a classic holiday season treat, but making it at home and controlling the flavor profile seemed like the perfect way to reintroduce myself to this treat. Also, the idea that there are practically limitless flavor options for fudge is what really excites me, and it's how this recipe came to exist!
This Gingerbread Fudge tastes pretty much exactly like gingerbread cookie dough on steroids. But with no raw eggs! It's so unbelievably rich and unlike most fudge, it's actually got flavor besides being crazy sweet. The best part is that this fudge is super duper easy, it takes just 10 minutes to prep and requires no thermometer or complicated steps. It's also made from scratch so it doesn't rely on sweetened condensed milk or marshmallows which is my kind of recipe. It doesn't even need to be served chilled, it can stand at room temperature just fine. And you can decorate the fudge with festive sprinkles to make for a beautiful homemade gift or treat for your family. You could even pour the hot fudge into gingerbread cookie cutters and give it out wrapped in plastic with a ribbon for a ridiculously adorable gift. Love!
Recipe Rundown
Taste: Like straight-up gingerbread cookie dough. This fudge tastes like Christmas joy!
Texture: Thick, rich, chewy, dense, and of course, fudgy.
Ease: Super easy, no thermometer required! Takes just 10 minutes to prep.
Appearance: Adding sprinkles on top really makes this fudge festive and beautiful.
Pros: Easy holiday homemade fudge recipe that doesn't use marshmallows or sweetened condensed milk.
Cons: None!
Would I make this again? Absolutely. This would make a great gift.
What's your favorite flavor of fudge?
This post was written by me on behalf of Imperial Sugar. All text, photos, and opinions provided are my own.
About Tessa...
I share trusted baking recipes your friends will LOVE alongside insights into the science of sweets. I'm a professionally trained chef, cookbook author, and cookie queen. I love to write about all things sweet, carb-y, and homemade. I live in Phoenix, Arizona (hence the blog name!)
© Handle the Heat - handletheheat.com
Join the Handle the Heat Community


---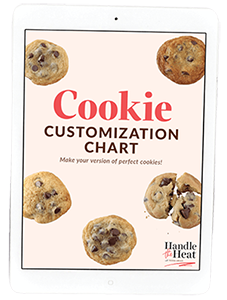 Do you want a more delicious life?
Instead of digging through cookbooks and magazines and searching the internet for amazing recipes, subscribe to Handle the Heat to receive new recipe posts delivered straight to your email inbox. You'll get all the latest recipes, videos, kitchen tips and tricks AND my *free* Cookie Customization Guide (because I am the Cookie Queen)!