How to Tell if a Pear is Ripe
As a kid, one of my FAVORITE foods in the world was pears. My diet primarily consisted of pears and grilled cheese or mac & cheese.
To be totally honest, I haven't eaten pears nearly as much as an adult. I think it's because I could never seem to get them quite ripe. That's ALL changed now. My pear obsession has returned in full force.
A few weeks ago I had the pleasure of attending a food blog retreat in the beautiful mountains of Breckenridge, CO. More on that below, but one of the retreat sponsors was USA Pears. We learned tons of unexpected facts about pears. It was such a pleasure to hear from people who are so passionate about the food they produce.
It inspired me to finally figure out how to purchase and ripen perfect pears because there are about a million ways to enjoy them. Especially during this time of year!
Pears Do Not Ripen on The Tree!
I found this so interesting. The pear is harvested when it is mature, but not yet ripe. When it is left at room temperature, it will actually slowly ripen from the inside out.
In this way, pears are similar to purchasing avocados. More often than not you have to have a little patience once you bring your pear bounty home from the grocery store or market. It's worth the wait because once you've had a perfectly sweet and succulent ripened pear, there's no going back.
How to Tell if a Pear is Ripe:
While a Bartlett's skin color brightens as it ripens, most varieties (like Anjou or Bosc) won't change in color all that much. Learn more about pear varieties here.
The best way to tell if a pear is ripe (for non-Bartlett varieties) is to Check the Neck™: Apply gentle pressure to the neck of the pear with your thumb. If it yields to pressure, it's ripe. That's it!
How to Ripen Pears:
Leave firm, unripe pears at room temperature so that they can ripen. Keep them somewhere visible so you remember to check on them! I like to put them on display in a pretty basket on my kitchen island because they're like edible gems!
Check the Neck daily, as described above daily. If it yields to pressure, then it's ripe and ready to eat!
Once the pear is ripe, it can be refrigerated to slow the ripening process and saved for use up to five days later.
How to Enjoy Pears
I enjoy eating perfectly ripe pears on almond butter toast with a sprinkle of cinnamon in the morning for breakfast, or even with oatmeal. They're also surprisingly good in smoothies! I love to throw sliced pears in an autumnal salad with greens, roasted sweet potatoes, spiced pecans, and crumbled feta, goat cheese, or Gorgonzola.
Bonus points: pears are an excellent source of fiber. In fact, one medium skin-on pear provides 21% of your daily recommended fiber intake!
Fresh Air Retreat
My renewed love for pears is very much due to the Fresh Air Retreat. It was SUCH a pleasure getting to spend a few days in the gorgeous mountains of Breckenridge. The leaves were starting to change on the Aspen trees and each day was filled with delicious food, connection, and learning. Much needed after so many months of social isolation.
From left to right: Jen, Me, Dan, Lauren, Liz, Brittany, Yvette and Kristin
Liz and Lauren did SUCH an excellent job putting together the retreat. They were the most amazing hostesses and the scenery was nothing short of breathtaking.
There was morning yoga, strolls around the charming town of Breckenridge, LaCroix mixology bars, snack spreads too pretty to eat, and and tons of amazing conversation.
One of the best parts, though? Getting treated to a fantastic smoked meal made by none other than Rasheed Philips. Yeah, that one from the Netflix show The American Barbecue Showdown!! He was even more inspiring and talented in person.
Thanks so much to Beef. It's What's For Dinner for making such a special dinner possible.
We recapped at night with s'mores around the firepit on the chilly mountain patio.
Is there anything better than spending time with inspiring people surrounded by beautiful scenery and amazing food? Thank you again to Liz & Lauren and to the amazing sponsors for making this retreat possible!
About Tessa...
I share trusted baking recipes your friends will LOVE alongside insights into the science of sweets. I'm a professionally trained chef, cookbook author, and cookie queen. I love to write about all things sweet, carb-y, and homemade. I live in Phoenix, Arizona (hence the blog name!)
© Handle the Heat - handletheheat.com
Join the Handle the Heat Community


---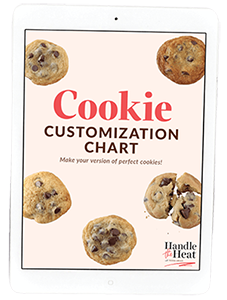 Do you want a more delicious life?
Instead of digging through cookbooks and magazines and searching the internet for amazing recipes, subscribe to Handle the Heat to receive new recipe posts delivered straight to your email inbox. You'll get all the latest recipes, videos, kitchen tips and tricks AND my *free* Cookie Customization Guide (because I am the Cookie Queen)!